Bushiroad has announced that they're getting in on the Vtuber trend with BanG Dream- even opening auditions for their new Vtuber-centric unit in the franchise.
In a new website, they've announced that they're looking for 5 talents to become Vtubers to represent their new unit, even teasing that you won't necessarily need to have prior band experience to join.
It should be noted that the designs for the new BanG Dream Vtuber group has already been revealed, and you'll have to mention which one of the 5 characters you're auditioning for as part of the application.
Successful applicants won't just be playing the Vtubers in the BanG Dream anime- according to the website, part of their work includes "Video distribution" and "social media activities", so it looks like Bushiroad is actually getting their own in-house Vtubers.
Bushiroad and Vtubers
This isn't exactly a sudden development for Bushiroad, who have long had their toes dipped in the Vtuber business, though more from a support role in the past.
Bushiroad are among the sponsors for Hololive's concerts, even producing cards of the Vtubers under the Weiss Schwarz brand.
That being said, it's unknown if this might be a pilot scheme for Vtubers of their other in-house IPs such as Assault Lily and D4DJ.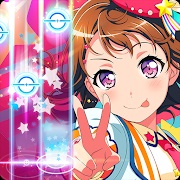 BanG Dream! Girls Band Party!
Android, iOS
Popular rhythm game in Japan! Tap to the rhythm of over 140 songs to choose from. Play both original and cover songs from popular J-Pop artists and anime songs! Play your favorite songs on a level of difficulty that suits you!
---
Check This Out Next
---