The ASUS ProArt StudioBook 16 OLED is one sleek machine, and perhaps best described by ASUS itself:
Turn your creative vision into reality with the ProArt Studiobook 16 OLED studio laptop: it pushes every boundary to give you the effortless creative experience you've always wanted, but never thought possible. With a certified color-accurate 16-inch 4K OLED HDR 16:10 display, up to a breathtakingly powerful AMD Ryzen™ 5000 series processor, fast NVIDIA® GeForce RTX™ 3070 graphics, huge amounts of memory, advanced ultrafast storage, superb I/O connectivity, and ultra-precise fingertip control over your creative apps with the groundbreaking new ASUS Dial, ProArt Studiobook 16 OLED is simply the best creator laptop we've ever made.
But how does it feel to use? Read on and find out.
DESIGN
The ASUS ProArt StudioBook 16 OLED has quite the simple, yet stylish look down pat. The square machine has an understated look with its entirely matte black chassis and a silver-sheen to the ProArt logo on the lid. The paintwork is not reflective, nor will your fingerprints or palms leave prints. Its LED indicator lights are placed below the mousepad, angled so that you can easily see them with a glance down. It's quite convenient over trying to find those little lights anywhere around a machine.
While it is a laptop, its dimensions at W 362mm, D 264mm and H 19.6mm, weighing in at 2.4kg, does not make this an especially portable machine. Connectivity wise, there are 2 USB Type-A, 2 USB Type-C with power delivery and display support, 1 HDMI 2.1, 1 3.5mm jack, 1 Ethernet port and 1 SD card reader.
KEYBOARD AND TOUCHPAD
The feedback for the StudioBook 16 OLED's keyboard is great, without making much noise while being quite comfortable to use. That said, the numpad placement doesn't get the same praise, unfortunately, though this might differ depending on your preferences. The arrow keys feel like they have a different design from the reset of the keys, with a 'stripe' pattern to the touch that has the texture of carbon fibre.
The laptop has an additional key that will open ProArt Creator Hub. This key can be customized to another function, if you so wish.
The touchpad is smooth and doesn't have friction when you move your finger across. However, it doesn't seem as responsive as you might expect. I've seen the cursor getting stuck in place just long enough that it's noticeable before it continues moving. Should you have an ASUS stylus, this laptop supports it. The three buttons on the touchpad work much like your regular mouse, a departure from most two-button touchpads.
ASUS DIAL
One of the ASUS ProArt StudioBook 16 OLED's features is this ASUS Dial, with customizable functions. Its placement does not interfere with using the keyboard itself.
The dial can be turned, AND pressed down – a la a click – to open up a menu to select a function from the available options. Select the volume function, for example, so that turning the dial will control, well, the volume. The rest work similarly: select function with the press, then turn the dial to control the relevant setting.
The ProArt Creator Hub will allow you to customize the Dial's functions which can be context sensitive too. You can set its "Common" functions, and set software specific functions e.g. Photoshop, for zooming in and out, brush sizes, and the like.
PROART CREATOR HUB
Basically, this is the series software equivalent to something like the ROG Gaming Center / MSI Dragon Center / Predator Sense for the ASUS StudioBook 16 OLED. As is standard, you can monitor your laptop's performance, switch to different modes and tweak your working experience through the companion software.
The Task Group function allows you to put together a maximum of eight apps / software. Launching a saved Task Group through the hub will open all included apps / software simultaneously. It's definitely a very convenient feature, compared to potentially cluttering up your taskbar's pins with all the software you need.
DISPLAY AND AUDIO
I'd certainly expect a creator-leaning laptop to have a good, if not exceptional, display. The 16-inch, 4K (3840 x 2400, 16:10) display has OLED HDR, 100% DCI-P3 and Delta-E<2 colour accuracy, and does not disappoint in this department. The colours are vivid for beautiful visuals, and 4K is just the cherry on top. It does falter some with a 60Hz refresh rate: standard for a studio laptop, just don't expect higher-end gaming.
The lack of anti-glare also feels somewhat an oversight. The surface of the display panel can get quite shiny and reflective, whiting out entirely.
There's not much to say about the sound quality. The stereo is accurate, and can even rival earphones in how well it performs. It's surprisingly good, so enjoy!
PERFORMANCE
Due to the air vent placements, you can feel the heat over your hand if you're using an external mouse. The temperature can get quite high, pushing 90 degrees Celsius, for a potentially uncomfortable time. At the very least, it is quiet.
Besides that, my review model packing an AMD Ryzen 9 5900HX Mobile Processor, NVIDIA GeForce RTX 3070 and 64GB of RAM, you could say I have really high hopes for it. It doesn't disappoint, scoring a cool 8027 points in 3DMark, placing it significantly better than most non-gaming laptops, and can even beat out certain gaming laptops. It scores 6072 points in PC Mark 10, also surpassing most work laptops.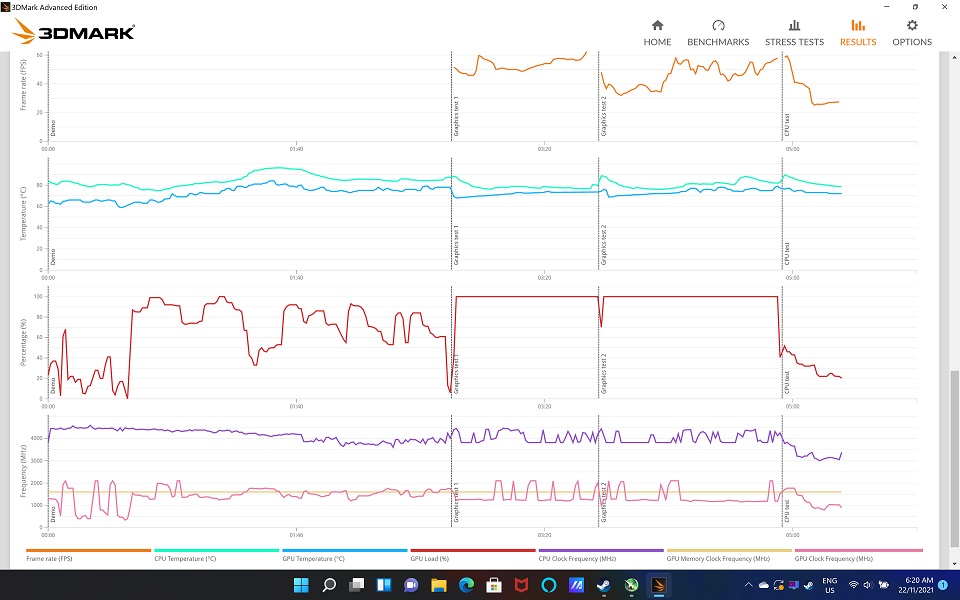 GAMING PERFORMANCE
Putting aside the 60Hz display, games themselves can run quite respectably for a non-gaming focused laptop. The 4K resolution support is almost negligible as most are unlikely to be used to playing in 4K anyway, if the games themselves don't have the option. That said, it still bears remembering that the studio laptop can't do it all.
FAR CRY 6
At the High preset, the game runs at an average of 35-40 FPS. Once you crank EVERYTHING up to Ultra, enjoy the 2 FPS slideshow.
BACK 4 BLOOD
This game is much kinder on the laptop, running at 25-30 FPS average on the Max preset. There's lots of blood, fire and smoke particles, so it's a pretty alright performance.
TALES OF ARISE
At Max preset, the game runs at an impressive 100 FPS average when all the visual effects are flying about, and runs at a very comfortable 140 FPS average during exploration. Pretty great!
VERDICT
For a "mere" studio laptop, the ASUS ProArt StudioBook 16 OLED offers quite a lot outside of initial impressions, helped by the fact it does indeed carry one of the best CPU and GPUs around and capable of playing some of the most recent AAA games at fairly high presets when it's not really advertised to do so.
Of course, the more focused creators can look forward to the conveniences offered by the middle touchpad button and ASUS Dial, the market that this laptop is designed for, when it comes to their preferred editing or creation programs. The Dial is an incredibly flexible addition, working with a wide range of software and can be used as a control for other settings outside of that.
An overall solid laptop, allowing for a more convenient creative process and gaming on the side. You can get your own from RM9,999.