ASUS is quite the ubiquitous brand to say the least. Year after year, the company releases some of the best hardware out there, ranging from home users, professionals to high end gaming. In an email interview with ASUS Malaysia's Business Development Manager, Lenny Lin, he answered a number of our questions about the whole business, so let's dive in.
THE OLED MARKET
ASUS has a big emphasis on attracting creators to use your laptops. Why?
Our market research has shown us that many creators are looking for strong computing devices with high colour accuracy and stability. The OLED screen is able to deliver the true-to-life colour accuracy for a professional level of visual effects, so it's suitable for these professionals and creators, or even those who just want to enjoy "true colours".
Additionally, because of the material used, OLED screens emit 70% less blue light compared to typical LCD screens. This provides a much smoother viewing experience and reduce damage to your retina. When work or study from home is so common due to the pandemic, OLED screens are the best choice for these users.
Is it ASUS' intention to phase out other display technologies for the Zenbook / Vivobook series eventually, in favour of OLED?
While we are introducing the OLED screen to many of our high-end and mainstream models, we will retain the other screen options to fulfill the different needs of our customer base. You can still expect us to provide a huge amount of options for every need.
How does ASUS protect against burn-in for its OLED models?
Theoretically, the OLED screens are easier to burn-in than LCDs, but this is in reality, a very rare issue. A majority of OLED laptop users will not experience such issues throughout the lifespan of their machines. Televisions with OLED technology have also been on the market for many years to great results, providing OLED's previously mentioned benefits.
To further prevent the possibility of burn-in, ASUS' OLED laptops have our own self-developed burn-in protection software in the ASUS OLED Care (Pixel Refresh and Pixel Shift) to protect them. The same high contrast images that stay on screen could start the burn-in problems, so our software will kick in if you've left your laptop on stand-by for more than 30 minutes. Every pixel will be able to shine and dim at an average performance to greatly reduce the chances of burn-in and prevent colour casts from extended use.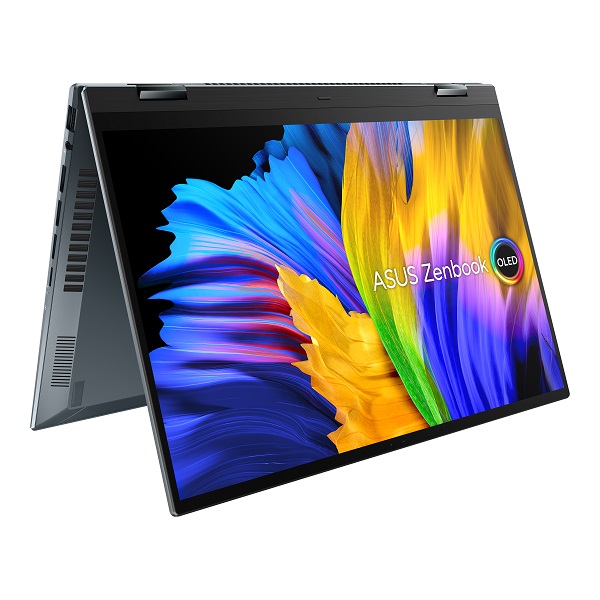 In terms of sales and market response, how has the shift to OLED been received in Malaysia?
We've been receiving a lot of praise for our OLED laptops, from both professional media reviews and actual sales numbers. The acceptance rate of the laptops has been even better than we expected, clearly showing a very high market acceptance.
As of now, OLED laptop sales carry 20% of total sales, with several models of said laptops currently out of stock. The needs and expectations for the OLED laptops in the market are growing exponentially, as we can see.
We believe that when more customers understand the features and benefits of OLED screens, the need will only continue to grow. Our future goal is just that, to create more OLED laptops to best suit customers.
Will the ASUS Dial or DialPad feature become more common in future products?
For now, what I can say is that when we add these features in our current laptop line-up like the ASUS ProArt Studiobook and Vivobook Pro, we received a lot of praise. We're still studying the current market trends when it comes to future products. If everything goes well, then you can definitely expect to see them more in upcoming products.
Will we see more liquid metal cooling technology in future products?
I believe most of you know very well about our use of this technology and the performance that comes with it. Rest assured that you will see it more in the future.
How will ASUS further improve the thermal performance for the laptops?
We're doing a lot of experiments and research to further enhance the cooling performance for laptops. We know that our customers are always looking for the best possible products when it comes to performance, so we're trying our hardest to provide. We're researching a new type of liquid metal technology, so stay tuned for updates.
BUSINESS AND GAMING
When will we see the OLED display featured in the ROG gaming series, or will there be a newer display technology?
From the current standpoint, ASUS is the first brand in the world to have a full line-up of OLED laptop series. Our goal is to utilize the OLED display technology in more product lines, from entry level Vivobooks to professional ProArt Studiobook 16. As for OLED on the other laptops, we're still looking into it, so please stay tuned for future updates.
Could you share which ASUS laptop features were the most praised this year? 
Of course, it's the OLED. We always mention the benefits of OLED to our customers and especially to creators, and that results in it being the most welcomed feature this year.
Conversely, what have been your most requested features that you're looking to implement?
Likewise, the answer to this is also OLED. My answer might mean nothing right now, but when you see it for yourself, you'll love it. We're trying to expand the feature into all our products at the same time. I can proudly say that everyone is enjoying the visual perfection that OLED screens can offer on laptops.
Will you consider introducing a corporate VTuber to promote products?
Now, this is interesting. We don't have any particular plans yet, but we do closely study current trends and explore the possibilities through which we can promote our products.
Could you hint at upcoming partnerships / collaborations?
We will continue to collaborate with brands from different industries to bring experiences that surpass the products themselves to customers. I don't want to spoil anything and reveal the industries we will be working with, but do look forward to the many interesting news we will be sharing.
---
As we close out 2021, the bar is set for ASUS' upcoming products. We're all hopefully easing back into the normal we had before, but we can still have the habits of the new normal. How will ASUS keep up with the times in 2022? Let's stay tuned and find out.