Pre-orders for the Texas Arknights 1/7 scale figure will be opening on 26 June 2021! Interested Arknights fans can pre-order themselves this Texas scale figure until 26 July 2021. Her estimated shipment date is set for January 2022. She'll set you back by 1099 Chinese yuan / ~18900 yen / ~MYR706 / ~USD170. Standing at about 28 cm in height, the figure depicts her with her Elite 2 promotion stance, dual-wielding her swords and accompanied by her spectral wolf.
Accordingly, you'll be able to get bonuses depending on the store front you pre-order her from. The official Arknights storefront gives badges, Good Smile Arts Shanghai will grant an acrylic charm, while BiliBili members can snag themselves an acrylic stand. The badges are 58mm in diameter, the charm 6cm across and the stand at 6.6cm in height.
You can find details through the official weibo post, while further information should be available soon through Good Smile Japan as well. Of course, she's not the only currently revealed figure, as the coloured prototypes for Kal'tsit's nendoroid has been unveiled, the announcement for the player avatar Doctor's nendoroid alongside the uncoloured prototype for Thorns, while Ch'en's figma is currently available for pre-order at 8,800 yen until 4 August 2021.
Merchandise were also announced at the game's second anniversary stream, so stay tuned for those.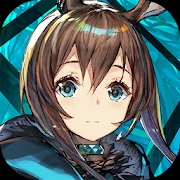 Arknights Global
Android, iOS
Take on the role of a key member of Rhodes Island, a pharmaceutical company that fights both a deadly infection and the unrest it leaves in its wake. Together with your leader Amiya, you'll recruit Operators, train them, then assign them to various operations to protect the innocent and resist those who would thrust the world into turmoil. Your tactics will determine the future of Rhodes Island. Fight for the Dawn!
---
Check This Out Next
---