Pre-orders are now open for Arknights SilverAsh: York's Bise scale figure from Good Smile Company / Good Smile Arts Shanghai. This is the man's Icefield Messenger outfit, replicated practically in full with the lamp post, snow leopard in a bag, and the ever present Tenjin.
His coat, fit for a company elite, has been faithfully recreated in figure form with paintwork that expresses the textural details of the various fabrics it is comprised of. The snow leopard in his bag and Tenjin on his left arm have been painted in stunning detail as well. His confident smile is another highlight not to be missed! Doctor, be sure to add him to your collection!
Arknights and SilverAsh fans pre-ordering this figure will get an acrylic keychain as a bonus, with his smug face on one side and the leopard in the other. More close-ups are available via the Good Smile website, and is also where you can be redirected to place your order. Remember that the United States website does not serve other regions, in which case, you will need to check the Japanese site.
At 19,800 yen, you have time to decide as the pre-order window will be open until 3 February 2022, 12:00 JST. The figure itself is estimated to ship January 2023.
While you're at it, Frostnova's nendoroid is also available to pre-order, which you can read about here.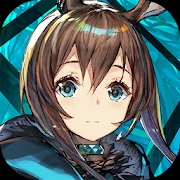 Arknights Global
Android, iOS
Take on the role of a key member of Rhodes Island, a pharmaceutical company that fights both a deadly infection and the unrest it leaves in its wake. Together with your leader Amiya, you'll recruit Operators, train them, then assign them to various operations to protect the innocent and resist those who would thrust the world into turmoil. Your tactics will determine the future of Rhodes Island. Fight for the Dawn!