With the conclusion of the Japanese livestream, Arknights Global fans can look forward to the following stuff with the upcoming second anniversary.
As expected, Dossoles Holiday is the second anniversary event for Arknights Global! The Japanese livestream has the schedule for 14 January 2022, 16:00 JST to 4 February 2022, 03:59 JST. The event comes with:
Random daily Orundum from 200 to 800
New event medal set
5-star Guard, Tequila, available from event shop
New event furniture
New Coral Coast series outfits for Sussuro, Jaye, Sideroca, Mudrock, Projekt Red
New limited Headhunting

6-star: Sniper Ch'en the Holungday (LIMITED), Specialist Mizuki
5-star: Guard La Pluma

Nian Live2D will be implemented
Other freebies include the 10-Headhunting Permit for the limited banner, login bonuses
Module system
Side stories systems update
Various paid packs
Originite Prime bonus reset
5-star Selector
Merchandise released on the Japanese side include:
Rhine Lab cover for volume 6 anthology comic
OPERATORS comics compilation volume, associated merchandise

Print version will have a new chapter featuring W and Nian
Lanyard and pass case (Doctor, Amiya, Kal'tsit designs)
Animation keyframes volume 1
U-TREASURE necklaces round 2 (Flamebringer, SilverAsh, Suzuran, Nearl, Mostima designs)
NEW ERA caps, t-shirts, keyholders
SEIKO watches round 2 (Kal'tsit, Ch'en, Texas, W, Skadi) – first run here
Edible candy set
Village Vanguard collab, with acrylic stands, badges, clear files, bag, and bonus random postcard on purchase
Sora character song, "any", released as vinyl ("analog record"). JP is considering releasing more character CDs as well
Second anniversary "vacation kit", containing among other things, artbook, etc.
The Korean premiere revealed that they are planning an official Korean dub, which if you've tuned in to their Youtube channel before, you've already heard a preview of some of them (timestamp for Korean Shaw). They also released "Crack in the Ark" for the anniversary!
The anime's key visual – Prelude to Dawn – as well as Ace's voice actor (!), played by Takashi Matsuyama, was also revealed. In that case, Scout, besides the key Reunion members, are likely receiving voices as well.
Check out the summary of the English livestream here.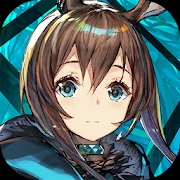 Arknights Global
Android, iOS
Take on the role of a key member of Rhodes Island, a pharmaceutical company that fights both a deadly infection and the unrest it leaves in its wake. Together with your leader Amiya, you'll recruit Operators, train them, then assign them to various operations to protect the innocent and resist those who would thrust the world into turmoil. Your tactics will determine the future of Rhodes Island. Fight for the Dawn!
---
Check This Out Next
---