The Arknights Global English livestream for the second anniversary has wrapped up, and that's brought with it some new things to take note of for the rest of the world.
After running through some statistics, game related updates are as follows:
Dossoles Holiday will run from 14 January 2022, 10:00 UTC -7 to 11 February 2022, 03:59 UTC -7 (inclusive of event exchange store)
Holiday Stars Limited Headhunting, dates not provided

Daily free solo pulls during banner duration and 10-Headhunting ticket on first log in

5-star Guard, Savage, obtainable as log in reward
Recruitment update (Blaze, Broca, Reed, GreyThroat, Ambriel)
Log in event from 14 January 2022, 10:00 UTC -7 to 28 January 2022, 03:59 UTC -7
Livestream rewards

3200 x Orundum
120,000 x LMD
45 x Strategic Battle Record
3 x Polymerization Preparation
300 x Furniture Part
3 x D32 Steel
3 x Bipolar Nanoflake
3 x Chip Catalyst

Paid packs starting from $6.99 to $49.99
Subclasses and modules confirmed
English dub (!)
For those who don't want the hassle of buying from the Japanese Yostar store, the Arknights English livestream shows what the second anniversary goods are:
Second Anniversary "Vacation Kit"

Artbook
Animation Artworks
Invitation Letter
Laser Travel Vouchers
Pin set, stickers, towel
It's worth noting that the Japanese livestream mentioned a Keyframes Collection book for sale as a separate item, which indeed seems to be a different product when comparing the sets between servers. Other separate goods include:
Acrylic Card Holders (Kal'tsit, Skadi the Corrupting Heart)
Natural Rubber Coasters (Kal'tsit Maid / Butler ver)
Glow in the dark metal pins (Carnelian, Pallas)
Fridge magnets (Eyjafjalla, Angelina, Ch'en, Mudrock)
Last but not least, the soundtracks coming soon:
Two Feet on the Ground (Prince Fox ft. Aviella)
Ain't Seen Nothing Like This (Rad Cat)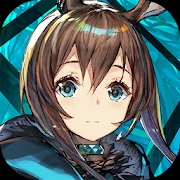 Arknights Global
Android, iOS
Take on the role of a key member of Rhodes Island, a pharmaceutical company that fights both a deadly infection and the unrest it leaves in its wake. Together with your leader Amiya, you'll recruit Operators, train them, then assign them to various operations to protect the innocent and resist those who would thrust the world into turmoil. Your tactics will determine the future of Rhodes Island. Fight for the Dawn!
---
Check This Out Next
---