Animae Arche will be conducting a closed beta test for Android users only from 12:00 JST, 29 January to 7 February, limited to 500 persons. The game is jointly developed by Kadokawa Games and sincetimes and is basically an RPG featuring a variety of girls with animal features, including the zodiac. Embark on a journey to save the world with your cute and beautiful shikigami!
As usual, there is a pre-registration campaign, with milestone rewards up to 50,000 pre-registrations. Players can get up to 10 gacha tickets, coins, various stones and one character of unknown rarity.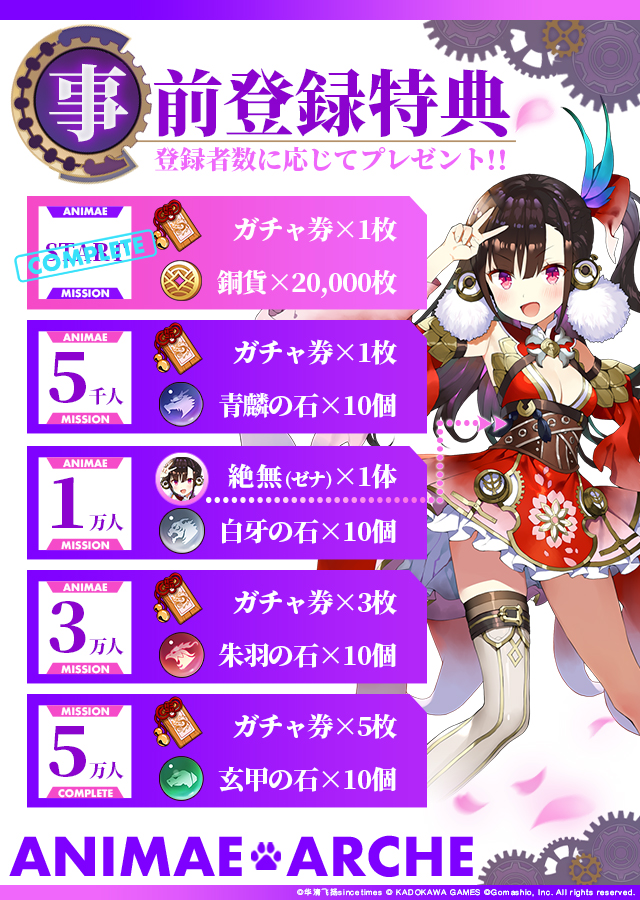 As usual, the official Animae Arche Twitter account is conducting a giveaway of Amazon gift cards for Japanese residents as well as for those who have been chosen for the closed beta. The game is scheduled for a release within spring 2021.
Going by the promotional images, the battle system is probably going to be like similar games including Princess Connect Re: Dive, along with a dorm system and apparently something related to stage performances. There isn't an indication the latter would mean a rhythm game within the RPG, but cross-media stuff like character songs are pretty common for character collector games, so we'll have to see how that works out.
via 4gamer
---
Check This Out Next
---