As the doors to the Dragon Isles ease open, I had the opportunity to ask World of Warcraft's Game Director, Ion Hazzikostas, some questions regarding the upcoming Dragonflight expansion. You can read about my Alpha build experience here, unfortunately stalled due to technical issues.
Still, I've got my own questions to ask, so let's dive in. Interview has been edited for clarity.
---
BEGINNING "ANEW"
New expansion, fresh start? To begin with, Dragonflight is a new chapter in the long-lived MMORPG's story, a return to Azeroth, "to the roots of the Warcraft franchise in a lot of ways" as Ion puts it. It's the classic high fantasy adventure that invites the bold and daring adventurer to a brand new world, with dangers lurking within that will no doubt fell the unprepared. As one could put it, it's back to the living world, away from the literal afterlife from Shadowlands, and while the world is healing, champions will always be needed. "That's the setting that we've created. We hope it'll make a connection for new, existing, and returning players."
On that note, I had to ask about the game's free trial. Memes about the critically acclaimed MMORPG aside, World of Warcraft's trial is presently capped to level 20, which I wasn't sure if that would be "enough" of the game to give players a proper "feel" for the game. "We feel at this point, we've gotten rid of the need to purchase World of Warcraft as any kind of standalone product," Ion tells me. For now, no changes are being planned, besides refining the experience to provide a good preview of the different types of gameplay available. It's a gateway to the world beyond, with a low barrier of entry should you decide to commit – simply get a subscription and you're good to go.
Without trying to fish for exact story spoilers, I asked about what Ion hopes people would take away from the expansion's story. It's a journey to a new land where you will meet the locals and do the good ol' problem solving along the way. Ion likens it to Mists of Pandaria in 'vibes', though of course, with dragons instead of pandarens. "Some of our other expansions have been clearly set up as 'There is this villain that's going to destroy the world and we need to stop them'. This isn't one of those."
"I think, for Warcraft, our storytelling and worldbuilding are at their best when players are left to explore and discover."
INTO THE AZURE SPAN
The Alpha build started me off in the Azure Span questline, as the Forbidden Reach – the Dracthyr's starting area – isn't available in this version. "In probably around a week or so, we'll make it playable. The camp has some similarities with how it started for the Demon Hunter in Legion," Ion adds.
As a Dracthyr and Evoker, you'll be waking up from what is effectively a prison in which you've been in stasis for a long period of time. There'll be flashbacks of your past as a warrior, being part of the army raised by Neltharion, aka the Black aspect, aka Deathwing. "You come to grasp the world around you, remember your abilities and how to use them. Players will join either the Horde or Alliance and bring with them the news of the events that have happened there which sets in motion the events that leads everyone to the Dragon Isles, Dracthyr and other races and classes of Azeroth alike." Ion also reveals that zones will be unlocked one at a time during the testing phase to obtain focused feedback.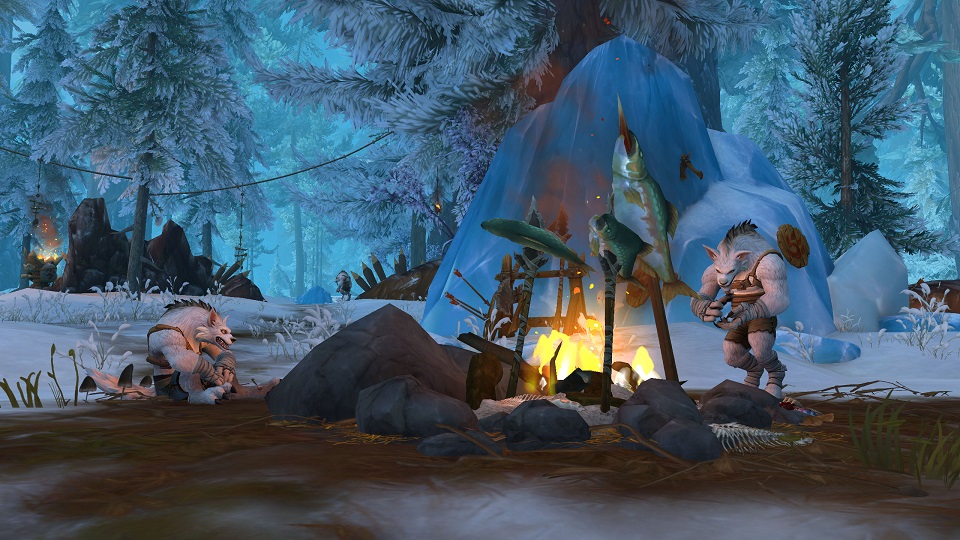 Besides the Dracthyr, the Dragon Isles is home to other races. The Tuskarr, for one, have been living here for a long time and will be scattered across the continent. The Forbidden Reach is the start of an epic story about a moment in time with those aforementioned threats that won't be spoiled just yet, as I'm told. Dragons friendly and hostile, the half-giants Djaradin, and of course, friends and enemies in equal measure, will await you.
Meanwhile, I picked up an elite quest and died unceremoniously, but that's neither here nor there.
HERE BE SKILLS
After intense poring over the Evoker and specialization talents of the class, it felt to me that there were a lot of passive skills strewn all over the tree. The design intention is to give players many options to customize  their overall gameplay with points spread across your class and specialization tree, with 61 total points available from level 1 to 70. Ion points out the impracticality of having too many active abilities: "At some point, your action bar is just overflowing and there isn't enough mental bandwidth to manage all that. By their nature, a majority of the nodes are going to be passive improvements, but we do, of course, have signature abilities to pick up as you go."
Another interesting point of note is the presence of the Black aspect. I'm assured that Deathwing née Neltharion is very definitely dead and defeated as of Cataclysm, but the Dracthyr themselves are part of his legacy, when he was considered the leader of the aspects. Having been created by Neltharion all those thousand years ago, it would appear that his actions have long-reaching consequences and you'll be able to bear witness.
While I did balk at the crafting and professions, I had to ask how Ion would break down something that looks so daunting. What you see in the Alpha is a small preview of the dearth of things you supercrafters out there will be able to play around with in the Dragon Isles, and will be optional for you to interact with. "I could argue being a blacksmith in World of Warcraft was at its best 16 years ago in Classic, where you could have rare recipes people would seek you out for since you had invested time and effort to provide services not everyone could offer."
"The depth is for people who really want to specialize and have it as part of their identity."
Ion affirms that this is indeed the reason behind the work order system. "You could give a bind-on-pickup (BOP) item through a work order and get a BOP item made for you. That way, professions can be relevant at the highest level without being an afterthought."
If you've noticed, the Dracthyr passively has increased Perception which would allow for more rare reagents. "We want those to be mostly about flavour, and not all the balance is final. If players feel that the need to play a race not because of the fantasy, but because of the bonus, that's something we would reconsider. They're meant to be bonuses, not mandatory."
Just imagine every crafter in Azeroth being a Dracthyr.
MOVING FORWARD
In development relevant news, Proletariat recently became part of the World of Warcraft team. "It's been a very exciting partnership so far and we have a lot to figure out. It's a really long term investment in making more content and building a more engaging world for our players," Ion discloses. "All of our plans for Dragonflight were made without assuming their involvement, so this is just going to be an upside of what we're going to be able to do moving forward."
I would certainly be interested in how the workflow will proceed from here. After all, I've seen how people feel about features taking far too long to implement. "We try to maintain the familiar appeal to the millions who have made Azeroth their home, while also pushing the boundaries of not making the game feel dated." While every new expansion can take advantage of the latest hardware, the game is also meant to remain accessible, while providing new ways of navigating and interacting within the game. With the inclusion of the more 'modern' aspects including the interface overhaul and features like Dragonriding, World of Warcraft wants to stay true to its original principles while being fresh and dynamic.
Since that's arguably a difficult balance to strike, Ion reveals he considers the talent trees / system to be the most challenging to implement. "It's a challenge for any systems designer," he admits. It was important not to destroy class identity while providing new options, and remaining accessible. "Whether you're levelling a new character or logging in to a default build that more or less preserves your class as it was in Shadowlands, you should have an experience that feels accessible while also having a lot of depth."
"We have unique constraints in 18 years of history and expectation of how people play their class."
He says the team has set aside time to go over balance changes once people are able to test things. After all, it's a process that never ends. He considers all of this a foundation of what they're building towards the game's future.
ONE LAST HINT
Spoilers were off the table as you might expect, but I couldn't resist asking about upcoming raid content. The Dracthyr Evoker is offering quite a few fun things to play around with, what with their Hovering and ability to 'float' their allies… there's new mechanics that could bring a new dimension to combat to those who master it.
After some thought, here's what Ion had to reveal:
"One of the big things we try to do with raids and new mechanics is integrating the environment into encounters. Early raid bosses could be spawned anywhere and they'd work the same. Increasingly, we have our encounter and dungeon art team work together to really build and integrate the environments like with the Jailer in the Sepulcher. That entire room comes alive, built for that encounter."
"As you enter the Vault of the Incarnate, at the end of the initial Dragonflight experience, it's a fantastical elemental prison where we're going to deal with the effects of ice, fire, and a whole bunch of things and encounter mechanics integrated into the environment." He stops there, so as to not spoil any further specifics.
"We're looking to make going into a raid environment feel special, custom built for that purpose."
I wonder how the World Firsts will turn out?
---
Considering what I felt was a fruitful interview, I'm honestly bummed my Alpha experience got stalled by bugs that can understandably crop up in such an early build. This was my chance, after all, to try out a brand new expansion with dragons, because dragons are always cool.
With Alpha access opening to more people, I'll look forward to the more seasoned Azeroth champions to parse through the information as they head into a new adventure. I'll see you next time!
---
Check This Out Next
---