In the aftermath of XCOM 2, comes XCOM: Chimera Squad. The humans have won the war, the Elders have fled, and their alien subordinates are left behind. These two will have to learn to coexist, to maintain this tenuous peace. In City 31, a XCOM Reclamation Agency has been sent to support the city. Your eclectic crew will have their own backstories for you to learn, while they slowly and awkwardly learn to communicate with each other while under your command.
Welcome back, Commander
While in previous XCOM games, you could recruit a lot of randoms whom you slowly grow, Chimera Squad gives you 11 unique agents, with the customization coming from their builds. "Breach" is new to this game, where you can choose where to place your units and possibly even take out the enemy before the round starts proper. It's not strictly turn-based now either, where instead of you and the opponent taking turns, all units will be on a timeline where multiple of your or the enemy's units can move one after the other.
Chimera Squad is more localized, where you only take care of City 31 with its 9 districts. You'll need to manage their "unrest" levels, which you can reduce by running various missions. Should district unrest reach level 5, City 31 will gain a rank in anarchy. At maximum anarchy, that's a game over.
You can choose to conduct Investigations, which may then trigger "Dark Events" later in the game. These events are pretty varied, with some that might increase enemy count in missions, or provide buffs to them. As you clear more investigations, it will become easier for Unrest and Anarchy to rise.
You'll have to manage three resources: Elerium, Intel and Credits. Every in-game Friday, the XCOM Reclamation Agency will receive their salary, affected by the types of field teams you have in each district. Elerium is your main material for research, Intel is for recruiting and upgrading field teams as well as for Scavenger Market spending, while Credits is for utility gear and other upgrades.
Getting down to the logistics
There are 11 Agents that you can choose from, including the first 4 you get. You'll be able to recruit 4 more from this pool, making it a total of 8 Agents in the agency – namely, there will be 3 you cannot pick. Recruited Agents cannot be swapped or fired, so you'll need to be sure you want them. As mentioned, all of them will have their unique skill sets, with more skills unlocking on levelling up. Promotion can open up a choice of skill for these Agents, which once picked, cannot be changed.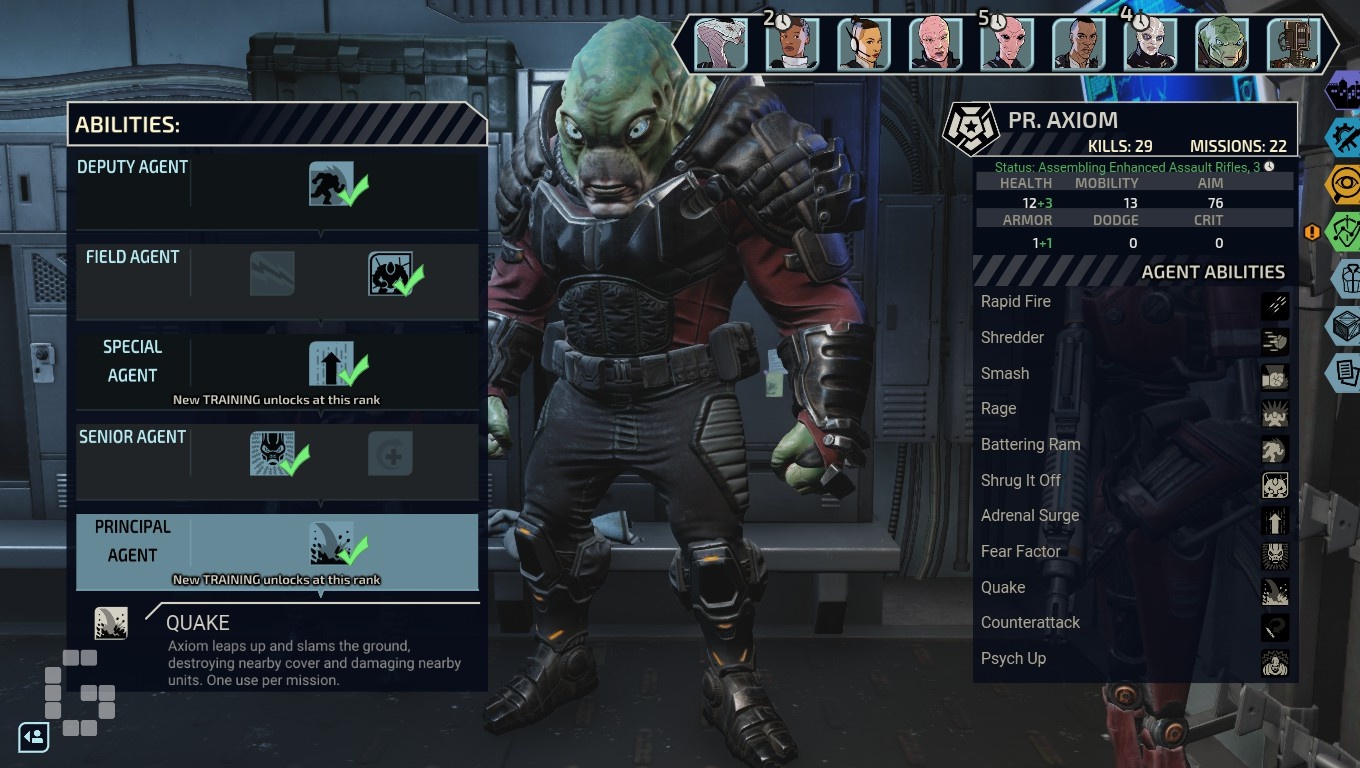 Agent levels go as follows:
Deputy Agent

Field Agent (2 skills, pick one)

Special Agent  (unlocks training)

Senior Agent (2 skills, pick one)

Principal Agent (unlocks training)
Additional training can be provided to Agents, giving them stat bonuses for the first 2 sessions and a passive skill on the third and final one.
Research will be done in the Assembly, to unlock more stuff to buy or for squad wide upgrades. Most research don't require an Agent, but if you do assign one, the process goes by faster.
Agents may also be dispatched to Spec Ops, which may take days to finish. A higher level agent will be able to take on harder tasks, from getting a free field team or reducing unrest for the entire city.
Guns out for the squad
Each mission will have 1 to 3 encounters, and each encounter will have a Breach phase. There will be both normal breach points – accessible by any Agent – and special breach points that will require special breaching items. There will be some agents who can access the latter without items.
Every breach point will show the aggressiveness level of enemies. Different agents at different entry points may also provide buffs or inflict debuffs onto them. Naturally, some buffs work better with some Agents, opening up some creative combos. Watchtower can gain a Guardian passive where Overwatch will always trigger so long she has ammo, so find a good spot and fire away! An Agent like Zephyr uses her fists as her weapon, thus not requiring reloads and she packs debuffs like Quick Disable – removes all bullets – and Delayed Snare – roots a unit – for you to play around.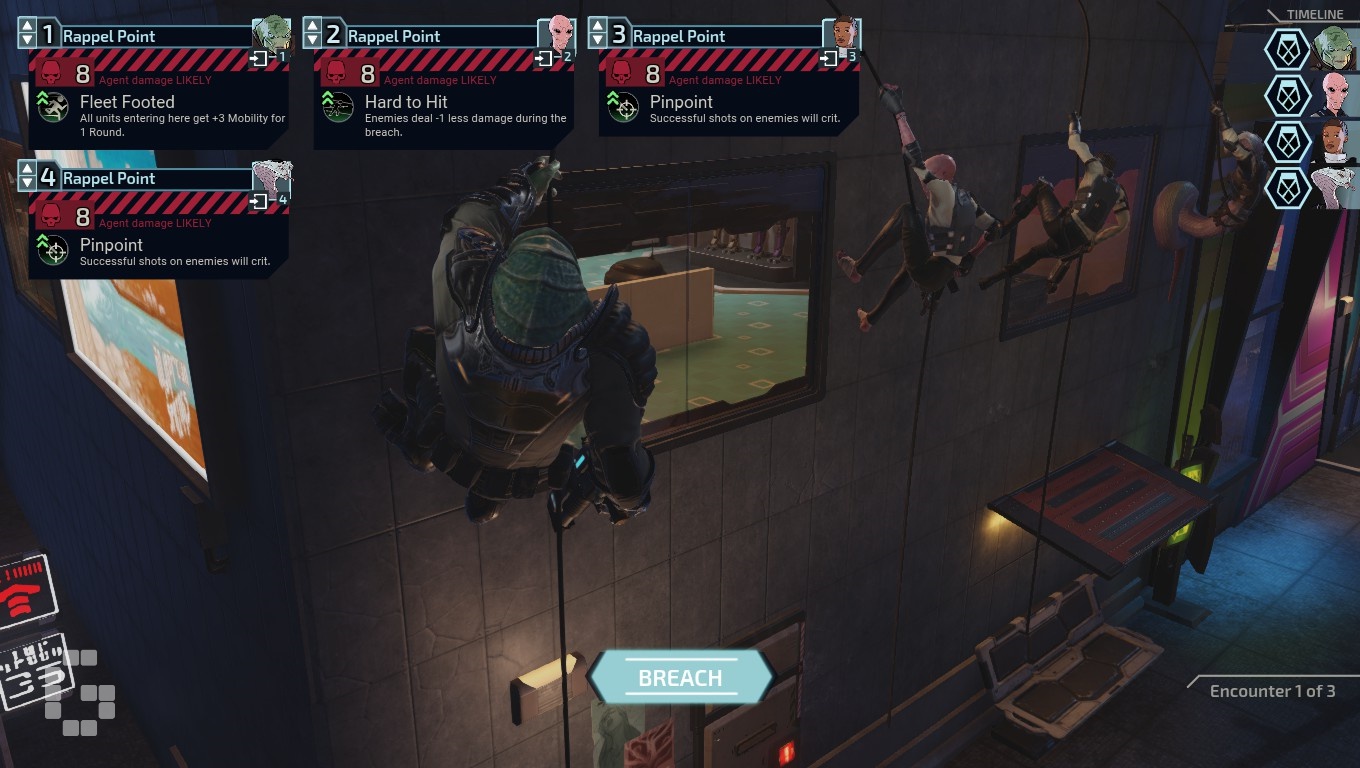 During a Breach, Agents will be able to fire at the enemy, or activate character specific actions. The latter are typically one time use per mission, so you'll need to plan for their use. Aggressive enemies (in red) will shoot back during a breach, alerted enemies (in orange) will take defensive positions or actions, while surprised enemies (in green) usually do nothing.
All remaining HP will be carried over to the next encounter. Depending on your choices before starting the game, you may be able to heal to full, half HP or none at all when an encounter ends with a low health Agent. The order of Agents picked during a Breach will also determine their starting position in the timeline, so more consideration will also be required here.
Utility items, such as frag grenades, do not use up your action unlike the regular XCOM games, but it does remove it for the remainder of the mission. Other utility items may be able to ignore the timeline, granting extra action points to allies. Some abilities will also be capable of such a feat.
There are some variety of mission types:
Clear the area (kill or subdue all enemies)
Specific item objectives – destroy, steal, etc.
Escort or rescue missions

These tend to happen more frequently, and can get really annoying for those who dislike this mission type
Depending on difficulty level, the rescue missions could get frantic with each unit having different turn orders on the timeline.
Mission accomplished
Story-wise, Chimera Squad is fairly short, with 4 acts that could take you an average of 10 to 15 hours playtime. With the $10 USD launch price and $20 USD price from 1 May onwards, it's not too bad a deal. Early game hell is a staple, but it'll start easing up once you have your upgrades, training and items in place.
If you've wanted to have a Muton or Viper as your ally from the original games, you get to play around with them here, also retaining some of the abilities of their race you've come to expect in Chimera Squad. The Breach and Timeline systems add that extra spice and difficulty to missions, since you can no longer guarantee your turn to come. That new recruit is going to be a gamble to train to start. The maps feel a little small, and with everyone carrying weapons, even cover isn't going to be safe for the little guy.
As a flavour point, your "alien" recruits like Torge, Axion and Verge are able to speak perfect English, while Zephyr has a British accent, as Advents – new humanoids – created by the Elders. Meanwhile, alien enemies like Archon, Andromedon or Muton Berserker retain their XCOM 2 traits, speaking in their alien language. It shouldn't be a dealbreaker, but maybe requires a bit more suspension of disbelief. At any rate, the trivia you can find in the game in regards to our new roommates can be quite enlightening or funny – did you know sectoids can't eat things like chicken eggs, hotdogs or burgers? – so maybe something for the lore enthusiast.
Find our tips to Breach here, and our interview with lead designer Mark Nauta here.
FINAL SCORE
7.5 / 10
---
We reviewed this game using the MSI GL63, with the specs that you can see below:
GL63 8SEK
GL63 8SE
CPU
Up to 8th Gen. Intel® Core™ i7 Processor
Up to 8th Gen. Intel® Core™ i7 Processor
OS
Windows 10 Home
Windows 10 Home
Windows 10 Pro
Windows 10 Pro
DISPLAY
15.6″ FHD (1920×1080), Wide-View
15.6″ FHD (1920×1080), Wide-View
15.6″ FHD (1920×1080), 120Hz, 3ms, Wide-View
15.6″ FHD (1920×1080), 120Hz, 3ms, Wide-View
CHIPSET
Intel® HM370
Intel® HM370
GRAPHICS
NVIDIA® GeForce RTX™ 2060 with 6GB GDDR6
NVIDIA® GeForce RTX™ 2060 with 6GB GDDR6
MEMORY
DDR4-2666
DDR4-2666
2 Slots
2 Slots
Max 32GB
Max 32GB
STORAGE CAPABILITY
1x M.2 SSD slot (NVMe PCIe Gen3)
1x M.2 SSD slot (NVMe PCIe Gen3)
1x M.2 SSD Combo slot (NVMe PCIe Gen3 / SATA)
1x M.2 SSD Combo slot (NVMe PCIe Gen3 / SATA)
1x 2.5″ SATA HDD
1x 2.5″ SATA HDD
WEBCAM
HD type ([email protected])
HD type ([email protected])
KEYBOARD
Per-Key RGB Backlight Keyboard
Backlight Keyboard (Single-Color, Red)
COMMUNICATION
Killer Gb LAN
Killer Gb LAN
802.11 ac Wi-Fi + Bluetooth v5
802.11 ac Wi-Fi + Bluetooth v5
AUDIO
2x 3W Speaker
2x 3W Speaker
AUDIO JACK
1x Mic-in
1x Mic-in
1x Headphone-out (SPDIF) Audio Jack
1x Headphone-out (SPDIF) Audio Jack
I/O PORTS
1x Type-C USB3.1 Gen2
1x Type-C USB3.1 Gen2
1x Type-A USB3.1 Gen2
1x Type-A USB3.1 Gen2
1x RJ45
1x RJ45
1x SD (XC/HC) Card Reader
1x SD (XC/HC) Card Reader
1x (4K @ 60Hz) HDMI
1x (4K @ 60Hz) HDMI
1x Mini-DisplayPort
1x Mini-DisplayPort
2x Type-A USB3.1 Gen1
2x Type-A USB3.1 Gen1
BATTERY
6-Cell
6-Cell
Li-Ion
Li-Ion
51
51
AC ADAPTER
180W adapter
180W adapter
DIMENSION (WXDXH)
383 x 260 x 29.5
383 x 260 x 29.5
WEIGHT (W/ BATTERY)
2.3
2.3
XCOM: Chimera Squad
Microsoft Windows, Steam
XCOM: Chimera Squad delivers an all-new story and turn-based tactical combat experience in the XCOM universe. After years of alien rule, humanity won the war for Earth. But when the Overlords fled the planet, they left their former soldiers behind. Now, five years after the events of XCOM 2, humans and aliens are working together to forge a civilization of cooperation and coexistence.