So if you've been keeping up with news about Melty Blood Type Lumina or are just part of the fighting game community in general, you may have heard about Neco Arc, you know, this thing:
So, what exactly is it? Why is this creature all over your youtube feed, and what is their story in Type Moon's Melty Blood and Tsukihime series?
In this article, we'll give you a quick overview of the being known as Neco Arc.
Why don't we start with Neco Arc's basic profile according to the Tsukihime Remake:
Name: Neco Arc
Species: Neco
Gender: Cat
Height: 40 cm
Weight: 5kg
Blood Type: Sweet
Birthday: December 31st
Age: Newborn
Alignment: Lawful Cat

Likes: BadEndology, Heroinology, Multiversology
Dislikes: Nicotine
Natural Enemy: Ciel Sensei
Tsukihime
Neco Arc is supposed to be a parody of the visual novel Tsukihime's main heroine Arcueid Brunestud. Instead of being a blood-sucking vampire, they're's supposed to be a blood-sucking cat gremlin. They first appeared in the original Tsukihime in the 'Teach Me, Ciel-sensei!' sections that take place after getting a bad ending. Neco Arc joins Ciel Sensei in giving some humorous tips on how can get a good ending next time.
Neco Arc in Melty Blood
Neco Arc's more prominent appearance however would be as a playable character in Tsukihime's fighting game sequel Melty Blood Act Cadenza where we also learn their backstory. Arc is a Neco Spirit from the Great Cat Village that exists in another dimension.
They are also one of the 27 Cats, a parody of Tsukihime's 27 Dead Apostle Ancestor Vampires, alongside another prominent cat character, Neco Arc Chaos, a parody of the Tsukihime villain Nrvnqsr Chaos. Her story mode usually involves nonsensical plots filled with 4th wall jokes about getting more fans and becoming popular. And cat jokes.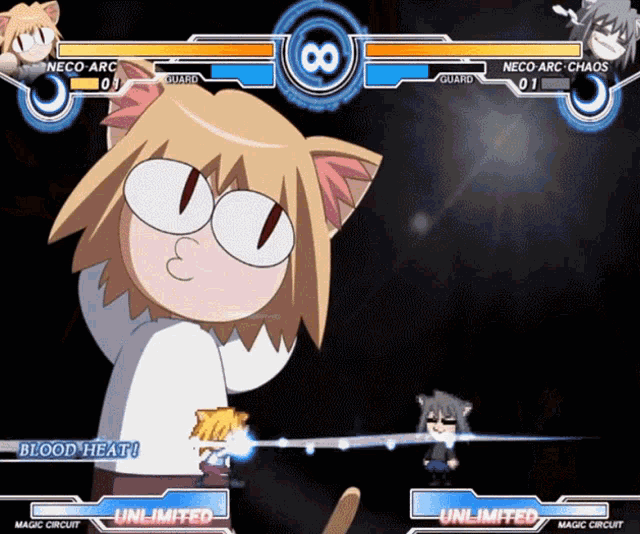 In battle, Arc has the advantage of a Yoda Stature, being so small that many standings attacks go right over their head. In terms of offensive capability, they attack by shooting lasers out of their eyes, swarming opponents with an army of rocket-powered clones, and summoning the great mushroom Nasu (author of Tsukhime and Fate/Stay Night) to crush enemies.
Carnival Phantasm
Neco Arc's other prominent role is as a character in the Type-Moon crossover gag anime Carnival Phantasm. They alongside their gang of other necos run the Ahnenerbe Coffee shop where parallel worlds converge. They serve as the host of the series introducing the show before the opening rolls and occasionally participating in the skits, like when they hired Saber to be a maid at the cafe.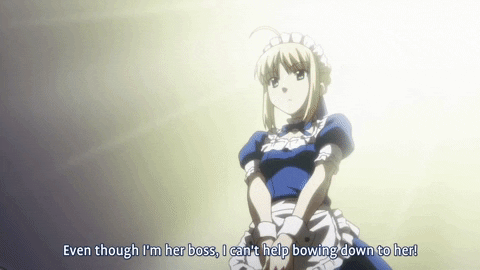 The Neco Spirit would later appear in Fate Grand/Carnival as Mysterious Neco X parodying Saber in her Mysterious Heroine X costume (making for a lovely metaphor on how F/GO has successfully assimilated the rest of Type-Moon into its neverending abyss).
Nendoroid Neco Arc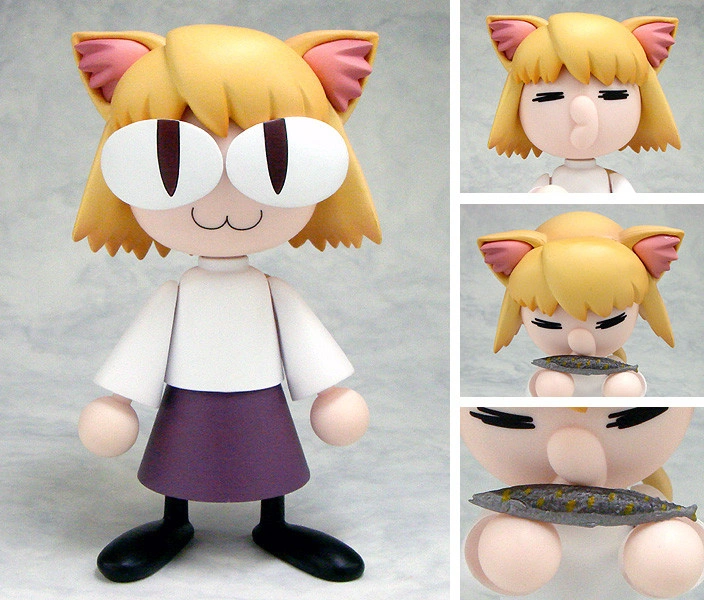 Neco Arc has also made her mark in otaku history as they were the first figure released for the Nendoroid line of posable figurines, Nendoroid #000. They came with two face plates and a fish. All of those chibi Type-Moon Nendoroid you've collected owe their existence to the True Ancestor Nendoroid.
Good Smile Company would later release a Neco Arc: ultimate Version with new accessories.
Tsukime A Piece of Blue Glass Moon
Neco Arc's latest appearance is in the Tsukihime Remake, A Piece of Blue Glass Moon. They once again appear in the games 'Teach Me, Ciel-sensei!' with an updated design based on Arcueid's redesign.
Melty Blood Type Lumina and The Memes
We have no confirmation that Neco Arc will return in the new Melty Blood Type Lumina as they have not been confirmed as a playable character in the base roster. There may be a chance for DLC though.
With that being said, the hype for the upcoming game has given Arc a resurgence in popularity as an FGC internet meme, and it's easy to see why. The face, the voice, the pure smug gremliness of the design, Neco Arc exists to be a meme, and Twitter has plenty of proof of it.
— Blnkspotato commissions open (0/4) (@blankspotato) September 27, 2021
Day 3 Of Giving Neco Arc A Gun pic.twitter.com/RdA4o9YLuW

— Shadow | CR: COTE (@ShadowOfTohsaka) September 25, 2021
damn neco arc is so popular they made it into an anime girl pic.twitter.com/MoHCi6NHqO

— Youness (@Rhaasty_Boi) September 18, 2021
Melty Blood Type Lumina will release for Nintendo Switch, PS4, Xbox One, and PC on September 30th. If you are interested in learning more about the Tsukihime franchise, check out our retrospective on the series.
And yes, their name is supposed to be spelled with a 'c' (except when it's not).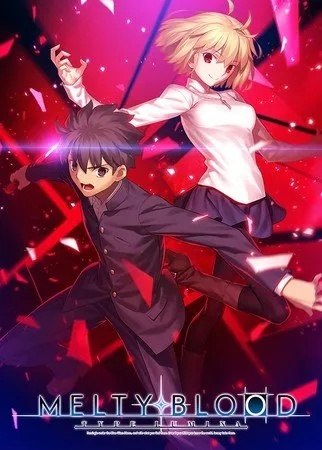 Melty Blood Type Lumina
Nintendo Switch, PlayStation 4, Steam, Xbox One
Explore an all-new MELTY BLOOD world from scenario writer Kinoko Nasu, based on the events of Tsukihime -A piece of blue glass moon-. Unique story events for each character give each playthrough its own feel, adding to the overall experience. Visuals have been updated with HD graphics, and include animation sequences by A-1 Pictures for special attacks. Dialog is fully voiced and will change depending on which characters are brought into battle, giving more insight into the characters' interpersonal relationships.