UNIQLO Malaysia had just announced a collaboration with the popular manga series Demon Slayer. This anime series had been gaining a surge of popularity ever since its anime adaptation by famous studio Ufotable who also worked on other films such as Fate/stay night: Unlimited Blade Works.
– Demon Slayer Summary –
To those of you who were living under a rock for the past year, Demon Slayer has been considered to be biggest anime of the year in the last year according to the anime community.
Demon Slayer features the main protagonist named Tanjiro Kamado who is a kindhearted young boy who lives in the snowy mountains with his family. Tanjiro is the main source of income for the family after the passing of his father, making trips to the nearby village selling charcoal.
One day after his trip of selling charcoal as usual, everything changed when he came home to discover that his family members were slaughtered by a demon. The sole survivor of this demon attack was Nezuko Kamado, Tanjiro's sister, but she was turned into a demon but surprisingly still showing human emotions and thought.
After a faithful encounter with Giyu Tomioka, a demon slayer, Tanjiro is recruited by Giyu to join the demon slayer corps which starts Tanjiro's journey to find a cure for his sister.
– UNIQLO Manga UT Collaboration – 
The UNIQLO UT collaboration will be available for both online and in-store purchases on August 24.
The official UNIQLO facebook page has released a preview a set of clothes that will be available for purchase. In the preview, they showcased a total of 8 different unisex clothes each with their own unique designs following the Demon Slayer aesthetics, all with the reasonable price of RM 39.90!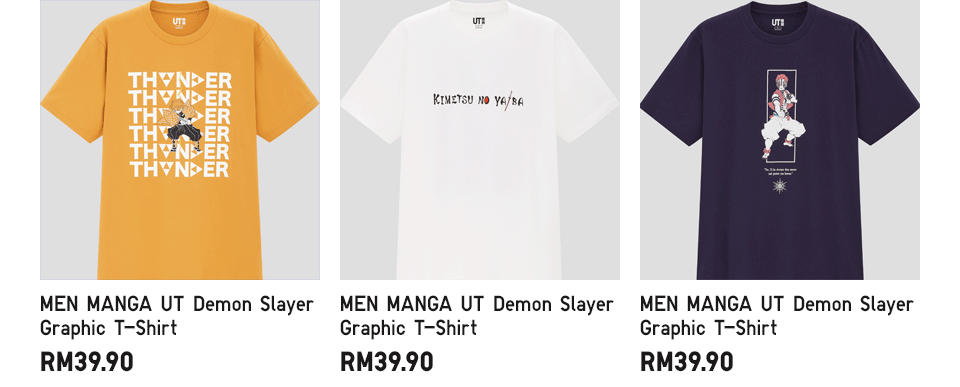 The preview can also be viewed in this link.