Announced at the PakaLive TV stream, Uma Musume: Pretty Derby will also be getting a Simplified Chinese version for Mainland China. The publisher was not mentioned in this post, but horse girl fans in China will be able to dive into this complex training simulator in their native language. We had earlier reported on Kakao Games getting publishing rights for the Korean version as well.
With the speed of plans of localization, it may well be possible that the game will see an English / global version sooner rather than later, but we'll have to see who decides to pick up the title. Currently, Cygames' properties available in English have been Dragalia Lost under Nintendo, with upcoming World Flipper under Kakao Games and Princess Connect Re: Dive released under Crunchyroll Games. Granblue Fantasy is done in-house, though technically the game isn't a global release.
There's also the consideration that Uma Musume: Pretty Derby is really dense, and shared written characters might make it easier with regards to the Simplified Chinese release, but there's no set launch window whatever the case. For now, the Japanese release has achieved 4 million downloads in just over a month, so it's definitely doing very well there.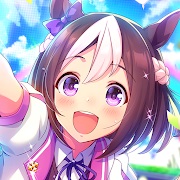 Uma Musume: Pretty Derby
Android, iOS
Horse girls take to the track! Train up these cute horse girls to be the best of the best.