With a new banner refresh that will last until 29 July 2021, we have the addition of Gold City to the Uma Musume: Pretty Derby lineup.
★3 [オーセンティック/1928]ゴールドシチー(CV:#香坂さき さん)が登場!
マイルを舞台に差しで活躍する、100年に1人とも言われる美しいウマ娘です!
ガチャで獲得すると今だけ「ゴールドシチーのピース×90」がおまけで付いてきます!#ウマ娘 #ゲームウマ娘 pic.twitter.com/7i6Neb48Ms

— ウマ娘プロジェクト公式アカウント (@uma_musu) July 20, 2021
Just in time for the Cancer Cup, we are treated to yet another mile horse who will fulfill the role of a betweener.
While she is versatile enough to run the mid and long distances with a bit of tweaking, Gold City's skillset favours her being a natural for mile. With that in mind, the obvious flaw of having the 20% guts training become less detrimental, as you can just stack speed and power training to overcome any deficiencies. The built-in Wisdom Eye is nice, although bear in mind that it will only proc in the opening leg of the race, so its usefulness is very situational. Regardless, given that you will most likely be running Gold City in mile, you could overlook having any heals whatsoever with enough stamina. More importantly however are her other abilities, which make her quite the formidable mile betweener as she has several acceleration skills to pick, not to mention her unique character skill that will bolster her acceleration even further.
Uma Musume: Pretty Derby is currently available on Android and iOS for mobile, and DMM Games for the PC.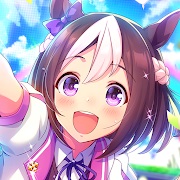 Uma Musume: Pretty Derby
Android, iOS
Horse girls take to the track! Train up these cute horse girls to be the best of the best.