With a new banner refresh that will last until 14 December 2021, we have the addition of the Christmas-themed outfits for Oguri Cap and Biwa Hayahide to the Uma Musume stable. Although somewhat early for the festivities, the game has never really adhered to industry norms anyway, so here we are.
★3[キセキの白星]オグリキャップ(CV:#高柳知葉 さん)と★3[ノエルージュ・キャロル]ビワハヤヒデ(CV:#近藤唯 さん)が登場!
ガチャで獲得すると今だけ2人はピース×90がおまけで付いてきます!#ウマ娘 #ゲームウマ娘 pic.twitter.com/kUQIOVTnZK

— ウマ娘プロジェクト公式アカウント (@uma_musu) November 29, 2021
At a glance, Christmas Oguri Cap is a straight upgrade over her vanilla version, especially if you choose to run her for the longer distances. As always, you will be able to either make her a leader or betweener, but inclusion of Big Eater means you will want her to run the former strategy instead. Best of all, her speed and stamina training bonuses mean that you will have an easy time to train her for intended purpose. Given that we are most likely running a long distance race for the upcoming Champion's Meeting, Christmas Oguri Cap could not have come at a better time.
Christmas Biwa Hayahide also fulfills a similar role as Oguri Cap, in that she also is a leader that would be best run in the longer distances. The gold heal is not particularly great however, as it is rather situational. She makes up for it by having better leader skills, so you are going to have to supplement it with better heals. Thankfully, Christmas Biwa Hayahide has good training bonuses, so she is not a bad pick up regardless.
Uma Musume: Pretty Derby is currently available on Android and iOS for mobile, and DMM Games for the PC.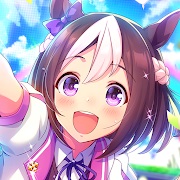 Uma Musume: Pretty Derby
Android, iOS
Horse girls take to the track! Train up these cute horse girls to be the best of the best.