A recent trend in gaming I'm very much enjoying is companies compiling their older games into new collections for modern consoles with numerous pieces of bonus material. Teenage Mutant Ninja Turtles (TMNT): The Cowabunga Collection is the latest of these collections bringing together the old Konami licensed turtles game's to a new audience and it may be one of the best.
The Cowabunga Collection not only emulates each game perfectly but includes new quality-of-life features to make them more accessible than ever. Wrap this up with a presentation that oozes with fanservice and collectibles, and you have one radical little package.
Back through time
The TMNT Cowabunga Collection consists of 13 games:
Teenage Mutant Ninja Turtles (Arcade)
Teenage Mutant Ninja Turtles: Turtles in Time (Arcade)
Teenage Mutant Ninja Turtles IV: Turtles in Time (SNES)
Teenage Mutant Ninja Turtles: Tournament Fighters (SNES)
Teenage Mutant Ninja Turtles: The Hyperstone Heist (Genesis)
Teenage Mutant Ninja Turtles: Tournament Fighters (Genesis)
Teenage Mutant Ninja Turtles (NES)
Teenage Mutant Ninja Turtles II: The Arcade Game (NES)
Teenage Mutant Ninja Turtles III: The Manhatten Project (NES)
Teenage Mutant Ninja Turtles: Tournament Fighters (NES)
Teenage Mutant Ninja Turtles: Fall of The Foot Clan (Gameboy)
Teenage Mutant Ninja Turtles II: Back From The Sewers (Gameboy)
Teenage Mutant Ninja Turtles III: Radical Rescue (Gameboy)
At first, it may seem strange that there are multiple versions of certain games but this is because consoles back then were very different from each other in terms of power meaning that even titles with the same name can actually be incredibly different games from one another. For example, the three TMNT: Tournament Fighters games have entirely different character rosters, stages, and modes.
I won't go over each game in the collection but I will say that the Turtles were pretty lucky. They were one of the few franchises to have licensed video games that were actually really good.
To bring up a few highlights of the collection: Both the Arcade and Super Nintendo version of Turtles in Time is considered some of the best beat 'em ups of all time and it still holds up today. The game has incredibly rich and color full sprites, fast-paced combat, and addictive music. Not to mention, being able to throw Foot Clan goons right at the screen will never not be satisfying.

The first TMNT Arcade game is likewise a great beat 'em-up. It has fluid animation that faithfully replicates the 80s cartoon and a four-player co-op that still works on the emulated version of the collection if anyone wants to get some friends around. Considering this game has only ever been re-released on consoles once for Xbox Live Arcade, its rerelease for this game is a big win for video game preservation.
Like a lot of older fighting games, TMNT: Tournament Fighters does feel a little archaic (not to mention hard as hell) compared to modern fighters but it's still quite a ride, at the very least it's the only fighting game I can think of that lets you play as a mutant shark man. The sprites in general are really well done and I like that the game has two story modes, one saving the Turtle's friend April from The Foot Clan and another where all the characters are competing for money. It's not super well written but it's cool to see a fair amount of single-player content in a fighting game.
Emulating Turtles
Each of the games in the collection runs extremely well. Each is crisp and smooth with no noticeable glitches or frame issues. Like a lot of collections, you also have the option to set backgrounds, screen sizes, or filters if you want a more retro feel to the games. I personally don't use these but they're always a nice option to have.
What's even nicer though is the new quality-of-life features for newer/casual players that want to have an easier time with these games. You can rewind the game by simply pressing the left shoulder button, saving you from death if you don't want to start again from the beginning.
The game also includes a "watch mode" that works with every game. This allows players to watch a playthrough of the game that can be rewound or fast-forwarded through. At the press of a button, the user can jump in and start playing from wherever they wish. This essentially allows you to skip to any part of the game you want to play and bypass frustrating bosses or levels. For anyone who died in the electric Seaweed level in TMNT on NES, this could help you out.

The collection also features a number of enhancements that can be accessed on the main menu. What these do depends on each game and some are better than others. The Arcade game for example has a "God Mode" that makes you invulnerable, basically letting you break the game. Others like the NES game only allow you to turn the slow-down off or on, and that's the game that arguably needs these the most.
More "hardcore" gamers may scoff at these inclusions but for such old games, that often were notoriously challenging, I think it's good to offer a few quality-of-life improvements to help less seasoned players.
Turtle's Online
There are four games in the collection that allow for online play with rollback netcode: TMNT: The Arcade Game, Turtles In Time (Arcade), Hyperstone Heist, and TMNT: Tournament Fighters (SNES).
With the online, you get two options to create a lobby or join an existing lobby. This allows other players to jump on and play. If you join an existing lobby, you'll even be told who's currently playing which character and what level they're on. TMNT and Turtles in Time have a 4-player co-op, Hyerpstone Heist has a 2-player co-op and Tournament Fighters has a PvP versus mode like most fighting games.
It's a very simple online mode that works fine but I do wish there were more options. It would have been cool if more games were playable online since multiplayer is such a big part of many of these games. All the enhancements are also turned off for online which would have been nice to fool around with.
In terms of actual performance, it's solid, but only as long as there are two players at most. The game could get very choppy the minute a third or fourth person entered the game. It's not completely game-breaking but it is noticeable and could get quite irritating. These games were made with local multiplayer in mind and I suppose it shows.
A Love Letter From The Sewers
Collections like to include concept art or memorabilia about the games and the TMNT Cowabunga Collections takes this to a loving extreme. On the menu, you can assess the 'Turles' Lair', a hub with access to almost 4000 pieces of concept art, key art, instruction manuals, magazine articles, box art, music, and other memorabilia related to the Teenage Mutant Ninja turtles. There are even strategy guides to help you with the games in the collection.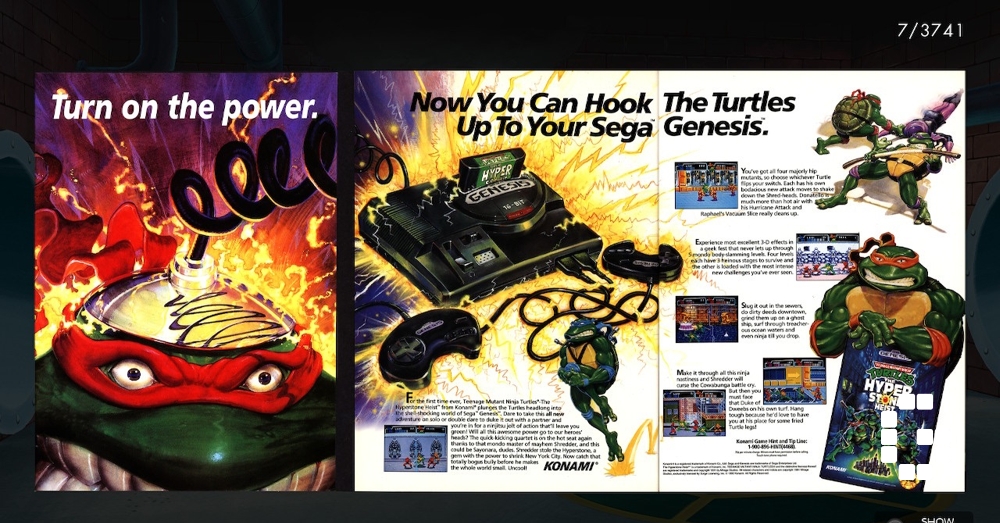 Not only is this an enormous collection of work but the presentation is brilliant. Each type of media is derived into different sections around the Turtle's HQ, which is heavily reminiscent of the 80s tv show. You can even do an advanced search and look at the art based on the game they're from or the character that appears on them.
I'm admittedly not a big fan of the TMNT, but I can still tell just how much care was poured into this collection to please fans of the original series and these games. The Collection even opens with a new animated recreation of the Arcade opening, which itself is based on the 80s Series.
Turtle Power
Digital Eclipse's work on TMNT: The Cowabunga Collection shows just how much effort can be put into a retro games collection. It truly feels like they scoured every inch of New York City for anything remotely related to the Turtles to throw into this game.
13 solid beat 'em ups, platformers, and fighting games, some of which are considered the best of the genre. Each is made more accessible with new quality-of-life enhancements and the watch mode. This is all topped off with high-definition scans of an insane amount of bonus material that is bound to make any Turtle fan happy.
The game's online has issues and I would say the price of $40 is a bit much for a bunch of old games but when you really think of just how content this collection is on offer, I think it's worth a look at. TMNT: The Cowabunga Collection truly does justice to our three-toed friends.
---
Check This Out Next
---
The Review
PROS
All the games are well emulated
Watch mode and enhancements make the games far more accessible to players
Huge amount of fanservice in the Turtle's lair
CONS
Some of the enhancements aren't very useful
Online could have used more games and had issues with more than two players