One of the most significant presences at The Thailand Game Show (THGS) 2022 was Bandai Namco. They held their own press conference, talking about two of their biggest upcoming titles: One Piece Odyssey and Doraemon Story of Seasons: Friends of The Great Kingdom hosted by the games' two producers.
The presentation included talks from Koji Nakajima, the producer of Doraemon Story of Seasons, and Katsuaki Tsuzuki, the producer of One Piece Odyssey, both producers letting us know more about what each game has in store for players. 
Doraemon Story of Seasons: Friends of the Great Kingdom
Doraemon Story of Seasons: Friends of the Great Kingdom is a sequel to the original Doraemon Story of Seasons, which in itself is a spin-off from the Story of Seasons franchise (previously known as Harvest Moon).
While it has many similarities to the first game, producer Koji Nakajima noted several differences from the first game:
Increase in the volume of Player features
New Secret gadgets
Greater variety of new crops

Greater variety of colors and designs that you can get by raising the animals in different places
Much like the mainline Story of Seasons games, players will be able to spend a lot of time building relationships with the various villagers and classic Doraemon characters in the game. There will also be a lot of activities and festivals that you can take part in with them.
The game will also be the first title from Bandai Namco to be released with Bahasa Indonesia as a language option, so it can be enjoyed by more players in different regions. There will also be English and Thai language options available in the game.
He also gave details on the game's first DLC pack which was shared for the first time. The DLC pack, "Winter Life", will be released on the 2nd of November 2022, the same day as the game's launch date. The DLC pack contains costumes for Noby and his friends, as well as furniture, all of which are centered around the theme of winter life. A playable mini scenario is also included in this pack, featuring a new secret gadget.
One Piece Odyssey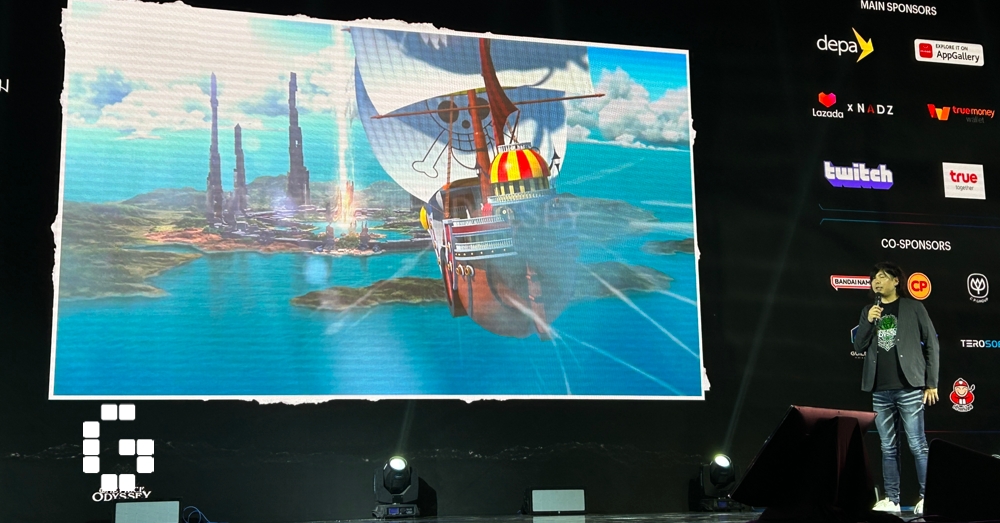 One Piece Odyssey producer, Katsuaki Tsuzuki started his talk by emphasizing what Nakajima said about Bandai Namco's attempt to localize games for more regions so that they may reach more people. 
One Piece Odyssey is set on the mysterious island of Waford. People who are deserted here can't come back home, and that's exactly what happens to the Straw Hat Pirates when they end up deserted on the island following a harsh storm at sea. Tsuzuki-san also said that there'll be nostalgic places to explore which can be seen in the game's recent Alabasta trailer.
He also briefly mentioned the two new characters in the game: Lim and Adio who were both designed by One Piece's original artist and author Eiichiro Oda. He stated that of the two, Lim is particularly important to the game as she can change the nature of Waford and will hold the key to Odyssey's story
Doraemon Story of Seasons: Friends of the Great Kingdom will release on the 2nd of November for Nintendo Switch, PS5, and PC.
One Piece Odyssey will release on the 12th of January 2023 for PS4, PS5, Xbox Series X|S, and Steam.
---
Check This Out Next
---