Some time back, we reported on how quickly people took to Sands of Salzaar, looking to be an indie darling by Chinese developer Han-Squirrel Studio. The English update was finally released on 22 September, following their Steam Early access roadmap. Now, we even have a brief backstory for those who may find themselves drawn to the sands…
This is a fantastical tale of an exotic land. The Old Empire which once ruled the desert has fallen, leaving various tribes to fight for control of their world. Little do they know of the seeds of darkness which grow in the shadows with each passing day…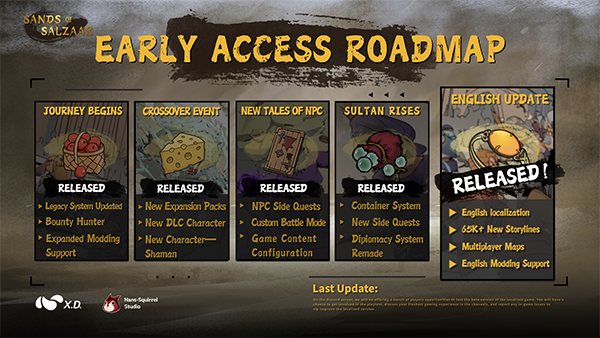 THROUGH THE HEAT HAZE – Graphics
Not to bring down the game, but with Salzaar's focus being a fairly complex strategy game, this is not a title where you'd have your jaw drop from its beauty. That said, the 2D art is quite nice, employing a more realistic style rather than fellow China-developed Banner of the Maid that goes anime-esque. The 3D models nor the animations are the best, but hey they have time to fix that next time. The music isn't the most outstanding, but at least it fits the desert and adventure feel.
SADDLING UP – Gameplay
You start off by creating your character, picking out your style through a variety of pre-sets, and naming them. You can also change your character model if you don't like the default associated with your chosen class. You move on to picking classes, some of which have rough difficulty indications by the developers besides the global difficulty – easy, medium, hard. The classes available all have their own starting perks/bonuses/talents. Once that's done, you get to select additional bonuses, and finally, you begin.
I got thrown in without much ceremony into the desert, with nothing else but a brief blurb of my character's backstory and the rags in my inventory I remember to check and equip. Starting off as a literal nobody, I can go round picking up quests from random NPCs and trying to build up my reputation and legacy. It's a blend of 2D sprite art and 3D models wandering the vast desert, so go wild?
There are random dungeons, or perhaps more accurately, instanced areas, that you can stumble on. Some of these provide resources, and throw you into battle. The battles are real time, reminiscent of Diablo. Bolster your numbers with both human squaddies or beasts, some even the mystical kinds like phoenixes or dragons. For beasts, you can turn off the option to get them so that you can only have more Realistic animal companions, but what's the fun in that?
Don't go too wild though; both weapons and armour have durability, so you need to get the appropriate hammer item to fix them back up. Not every area will sell these items, so your best bet will be to get to the biggest town/hub area for more chances to get your supplies. The equipment naturally come with their own stats, though in my exploration, I couldn't tell if there would be set items like an actual ARPG.
Besides equipment durability, even your food stocks can expire. It's another resource you need to manage, besides your cash money, wood and jade. You can also find things like plants scattered around to gather up, like how you can get the apothecary to make you potions using what you found. Be sure to have enough food to feed your squads, I doubt you'd like having a veritable army behind you deserting once they're too hangry.
How does food expire? Time passes as you explore. Dungeons will go on cooldown once you've cleared them, like how I need to wait 7 in-game days before it'll be accessible again. Some quests are also time-sensitive in when you can pick them up, so you best decide if you think you can do them. Along the way, other events will also occur, like bazaars opening in other areas, news of tribes going to war with each other, besides affecting a travelling merchant's available wares.
Speaking of the tribes, you also have relationship meters for the tribes, as well as your named travelling companions. At the start, I got accosted by random bandits, and after several sound beatings, they finally stopped automatically aggroing on me. If you do choose to confront them, your relationship with the bandits can further sour or sweeten depending on whether you mercilessly bully them or spare them.
Named NPCs especially have their own interests if you choose to befriend them. As you might expect, you do need to meet certain criteria to get them to join you. I got brushed off by one saying I looked dirt poor. Tragic. As you might expect, if you want to butter up one tribe, you risk antagonizing another, so that's something to keep in mind.
Some areas are Siege areas, which are horrendously awkward in this Early Access build. You see, you need to have your squads to take over the various areas in a map, which give you resources. Your squads will respawn if you have sufficient resources, while your character will revive after some time should you fall. I couldn't manage to capture a base, and the combination of me and the AI being stupid, it became a stalemate situation I couldn't get out of. There's no option to exit the Siege, so tough luck if you don't have a save you can return to!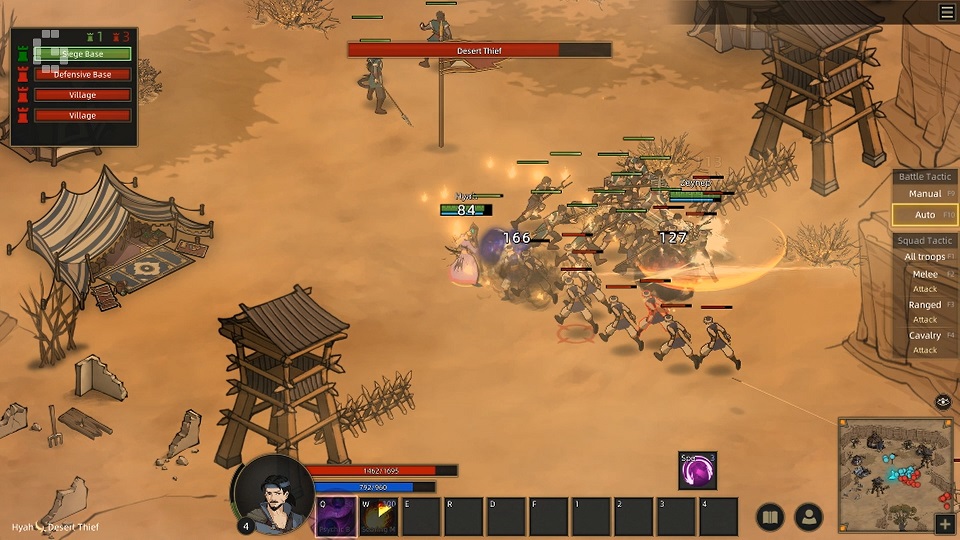 Remember to build up that skill tree you have, for both yourself and your named units. It's decently big, with Talents that you can invest in to make life easier when crossing the desert: be it improving selling prices to merchants, getting more squad space, and so forth. You could be a benevolent boss by giving your named NPCs horses to ride as well, to get through the empty sands faster. The faceless goons are on their own.
TALE AS OLD AS TIME? – Story
Probably one of the better parts of the game, I didn't get to really get into it too deeply due to the whole "bad at strategy" aspect. Classes have their respective plot quests you can embark on, gradually added in over the course of early access. Their stories tie in to their starting items, which is a nice touch.
Starting NPCs aren't the most colourful out there, but I did come across an interesting quest where I had to fight through the guy's retelling of his stories. I am Bad At Video Game, so I flunked out and the guy complains of a headache and tells me to come back another time, forgetting what he was trying to say. Sorry, my dude.
There are other random points in the desert which require stat checks a la Dungeons and Dragons to progress. Needless to say, the mysteries of those are also kept from me until I Git Gud.
CLOSING THOUGHTS
I think a more fleshed out tutorial would be something to include in future builds. While it could come with a manual, hands up for people who actually read external manuals, maybe even in-game manuals, before they start playing. The tool tips just don't ease the learning curve of juggling the systems in the game.
I've seen people say the English translation can be awkward, but I haven't noticed them. It's something they can fix, so I wouldn't be too hard on that. Besides the English release for the game, there's also ready mod support in the language, so if you fancy your hand at tweaking the game, you can do so!
Sands of Salzaar is a blend of RPG, simulation and resource management in a single title, and it's certainly not a game for me. However, if anything of the above interests you, it is currently available on Steam Early Access, in which they're expected to stay in for at least another couple of months from their earliest estimate. Will you own every grain of sand, or will you be another insignificant speck? Get better through every playthrough and forward your legacy to your future saves. It's your story to tell.