The Legend of Zelda: Breath of The Wild (BoTW) is a game that took me off guard. I wasn't a big fan of Zelda or open worlds but something just clicked with that game in its great sense of freedom. Its sequel, The Legend of Zelda: Tears of The Kingdom fully expands on that freedom making for one of the most addicting games I've played all year.
Whether you're a hardcore completionist or a casual fan that just wants to play through the story, Tears of The Kingdom lets you play as you want. Its new mechanics allow its vast open world to be tackled in a number of fashions and with the high amount of content, you can be playing for weeks without feeling bogged down. It's a good game, at this point, I think most people know that, so let's take a look at why.
Return of The Demon King
After the events of BoTW, a strange dark substance called The Gloom is causing damage and destruction across Hyrule. Link and Zelda are exploring a set of ruins under Hyrule Castle that could be connected to The Gloom and discover a mummified corpse pinned down by a severed floating hand. 
This corpse is of course Ganondorf, and the presence of Link and Zelda soon wakes him up. He easily wounds Link and causes the castle to start floating. Link is saved by the floating hand which attaches itself to his own arm after Ganon mortally wounds his original. He wakes up on a plateau floating in the sky and is introduced to Rauru, a goat-looking spirit who was the original owner of the hand. Once you complete the tutorial section, you return to mainland Hyrule and find out there Zelda is missing and several strange phenomena are happening around the Kingdom. Link sets out to investigate. 
Finding Zelda
For the most part, the plot of Tears of The Kingdom is your typical Zelda affair. Link travels the land, helps out the different peoples of Hyrule, and looks for Zelda. The main difference that makes it interesting is that Zelda isn't kidnapped, she's been spotted all around the world by different characters and even in the flashbacks of characters that lived thousands of years ago. It's set up a solid mystery surrounding what's going on with her.
For better or worse, most of the story is told through the main missions and in "Memories", cutscenes that you can unlock by discovering them throughout the world. This has a similar issue with BoTW in that it means most of the plot has to be found rather than simply told as the main game progresses.
I personally don't mind however since it fits with the open-world design and gives you more of an incentive to explore new locations. People looking for a more straightforward plot may be less interested but revealing the story through world-building and exploration has always been how Zelda has done things so it's fairly on brand. 
Speaking of which, since this is a sequel to the BoTW I also really like the world-building and seeing what all the characters we met in the previous game have been up to in the last few years. They're not the most developed bunch but they're still funny, charming, and overall fun to hang around.
Exploring A Truly Open World 
At first glance, Tears has a lot in common with BoTW in terms of open-world exploration. It has roughly the same map as Hyrule after all but that also means it has some of the best parts of that game. Like before, once you're out of the tutorial section, you're free to go anywhere you wish, even straight to the final boss if you're feeling brave. 
I recently made an article about what a great gameplay decision this was in BoTW and it applies to Tears as well. The game gives you so much content to partake in but in a way that feels understandable and digestible.
If you want to just do the main quest, it's just four simple places on the map that are easy to locate. If you want to make cool armor or weapons, it's all done with a few simple mechanics, see something cool in the distance, just go over there, if you want to torture some innocent Koroks, do it, there's nothing stopping you. It comes together to create a world where it feels like you're in charge and anything is possible without covering the map in icons and checklists as a lot of other open worlds do.
The Skies and Depths
Despite the similarities, however, I'm happy to inform you that Tears is not "glorified DLC". There are far more new enemies, unique locations that have opened up and several old areas have changed. The people of Hyrule are beginning to rebuild after the Apocalypse of Calamity Ganon and you really feel their efforts as the land is far more populated and lively. 
Furthermore, there are two big additions to the open world of Tears: The Sky Islands and the Underworld and both add far more dimension to the experience. The Sky Islands bring you up into the clouds, exploring small patches of floating land with Shrine Mini dungeons and various Zonai tech to build more contraptions.
On the other hand, is the underworld: a brand new map the size of the Hyrule map. This dangerous realm is for hardcore players. It's extremely dark and enemies can permanently take away your health until you reach a checkpoint to cleanse yourself. The main point here is to explore and mark out the area. You don't get a map but rather build one as you reach and activate new checkpoints. There are no dungeons in the underworld but there are rare items and challenging monsters in the depths. If anyone's getting tired of the bright lands of Hyrule, a great challenge lurks just below. 
And I do mean just below. It's very easy to quickly travel or just jump down to reach each level of the world. You can literally drop from a sky island, through Hyrule, and into the underground with near-perfect fidelity, and considering how old the Switch is, that's mighty impressive. 
Dungeons and Missions
One of the big questions with Tears of The Kingdom is whether they'd bring back classic Zelda dungeons. they do…kinda. The main missions of the game have you deal with phenomena affecting different areas of Hyrule and looking for Zelda which in turn brings you to new dungeon areas somewhere between classic dungeons and the divine beasts of BoTW.
I'll say for certain, I prefer Tears' take on dungeons to the Divine Beasts, seemingly improving on everything issue people had with those. They have far more variety, better suit the area they're set in (lava, water, sky, etc), and the boss fights are a lot more memorable. Seriously, a couple of them are among my favorites in any Switch game but I won't say more for spoiler reasons. 
Outside of main missions, there are also a number of sidequests throughout the game. Some are simple like fetching a cook some apples while others are fairly lengthy quests that can get you highly advantageous skills or items, like finding the Master Sword, fighting optional bosses, and the Great Fairy sidequest to upgrade armor.
As I said before there's a lot to do in the game but you never feel any pressure to complete everything. Rather, I often found myself just naturally wandering off to try things just because they looked interesting or hinted at something more. There's a very breadcrumbs progression philosophy in tears that preys on the player's natural curiosity. You don't have to try everything and that makes it more satisfying when you discover things on your own. 
Combat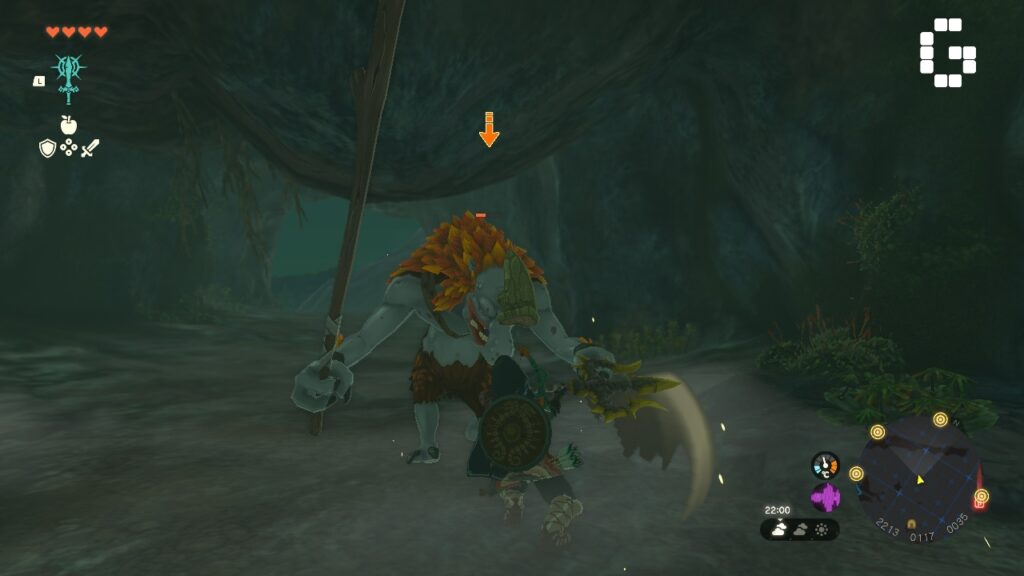 The combat is very similar to BoTW, with three-hand types of melee weapons: one-handed swords (balanced weapon), two-handed swords (slow but strong), and spears (long range but less damage) as well as boomerangs and arrows for ranged attacks. The parry system likewise was taken from BoTW and still functions fairly well making for a good pick-up-and-play combat system.
The one thing that has changed is the monsters you fight. Not only is there a large variety of new foes but they hit way harder. The game is still isn't too hard but I was surprised how often I was being one-shotted pretty early in the game, even after stacking up on heart containers. The game seems to put greater emphasis on upgrading your armor and planning out your attacks. 
In a controversial decision, weapon breaking also returns from BoTW so weapons will get damaged over time and eventually break, requiring you to use another. The thing is though, I don't think it was that bad in BoTW and it's improved a lot here. You can hold multiple swords and enemies drop them so regularly you'll be hard-pressed to find yourself without a blade. Combat is further improved with the new abilities in Tears. 
The New Abilities
The game gives the players a number of new skills during the tutorial section that can be used throughout the game: ultra hand, fusion, ascend, and recall. Alongside the open world, these are the true highlight of Zelda: Tears of The Kingdom. 
Fusion allows you to take any weapon and fuse various objects to the top of them including sharp enemy fangs, claws, rocks, and blades, all of which greatly heighten the damage output. Every enemy drops items like these so every downed opponent is another chance to experiment with a new tool. Between this and the food crafting system, I felt that every item in the game was actually useful for the journey and gave me a sense of excitement upon picking them up.

Ultra hand is the other important ability as it allows you to pick up almost any item and stick them together. You've probably seen more creative players use this to make Gundams, rockets, and crosses to bully the Koroks on social media, and for good reason.
Not only does it allow for crazy new inventions but also gives you a number of absurd but convenient solutions to any situation that have a good chance of actually working. Need to get up a steep cliff. Build a super long ramp and walk across, or build a box with a hot air balloon attacked. You can even make a rocket to throw bombs at enemies. It's a game-changing mechanic that accommodates almost any decision the player wants to make, allowing for a lot of potential creativity and freedom to enjoy the game. There's no idea too silly to try. 
Off the other two, ascend and recall, the former can be extremely helpful for platforming puzzles and allowing for any easy way to get out of the underworld. Recall I mostly used it for the main missions but I've seen other people perform some wild tactics on enemies with it. It's great that even something I see little use for can be a great tool in another person's hands.
The Performance Is Mostly Fine
So let's briefly go over the performance of the game since it's become quite the sticking point in some circles. Zelda: Tears of The Kingdom runs well but it is a Switch game so expecting it to be on par with say a PS5 game isn't exactly fair judgment. 
Personally, I have no problem with games, in general, being 30fps as long as they play well but Tears plays extremely well, in fact, I'd say it's one of the most detailed and smoothest of the big AAA first-party switch games (the others being BoTW, Mario Odyssey, Fire Emblem, Xenoblade, etc). Like I previously said, you can jump from the sky islands through Hyrule to the underworld seamlessly which is fantastic in its own right.
The game does however have minor frame drops but they've been fairly rare, mostly when there are a lot of enemies and action on screen at once but even then, it's nowhere near common enough for to it to ruin the game. Overall it's an issue but a pretty minor one. 
Tears of Joy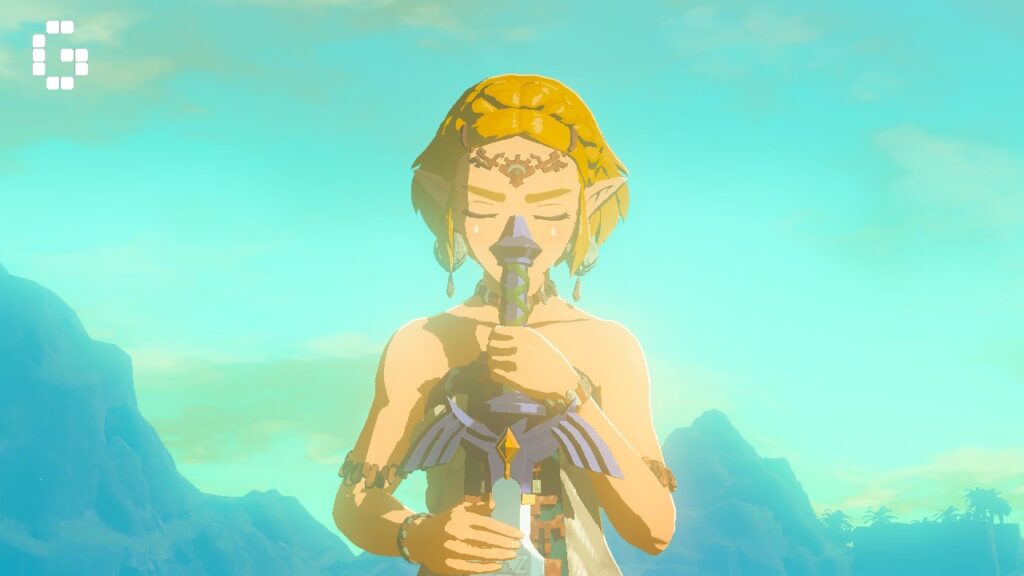 I can't emphasize enough just how much The Legend of Zelda: Tears of The Kingdom is a joy to play thanks to its complete sense of freedom. It's not just about it being open-world or non-linear. There are few games I can think of that has such an accessible yet complex "have it your way" mentality to almost every aspect of the experience. 
Once you're out of that tutorial area, no matter where you go, what you pursue, or what you're faced with, you can come up with almost any solution with any of the tools available and there's a good chance it'll actually work. It's empowering and truly makes you feel like you embody the Triforce of Courage. 
Combine this with two beautiful new maps, a solid story, and a creative combat system, and Tears makes for a great experience from beginning to end with plenty to do, keeping me addicted for well over 50 hours so far. It almost makes BoTW, a great game in its own right, feels almost like a prototype. Tears feel like the real deal that BoTW was leading up to. 
The Legend of Zelda: Tears of The Kingdom is available for Nintendo Switch.
---
Check This Out Next
---
The Review
The Legend of Zelda: Tears of The Kingdom
PROS
Beautiful new areas that offer even more to explore
New abilities allow for further freedom and tackling the game how you, please.
The dungeon areas are more intricate and detailed