So Rocket Raccoon isn't the only Trash Panda that's exploring the galaxy this spring. If there's one thing notable about Stelle and Caelus, the Trailblazer Protagonists of Honkai Star Rail is their strange affection for the beauty of the humble trash can.
Fan art and memes of the two's dumpster diving activities have been circulating over the internet since the game launched back in April and are going strong to this day. So How did are strong new protagonist become so associated with the trash?
A Galaxy of Garbage 
Surprisingly this association between The Trailblazer and Trash is a fixation that appears in Honkai Star Rail itself. After waking up on a space station and being found by the crew of the Astral Express, our dashing hero/heroine fights hard, journey's forward yet every time they come in contact with a garbage can, they can help but share their innermost thoughts with it: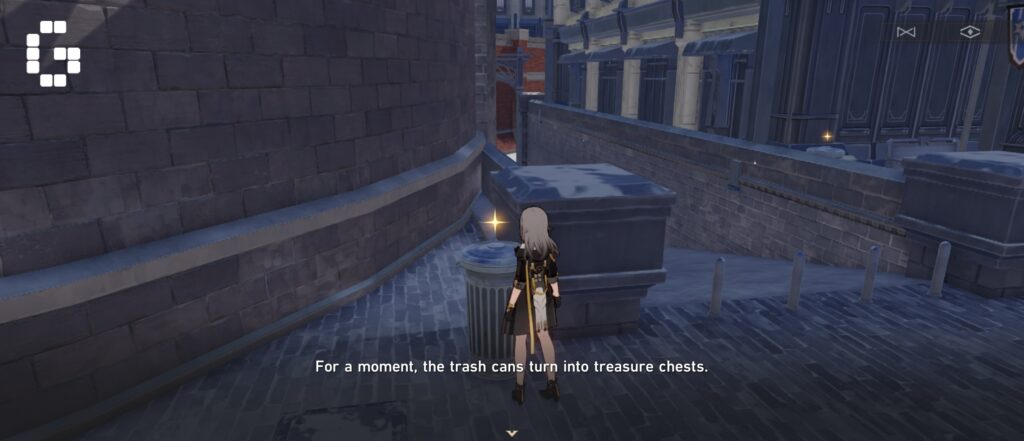 They have different lines for almost every trash can in the game, each gets its own existentialist monologuing all centered around the form of the trash can. I'm not kidding when I say these trash talks can be some of the most witty and fun lines of dialogue in the whole game sounding like something straight out of some Disco Elysium-style indie arthouse game.

The best part is that the other characters even acknowledge the protagonist's strange activities and treat it more like just a strange quirk they indulge in, like "This is my friend, Stelle, she just has this thing for being surrounded by garbage". I'm sure many gacha gamers can relate, myself included, but it's always great to have friends that accept that part of you as well.
A lot of this is further helped by the Trailblazer's personality. Through the multiple choice dialogue, they're portrayed as snarky and full of dry wit. If anything their love of garbage just enhances their personality as a strange gremlin creature of great mystery to all involved.
The Trash Spreads
With Honkai soaring in downloads and users, many have seen the Trailblazer's strange and probably smelly ways, and have acted accordingly with a number of memes and fan art depicting them in their natural habitat.
Honkai really turning us into trash lovers pic.twitter.com/7xedBblMkw

— r u b i 🌹 || PNGtuber (DISCOUNT COMMS OPEN) (@rubiirosie) May 9, 2023
me eating 2 bags of trash for daily consumable mission #HonkaiStarRail pic.twitter.com/4Mm9QS6WGa

— TheEggroller 🥚🍳 (@The_Eggroller) May 3, 2023
最近浅玩了一款游戏,叫《星穹垃圾桶的爱情故事》,对垃圾回收题材感兴趣的朋友可以去玩玩 pic.twitter.com/lh5EW2pStW

— 心臓弱眞君 (@xinzoruo) May 3, 2023
"I recently played a game called "The Love Story of the Star Trash Bin". Friends who are interested in garbage recycling can play it".
It's great to see people having fun with Honkai Star Rail's main character even in the strangest of ways. One nice thing about small details like the trash cans in the game is that it gives it the Trailblazer a bit more personality independent of the player.
While many like the idea of a self-insert main character, a lot of people also like having the main character show some of their own attitude that can play off the other characters, and in the case of Stelle and Caelus, that comes in the form of being sassy and rummaging around in the trash while their teammates quietly watch and wait.
Honkai Star Rail is available for mobile devices, PC and will be coming to PS4, and PS5.
---
Check This Out Next
---