The Elder Scrolls Online: High Isle expansion released a week ago for PC, with console players getting it in just another week. Here's a brief overview of the update:
In this new Elder Scrolls Online Chapter, you can continue (or begin) your Legacy of the Bretons adventure by journeying to the faraway Systres Archipelago. As part of the year-long saga, High Isle progresses the story that began with the Ascending Tide DLC in February and will continue throughout the rest of 2022. This Chapter also provides a new zone to explore, new ways to play, and a bounty of unique rewards and Achievements to earn.
Before I elaborate on my lack of knowledge of the game's lore and the review itself, do check out our interview with Rich Lambert here prior to the launch.
IT'S HIGH… ISLE
High Isle, as part of the Legacy of the Bretons, is the newest expansion – Chapter – to The Elder Scrolls Online. Putting aside the tutorial motions, I step through the portal to the High Isle.
As someone who has basically zero background in the lore, a lot of the early story of the expansion feels like the necessary evil of exposition dump on me. Even knowing nothing about the Three Banners War, its ripples can be felt in this far in the Systres Archipelago. Lord Bacaro's conference has hit a snag, with important cargo getting lost at sea.
The people are talking about the Ascendant Order. They're some real shady knights, dutifully sticking to the all-black-outfit dress code as they stand around at the beach, cave systems, what have you, ready to do the ol' stabby into the flesh. I would hardly dare to discuss more of the main story arc and all, but the Order does make themselves felt in a variety of other side quests, on top of the many other things that wish to maul me to death. These are dangerous, conspiratorial times, you see.
It takes a little bit to get going since I need to familiarize myself with characters I know nothing about, but I can say that it has the hook needed to pull me along.
STARTING IN PRISON, AS ONE DOES
Just as some background, my only other "real" MMORPG experience is with Guild Wars 2. That game has a first person camera option that I've never used. I really don't like it as immersive as it may be for some. I'm making this observation because I could only bear to play Elder Scrolls Online in first person mode, and it got me wondering why. I assume it's the matter of the camera angle and being able to see some parts of your model, because I have issues with motion sickness. I gotta say, first person in Elder Scrolls Online makes it hard to see the damage circles though. It be that way.
In any case, the decidedly Not Lusty, Nor A Maid Argonian finds himself behind bars. After a brief introduction and roped into beating back whatever horror I arrived with, I'm let out and the game can really begin. Talking to characters takes me into a menu with options and text. Again, I make this comparison to Guild Wars 2 where the base game did also had conversations in cutscenes, before it became more diegetic. I did expect this from Elder Scrolls Online from my limited experience with Skyrim, so it's yet another food for thought for me.
I think the models feel a little stiff, but the voice acting and its accompanying music and effects I can't fault. It looks and plays much like what I assume a game in this series does. The hotbar is much smaller than I'm used to, while I haven't utilized the Quickslots all that much yet. What I didn't enjoy about the whole menuing is that while there is the in-game Help menu, it didn't feel intuitive to me. I suppose I will need more time to fiddle with it.
Additionally, I found it hard to tell apart the NPCs from other players at a glance, at least, I presume my toggles aren't on. If they didn't have a glowing dragon companion or some such, they look just like anyone else. I did like this since I feel it adds to immersion. God knows how many astral mounts, infusions, glowing effects that Tyrians have blinged themselves out in.
Overall, aside from growing pains, the High Isle looks gorgeous, with vistas I've yet to practice my mountain-goat impression on to find.
HELP, MY PING
I will say this much: I think Elder Scrolls Online is a little too slow for my taste. I won't claim that Guild Wars 2 is especially high octane, more so when you're just starting out. Compounding whatever personal feeling I have about the supposed molasses-pace of the beginner's experience is my high ping connecting to North American servers. I'm used to playing at 300 or so, but when I engage in combat, that can jump up to 800+. My attempts to stabilize my connection did not work as well as I hoped, unfortunately affecting my overall game feel. The delay means that the finer points of the real-time combat was simply not possible for me.
My quest log is starting to grow in number of hanging threads because I can't resist interacting with the little marker, and who knows, I might actually gain experience faster and not need to sprint halfway across the world like a scalie Usain Bolt. I really wish I didn't feel like the game is unintuitive if I don't start diving into the in-game Help tabs as I pick up bugs and crafting materials like any good kleptomaniac and be distressed over my limited inventory space.
The compass and map in tandem is decently helpful, with the game lenient enough in that I can clumsily parkour my way up to vistas, Skyshards and what have you in Tamriel. Volcanic Vents, for one, seem like Elder Scroll Online's take on the dynamic events system I'm used to, with players in the zone able to join in to battle waves of enemies, then getting the loot at the end.
I VOLUNTEER AS TRIBUTE
Tales of Tribute is the hottest card game in the lands of Tamriel, with Patrons to turn the tides and Prestige to earn to win. The gist of it is about getting 40 Prestige ahead of your opponent. If you keep the lead, then you win. Otherwise, games can extend up to 80 Prestige. However, if you can turn all the Patrons to favour you instead, you can also win there and then even if you're lagging behind on Prestige.
Much like Elder Scrolls Online itself, the pace of the turns can feel slow to me despite the 90 second timer when going up against another player. The early turns are likely to be spent making strategic sacrifices to thin out your deck for your combo pieces while ensuring you do actually have the resources to purchase from the Tavern in the middle, or to turn the Patrons to your side.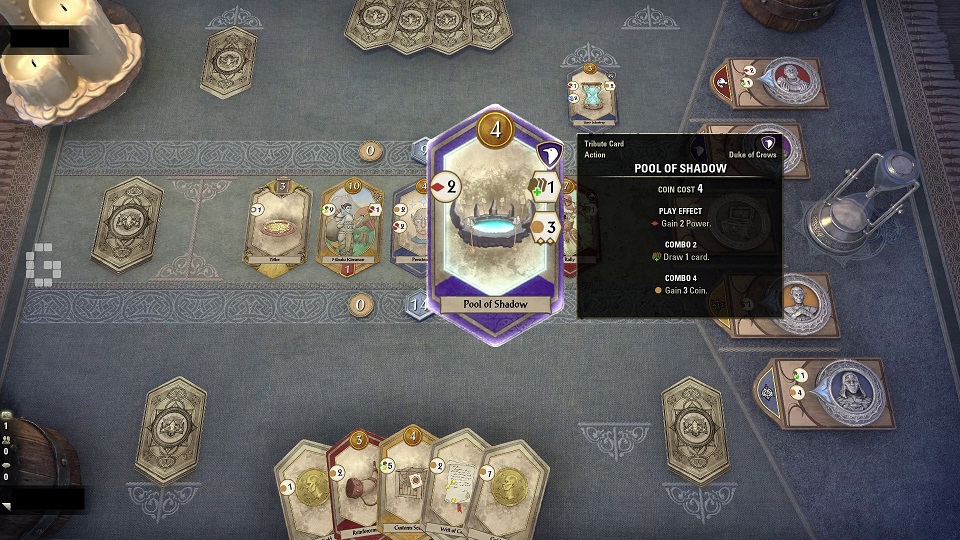 Players draft their Patrons to determine the card pool, and from there, take their turns. You need Coin to purchase more cards or Mercenaries, which will first enter the "cooldown" pile – the exception being Contracts, which are applied immediately. You would prefer to combo where you can to trigger a given card's additional effects be it for more resources or activating their effects.
Prestige can be obtained by having leftover Power at the end of your turn. Otherwise, you can use that Power to defeat your opponent's Mercenaries, some having "taunt" to force you to spend Power. Considering how proud the team were over crafting Tales of Tribute, I can definitely tell there are deeper mechanics you can learn to master over the course of your play time to take over the leaderboards. You can also play with NPCs, and they also give a small boost to your rank and reward you for winning.
I'm not gonna lie: if they make a separate mobile spin-off app, I'd be up for taking my time and trying it out against the AI.
FINAL THOUGHTS
As an expansion that is meant to be a perfectly valid starting point for newbies, my only concern is that it doesn't "feel" intuitive. I have a framework coming from another MMORPG, and trying this out needs a longer adjustment time. I'll have to be content with my high latency and get distracted by a million and one quest markers as the world slowly opens up to me.
I feel like I can't give a proper review score to High Isle due to said adjustment time, but hey, I enjoyed it enough, and I'll take my time to decide.
---
Check This Out Next
---