Fate/Samurai Remnant will have post-launch DLC that adds new servants as well as alternate endings unlocked via New Game+, according to an interview with the game's producer.
We spoke to Tomohiko Sho, producer from Koei Tecmo for Fate/Samurai Remnant, where he talked more about the game that launches next week.
Aside from discussing New Game+ for Fate/Samurai Remnant, Sho also went into various other details such as the various characters who show up in the game as well as the tragic revelation that you cannot romantically pursue Miyamoto Musashi.
Servant Talk
As a new Fate series, one of the bigger selling points is the Heroic Spirit. So how did you choose the Heroic spirits for this game, mixing between already established Heroic Spirits and new ones?
Tomohiko Sho:The characters that are appearing in the game, such as the main seven masters and servants , we discussed with Type Moon about which characters are suitable in the story, and we decided to do that after coordinating with Type Moon. There are also other masterless servants, they appear in the game to appeal towards the Fate series fans to get interested, as they have a sense of familiarity, so the masterless servants are the characters that have appeared in other Fate series.
At the moment, we also can see some familiar characters like Miyamoto Musashi Berserker, and then there is also a Lancer who looks like Jeanne d'Arc Alter. Was there a reason you went with these two popular characters in particular?
Tomohiko Sho:There will be some spoilers involved, so I won't explain it in particular, especially for the Lancer's part, and about Musashi, it is because she have a big role in the main story, and she is also Iori's master(teacher), so naturally there will  be a reason for this appearance of her in this story. This will spoil a lot of the main story so I can't say much about it.
Why did you choose to use Miyamoto Musashi as the main character?
Tomohiko Sho:There were two main reasons for this. The first one is that when we were discussing the development of this game, we had already thought about having Miyamoto Musashi in the main storyline, that is because the president of Koei Tecmo Ko Shibusawa, likes Miyamoto Musashi very much, and so at the very beginning of the development it was decided that we would include Musashi, and then why Musashi would be a position that's close to the main character? It was because when we decided to set the game in the Edo period, we thought it would be appropriate to build the game with Miyamoto Iori since it fits the time period.  And since the main character is Miyamoto Iori, and Fate series already have Miyamoto Musashi, since they are teacher and apprentice, then of course as Iori's teacher we have to portray her story as well.
Point-blank: Can you date Musashi?
Tomohiko Sho:We do not have anything like the three routes of Fate/Stay night that we can change to date the girl. But the rest is all up to the players understanding, just it will not have such clear love elements like Fate/Stay Night.
Will the plot put any focus on why Musashi doesn't lose her mind being a Berserker?
Tomohiko Sho:This part in fact will not be explain in detail in the game, just like in Fate/Grand Order, Musashi in fact also has have a Berserker servant, that in a sense, Musashi originally have a adaptability towards berserker, so in the game will not try to explain in a very detailed manner.
Does Musashi use the same stance-based combat that Iori does?
Tomohiko Sho:Of course that Musashi actually has her own attack stance, but it would not be like Iori's water stance, earth stance, Musashi didn't have that. The battle stances she uses in the game are the one she imitates Iori using in that era, and she thinks it is fun to do it. So the attacks she uses will be similar to Iori's, and may not be the same attack stance as what she would be originally.
When developing the game, were there any Servants that ended up being cut because they didn't fit the setting?
Tomohiko Sho:We have coordinated with TypeMoon while adding or creating a servant, so we didn't have to give up or write off a servant during the development stage. However,we had some difficulty in reproducing the scene where the master and the servants are fighting on the same battlefield, but as a result, we feel that we did a pretty good job of reproducing the scene, and the development team is quite satisfied too.
How much of a difference will there be between the character of Zheng Chenggong that appears in the game and the character in history?
Tomohiko Sho:Like Zheng Chenggong or even our protagonist Miyamoto Iori are in fact the same, as they are both historical figures,  they have a lot of stories about them from books, legends or even folk tales, but you can't determine how much of this information is true, how much is just rumours. We can only try to refer from these information, and then make some adjustments or design according to our game. The character may be different from what people remember, but the charm point of the character should be very close.
Gameplay Decisions
Are there many Fate/Grand Order players on the game development team? And is this game being developed with the intention of being a fan-oriented spin-off of FGO, or is it being made with the intention of making it accessible to new players who don't know about Fate series?
Tomohiko Sho: There are many fans of both Fate/Grand Order and Fate fans on our team. And in our development team, there will be a few members who don't recognize Fate series. When we developed this game, our goal was to make it a game that anyone who likes Fate, a fan of Fate, or has no experience with Fate at all, could start from scratch.
When attacking some elite enemies, we need to destroy the shell, so why is this system designed, what is the reason behind it? We received some feedback that it would be slightly tedious to keep destroying the shell.
Tomohiko Sho:There are two main purposes, the first one is to make the game more challenging, means that players have to think about how to beat him, and how to break into the shell to attack is one of the main directions. The second is that we want to show that our protagonist Iori, is in fact just an ordinary human, as an ordinary human who encounters these strong enemies, he will have such a sense of powerlessness, as the gap between human and servants etc. truly exists, to describe the world setting of  the Fate series.
New Game+  And DLC For Fate/Samurai Remnant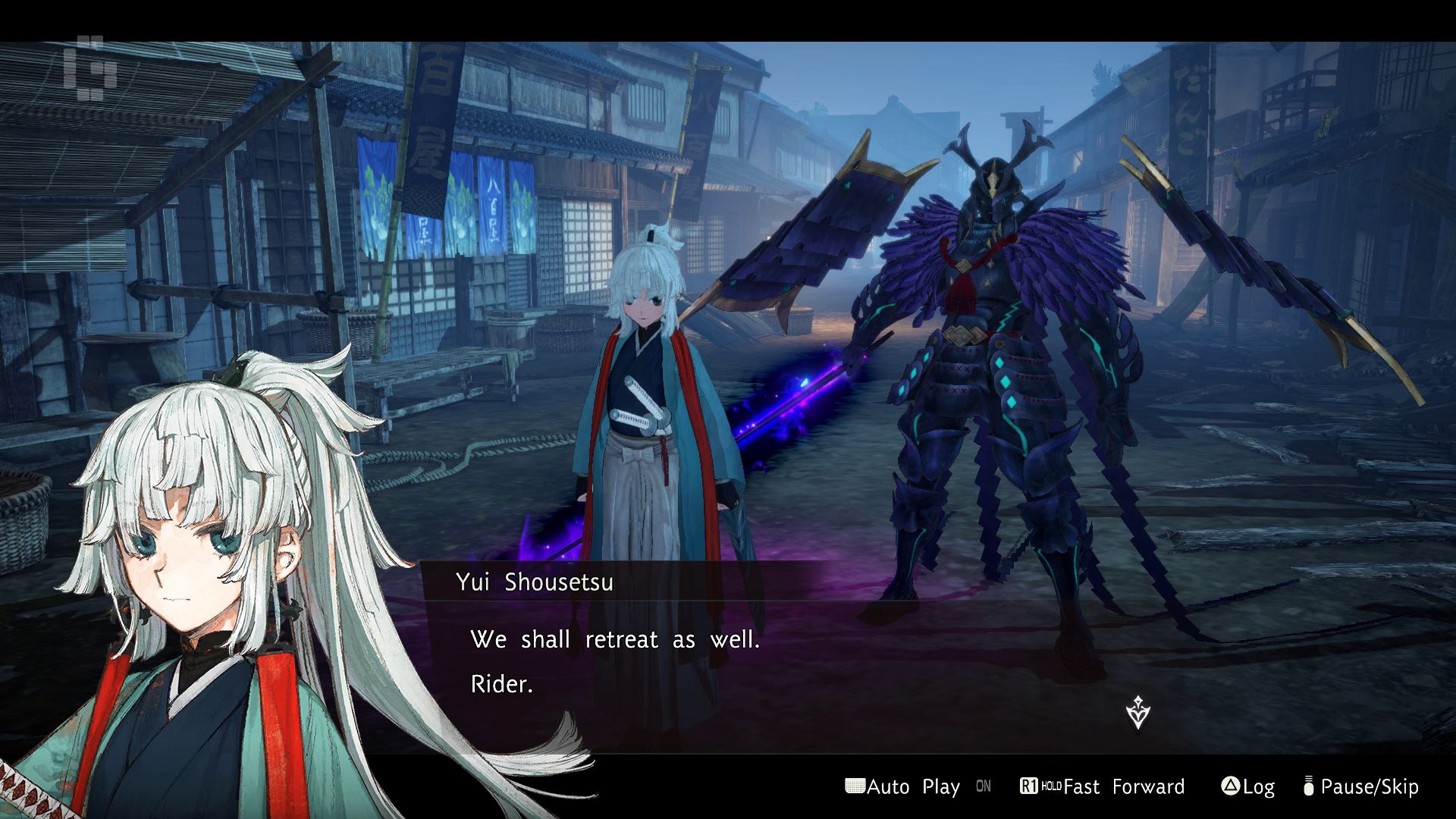 As the game is releasing soon, do you have any future plans about DLC that you can reveal? If yes, will there be any new playable characters or game modes?
Tomohiko Sho:Yes, we actually have 3 DLC planned right now, as the first one will be releasing in February, the other DLC will be releasing in the one year span after the game release. In the DLC content there will be new game mode, new elements and also new servants.
Is it difficult to the trophies for the PlayStation version? Do we have to play the game many times over to complete the trophy?
Tomohiko Sho:First of all, we cannot give a clear answer about the trophies, but we can say that as long as you work hard to beat the game, you can get all the trophies. If you want to fully experience the essence of the story, you may need to play for at least two times. So I hope that you can come to see what kind of story will be waiting for you in the new game+
Does it mean there will be different stories in New Game+?
Tomohiko Sho:Yes, there will be new storylines during new game+ , and  there are story endings that you won't see until you play new game+. For example in the first playthrough,  there is a big divergence in the game that affects the ending you will reach.
Do you carry anything over to New Game+?
Tomohiko Sho:Character upgrades, item, kits will be carry on towards new game+, and you can skip dialogues that appeared during the first playthrough
If you came back to work on another Fate game, would you rather have it be a follow-up to Samurai Remnant or something entirely new?
Tomohiko Sho:In my personal opinion, I would like to develop a brand new game, because I think Fate/Samurai Remnant is already a game with a complete story and structure. So if I were to develop a new game, I would want to go in the direction of a brand new Grail War with a brand new story.
In my personal opinion, I think that now that we've challenged the past, we'd like to see more of the modern era.
Since a lot of Fate games end up getting their own Anime, any hopes for the same to happen to Samurai Remnant?
Tomohiko Sho:Of course I hope it will come true, like Fate/Samurai Remnant's opening animation produced with Aniplex, so I hope that Aniplex can give us this opportunity.
Final question, easy one. Favorite servant?
Tomohiko Sho:As for this game, my favourite servant is of course Saber. Besides the main character, I also like Archer, the character who appeared together with Zheng Chenggong. I like the worldview of the character, or his origin, or his background. In the case of the Fate series, I really like Lord El-Melloi II aka Zhuge Liang, and Sherlock Holmes.
Fate/Samurai Remnant launches next week, and the knowledge of the game's New Game+ is sure to make this one to sink your teeth into. We've previously tried out the game for ourselves, where we noted its incredibly familiar tone to the original Fate/Stay Night.
Our thanks to Tomohiko Sho for taking time out of his busy schedule to talk to us about all things Fate.
---
Check This Out Next
---