I'm not a massive Tales series fan myself, but it has always interested me over the years. Tales of Luminaria is the latest release for mobile, boasting a staggering 21 protagonists, each with episodes centering around them. Unlike the previous mobile offerings, this one doesn't have, say, a self-insert of sorts who will be interacting with the cast of its predecessors. It's entirely new, and gives me the impression of giving a low-ish barrier of entry to those completely unfamiliar with the storied JRPG franchise, without needing to wonder why Yuri Lowell and Leon Magnus have been blacklisted from popularity polls. I mean, besides any late arrival spoilers.
PRESENTATION
Players would typically expect a landscape view, but Luminaria is portrait only. It's not a big deal to me, personally, but I know that many others asked about it considering it was addressed in their Q&A video. I tried out the Japanese release, which as promised, came out earlier than the global version. I could play it with English text, with the voices in English. I assume the game uses your device's language settings, so there was no "gaming" the system, so to speak. The Q&A did mention the worldwide release will only be featuring the English dub, though adding Japanese because of fan demand was on the table.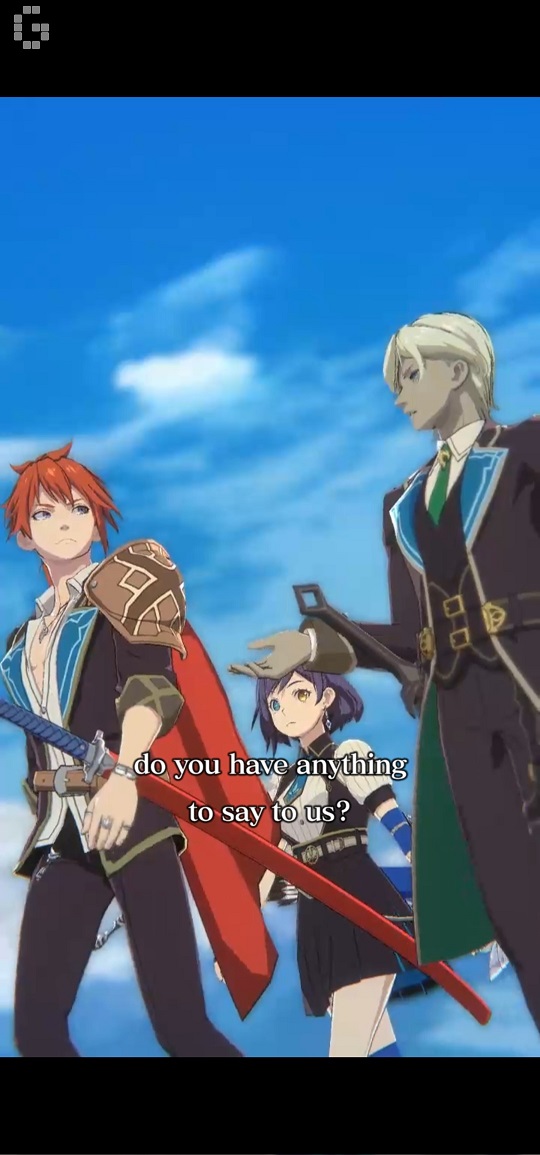 The English voice actors perform their roles well enough, so it'll be preference if you think their voices are somehow unsuited to the characters. As a self-professed "weeb", I will certainly appreciate the Japanese cast more. Besides that, my Poco X3 struggles a little on medium quality graphics; the game does remind me of its console brethren, with the 3D models / cutscenes and rendered environments.
The user interface is kind of interesting too. The main menu lays out everything at once, and you can keep scrolling to see characters at a glance, or maybe missions here and there, or current events. If you find that too cluttered, just use the tabs at the top. You can change how your characters look with some accessories and the outfits / weapons you get from the gacha, which I initially thought was only limited to accessories.
The opening song is a banger, by the way.
GAMEPLAY
It's basically an action RPG played vertically. As an idea, it's pretty novel. Its execution, however, leaves much to be desired. The verticality makes it feel like there's not much room to properly maneuver. You need to flick to dodge, but I don't feel like it's responsive enough. The attack commands also appear limited to the one tiny tap area in the bottom center of the screen which seems like a massive oversight when you likely would have moved around with your finger away from that area.
In the world, you run around and fight enemies you may come across. Countering is possible, with a prompt that pops up above the enemy, and a slow-down on your screen. Your other combat options include active Artes attached to your equipped weapon, and Mystic Artes on your outfit, besides your regular combos and charged attacks. That aspect is not complicated, for better or worse.
In a character's Episode, you'll find it broken up into chunks, to serve as checkpoints to auto-save and allow you to return another time. The map will be mostly linear, though you can go slightly out of the way to destroy barrels / crates for items, find shards of premium currency, or gather up items besides monster drops. You can come across these "cracks" for Secret Missions, which are basically challenges. For what it's worth, the scene transitions are mostly seamless, though perhaps the model quality could be improved.
Then there are multiplayer raids, where 4 persons can hop in to take on a boss. If you're defeated, someone else can come revive you within a certain amount of time, but otherwise you'll have to stay down. It seems like healing that isn't from food is attached to getting certain weapons, which seems alarmingly bad for people who would want to play a support role. Why do none of them start with a healing Mystic Arte?? Speaking of food, a character can have their favoured foods to have it be more effective on them, though the cooking itself is pretty much a matter of just getting the ingredients.
GACHA
At a 5% rate for 5-stars, it seems pretty generous. Thing is, there are 21 characters you could potentially get equipment for because this is an equipment gacha game. Weapons and accessories can be shared across multiple people without issue, so it's a matter of getting their outfits for stats or Mystic Artes. Each duplicate of a piece of equipment raises its level and therefore their power. It's 300 currency for a 10-pull.
It could be worse I suppose, as in the universal items get locked to only a single character instead of getting shared around. It's whatever.
The game currently offers a daily free summon, that gets upgraded to guarantee a 4-star with a premium pass. I guess that's nice?
VERDICT
I admit I bounced off really hard Tales of Luminaria. It's not even a matter of "I hate it because they won't let me use the Japanese dub", it simply feels awkward to play. Maybe the game would have benefited from a beta testing period, who can say?
It's not for me, that's for sure.
Tales of Luminaria
Android, iOS
Tales of Luminaria is a new Tales anime RPG for mobile! You can enjoy a high-quality anime RPG game with 21 protagonists. Find your favorite character and explore the world of Tales together!
---
Check This Out Next
---