The Tales of Crestoria Twitter provided a game introduction video, alongside details about its upcoming release! The current time frame to look forward to is mid-2020.
In a world where all citizens must wear "vision orbs" and be condemned by popular vote if they commit a crime…

… those caught in the act by their vision orbs and judged to be "transgressors" are hunted down and punished by "enforcers".

When five transgressors flee, they meet the notorious Vicious, a man known worldwide as "The Great Transgressor".
So goes the story blurb. Kanata and Misella will be journeying and meeting various colourful characters in the Main Story, including "Key Characters" in Side Stories! Cress Albane (Tales of Phantasia), Velvet Crowe (Tales of Berseria), Leon Magnus (Tales of Destiny) are featured! They won't be the only ones you see, of course, with other Tales series characters making their appearance.
The video also provides a first look at the summoning system within the game. Dubbed "Memoria Stones", the strength of emotions within the stones can summon party members who will join you! Equipping these stones can also strengthen existing characters.
Going by the video, you'll have 4 frontline party members and 2 sub party members, all of whom can equip their own Memoria Stones. Battles are turn-based, and the characters will be able to banter as they enter combat. We briefly touched on the battle system previously. Build up your Over Limit gauge to unleash your Mystic Arte!
We'll be awaiting its possible release mid-2020. How's this for an introduction to Tales of Crestoria? Remember to check the official Twitter and website for information.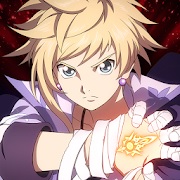 Tales of Crestoria
Android, iOS
Live. Even if it's a sin. TALES OF CRESTORIA is a brand-new Tales adventure for mobile! Step into this epic anime RPG game set in an original Tales series world, featuring a dramatic storyline and brand new characters! Experience this anime/manga adventure as Kanata and his allies fight to survive through the fantasy world of Crestoria while bearing the weight of their past sins.