Marvel's Spider-Man is the latest Playstation triple-A blockbuster to make its way onto PC via Steam and we were lucky enough to interview two of the people who made it: Nixxes Software founder Jurjen Katsman and Insomniac Games core technology director Mike Fitzgerald.
Jurgen Kastman is the founder of Nixxes Software who helped the game's original developer Insomniac Games bring the game to PC. He previously worked for Eidos Interactive on the Tomb Raider and Deus Ex games.
Mike Fitzgerald has been working with Insomniac Games for four years. He's in charge of the studio's engine and tools which they used to make games like Spider-Man and Rachet and Clank.
In our interview, they gave us more insight into the process of bringing Marvel's Spider-Man over to PC and the challenges they faced along the way and even gave a quick word about the possibility of Spider-Man VR Here's what we had to say:
Would you consider making a VR Spider-Man? 
Mike: I think adding VR support to Spider-Man would definitely be a challenge. I can imagine swinging through the city. Spider-Man in VR might give some people an upset stomach.
But it's an interesting idea. I'm really excited to see what PlayStation VR is going to bring in the upcoming future.
What were the difficulties of bringing a PlayStation game to PC? 
Jurjen: The first challenge we faced was just bringing the game to different hardware and making sure that it performs to its capabilities. All the way from PS4 to the stronger PS5 to the PC and everything else in the middle. 
There are a lot of optimizations we needed to do. Every time we ran a profile, someone would find a problem that needed to be adjusted. That was certainly one of the things that made it the most difficult. How do I solve this? How do I solve that? Is this the right way to do that? Things like that.
What is the difference between the PC and PlayStation versions? 
Mike: There's a whole audience of PC users that may not have played the game on PlayStation 5 yet. We wanted to take advantage of all the features that people love about playing on the PC. 
You can play with the Dualsense controller. You can play with any Windows controller you want. If you have an ultra-wide monitor, you can play it that way. If you have three monitors hooked up, you can play it that way. It's all about bringing it to PC players so they can play it their way. Exactly the way that they like to play games on PC. 
What is the most exciting part of the game? 
Mike: I'm really excited about the ultra-wide screen feature. It really gives you a different perspective on the open world. It's a big game with a lot of stories to tell. A lot of Cinematics, a lot of decided sequences. Bringing the game to PC was already a little bit daunting and then we said "Okay, we're going to show two times as much on the sides."
I was a little bit nervous but they [the development team] managed to chase down every little detail. They showed the results and I was very pleased. 
How much did you adapt DualSense Controller features to the PC version of Spider-Man? 
Mike: All the haptics and triggers you'll find in the PC version are a direct translation of the PlayStation 5 version. The controller support is great on the PC. So, you'll feel the same haptics response from running, footsteps, and the webs under the triggers when you're swinging through the city.
The one caveat on a PC is that you do need to use a USB connection from the controller to the PC to have the haptic features and that's due to some limitations with Bluetooth on Windows. But really, it still has the same features.
How Are The controls for the mouse and keyboard? 
Jurjen: I always think that there are people who prefer to use controllers but we put a lot of time into the mouse and keyboard to make sure they were configured correctly. 
There are a lot of processes. We had to give it to reviewers for testing. We have default controls but they [the players] can change it to their liking and the results were pretty good. Some people may have larger hands, but some people have smaller hands, so you have a lot of different settings. You can map it the way that you like.
I personally prefer playing it on the keyboard and mouse. With the mouse, I can turn backwards rapidly. I'm well aware that people will prefer controllers though so we have tons of different ways for players to map the game that way. 
So Nixxes has actively worked with Insomniac? What are your thoughts on each other? 
Jurjen: It has been a very good collaboration I feel. It's like, we're two channels, where we meet up and exchange ideas. Our team is really excited to have been working on this game.
Before joining PlayStation, we had to be working on some other titles. I had some discussions with Sony at the time. We want us to help them make some other titles. And I thought, hey, this is going to be interesting. They had many titles, like seven titles and one of them was Spider-Man. 
They asked questions, we asked questions and they chimed in to help. To me, it's been a very natural cooperation and they've been very encouraging and helpful. With how easily we interact, it helps reduce the burden for us. 
Mike: Nixxes has a reputation for being a great PC developer. And once we got the opportunity to work with them, by bringing our games to PC, we were very excited about it.
Hey, you have an opportunity to work with Nixxes on a PC title and I said yeah, that sounds good. We thought about doing it ourselves in the past, but it's a daunting test as a team that works on one specific hardware.
The idea of working on something that works on all these combinations of hardware was scary. So, knowing that we could work with a partner that has the experience, that is obviously very capable and confident, it's reassuring. As soon as we got together and talked, It was a very natural relationship between us.
 It's been a significant amount of time since Insomniac had a PC tile. It was an opportunity to work with a studio that had so much experience. So, we wanted to be part of this process and see how this relationship would go.
Jurjen: Both of us being a part of PlayStation Studios sort of helped. Making it feel a bit more automated. There was more trust from how I looked at it. It allowed us to focus more on making Spider-Man the best game it can possibly be. 
How are the two teams determining success when the game launches?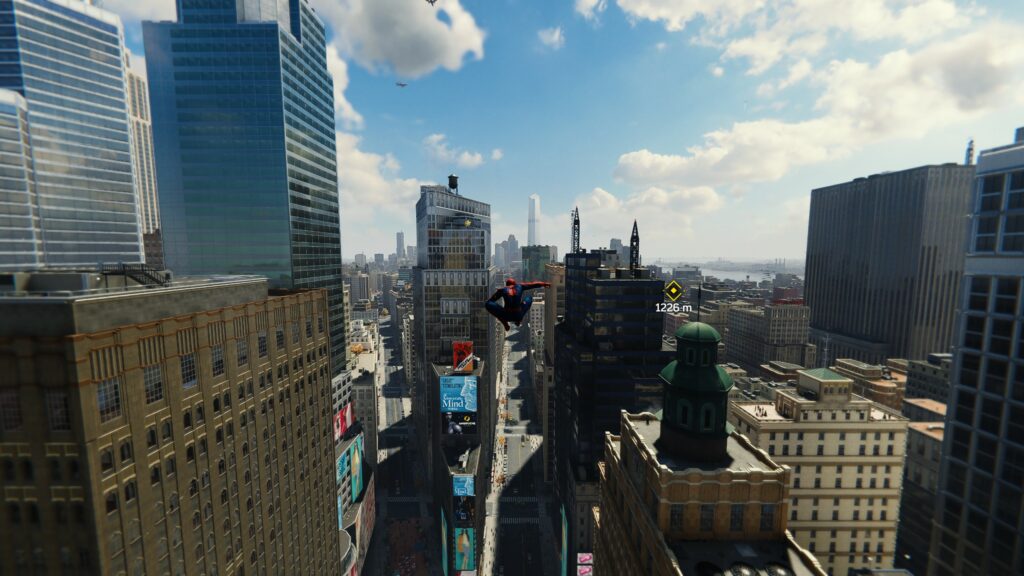 Mike: From my perspective as a game developer. I just want people to play the game. Success for me is having some more players experience Marvel's Spider-Man. 
Jurjen: To me there are multiple layers to success. Commercial Succes, which is determined by the number of people playing it and so on. What's completely important however is that the game is out there, and people are playing the game. And that works for me. I like it. 
I like how people can play with a mouse and keyboard. I'm really looking forward to this chance and I hope they [fans] enjoy it.
Mike: We're not just taking a console game and slapping it on a PC. But we're taking advantage of what the platform has to offer and give the fans what they want.
Are there any adjustments made to Spider-Man (PC) for Steam Deck? 
Jurjen: There are a few things we did to make that [Steam Deck compatibility] possible. We really thought of all the ways we could add customization options. Overall, we increased the capability functions. We did a few more internal tests for the steam deck and we made sure when the game starts up, the Steam Deck automatically configures the game. 
So basically, we did a few tweaks and now it can run smoothly on The Steam Deck. 
Final Thoughts
We're very thankful to Jurjen and Mike for taking the time to talk to us for this interview on the PC version of Marvel's Spider-Man. It's great to see that Playstation is not only bringing these games over to more players but is also putting so much effort into doing so with a passionate team that just wants to more people play their games.
Hopefully, we'll see more of Playstation's best coming to PC in the near future will all the bells and whistles that they deserve to look their best.
Marvel's Spider-Man will be available for PC via Steam on the 13th of August. For more information on the game, check out our review of the PC version here.
---
Check This Out Next
---