The next batch of PS5 pre-orders are now open through Sony Malaysia, beginning today from 23 July 2021. The announcement was made through their Facebook page, which can be found here.
There is a wrinkle to this July 2021 batch of PS5 pre-orders in Malaysia, which notes that the PS5 Digital Edition will not be available. Otherwise, you can obtain your own console at MYR 2,299, while the PS5 console with extra DualSense wireless controllers go for MYR 2,648. You can check in with stores or authorized dealers for further information.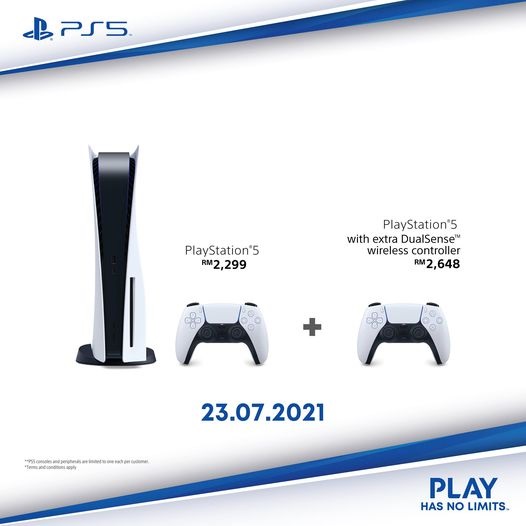 WhatsApp-to-Buy is also unavailable for this batch. Sony Centre Sunway Pyramid would like to assure that those who have already filled up their pre-order forms with associated queue numbers remain secure and valid. They inform that they will be contacting customers via call or WhatsApp.
If you were hoping for the Digital Edition, you will unfortunately not be able to secure yours this round. In comparison to the Physical Disc Edition, the Digital Edition is thinner, sans HD Blu-Ray disc drive, and is priced at RM 1,869. We should be able to expect prices remain the same throughout, as it has been the case for previous pre-order batches thus far. Stay tuned to see if the Digital Edition will have a separate order session at some point in the future.