Love headshots in FPS games? If you are thinking whether Sniper Ghost Warrior Contracts 2 can scratch that itch, check out this review.
Sniper Ghost Warrior Contracts 2 is a tactical shooter that puts players into the shoes of Raven, a Contract Sniper Assassin. The game introduces long-range sniping beyond distances of 1,000 metres, but also lets players get up close and personal to stealthily dispatch their unfortunate victims.
The game is available on Xbox Series X and S, Xbox One, PS5, PS4 and PC via Steam. Note that this review of Sniper Ghost Warrior Contracts 2 is based on my experience playing the game on the PS4.
With that said, let us get right into this review of Sniper Ghost Warrior Contracts 2.
The setup
The game sends players to the Middle East, specifically along the Lebanese and Syrian borders. As Raven, the objective of the game is to topple an insidious criminal syndicate by taking on various contracts, usually revolving around someone getting a bullet in their brain.
The previous paragraph practically sums up the game's story. Like the vast majority of FPS games on the market right now, Sniper Ghost Warrior Contracts 2 does not try to be a paragon of writing. Players are just here to snipe. You would not be remembering the game's story long after playing it and that is fine. That glory belongs to the headshots that you make throughout the game.
The bread and butter
Throughout the game, players will visit six different regions that come together with a list of Contracts to fulfill. Contracts can range from sabotaging electronic equipment to eliminating high-profile individuals. Even though the game has "Sniper" in its name, it does a good job in keeping the experience fresh thanks to the variety of Contracts it has. It is not a huge variety, but the game does not feel too repetitive, which was one of my initial concerns. Unfortunately, with only six regions, the game feels rather short.
In a nutshell, gameplay can basically be divided into two kinds—large, open mission areas and long shot Contracts. The former strongly encourages stealth, with players having to traverse through the map, usually having to take down several enemies along the way. It is possible to run and gun and go full Call of Duty mode, but playing smart and tactically feels a lot more rewarding.
On the other hand, the long shot Contracts is where the game truly shines. Players are perched in elevated terrain and have to take down targets, typically just over 1,000 metres away. Having to take into account distance, wind, gravity and the like make for a very engaging experience. To top it all off, the gore shots which take place upon a successful headshot feel very rewarding, but they do get old rather quickly. In addition, the cinematic sequences which take place when a gore shot happens also waste time, resulting in enemies reaching the alarm faster than they actually should.
While long shot Contracts provide a fair bit of challenge, the enemies' AI does not. Enemies are very predictable and are not very smart. In corridors or hallways, enemies have a habit of lining up towards my crosshairs. They will follow the same path of an enemy who was just headshot-ed seconds ago. They are also really oblivious and easy to sneak behind to perform stealth kills. While the enemies' AI stupidity sounds like a detriment to the game on paper, it does a great job in fueling that power fantasy of making you feel like an extremely skilled player.
More than just sniper rifles
Early on in the tutorial, the game will show you the ropes, from shooting targets at different distances to using binoculars (and even drones) to tag enemies. This is where Sniper Ghost Warrior Contracts 2 also introduces players to the various types of ammunition, such as EMP bullets for taking down electronic devices to explosive ammo for maximum carnage.
Aside from the gadgets and ammo, there is a decently varied arsenal of weapons to choose from. Raven can wield pistols, assault rifles and other firearms besides the treasured sniper rifle. Gun lovers may be disappointed to find out that there are no licensed weapons. However, to most of us, the weapons look and operate realistically enough anyway.
Weapons and gear can be purchased and upgraded. You will probably find scopes and silencers to be handy, but there is a lot of other stuff to tweak like barrels and even weapon skins. While they are nowhere near as absurd as the ones in Call of Duty: Warzone, they should be sufficient for those who love customising the look of their gear. The equipment is not the only thing that can be upgraded as Raven himself is upgradeable, too. Players can improve stats like health and agility. Generally, the game feels easy enough that skipping out on upgrades is not a deal breaker.
Eyeballing the game
Graphically speaking, Sniper Ghost Warrior Contracts 2 does not look as breathtaking as other new AAA games on the market, at least on the PS4 which is what my review is for. Regardless, the game's visuals are good enough. For example, the animation of a tire deflating upon being shot looks realistic enough.
As for the game's environments, they are not that good. Understandably, the Middle East has quite a bit of deserts, but many of the game's maps look too similar. This makes them feel rather empty and boring.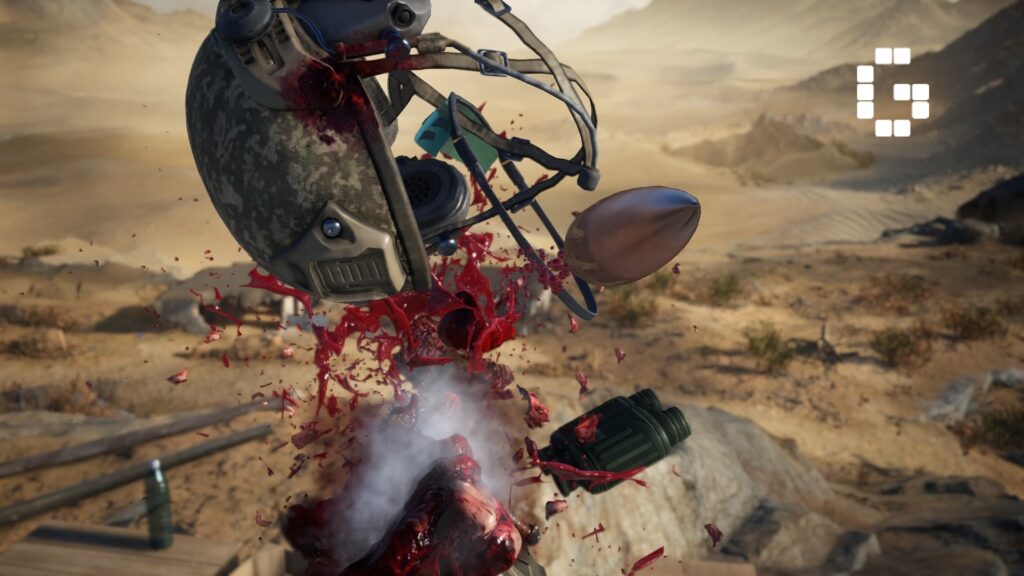 The game's gore shots, which is basically the FPS equivalent of Mortal Kombat's x-ray sequences, obviously sacrifices realism for spectacle (not that I know how a headshot from a sniper rifle looks like on a human being). As mentioned earlier in this review, the novelty of the gore shots in Sniper Ghost Warrior Contracts 2 does wear out somewhat quickly.
Closing Thoughts
Long story short, the long shot Contracts are the best. Nailing a headshot over 1,000 metres away makes me feel like the world's best sniper. Besides that, there is a fair bit of stealth to help keep the gameplay loop addictive. The large pool of equipment and potential upgrades also helps to keep things interesting.
Sadly, while the game is fun, that fun is short-lived. The main campaign can be completed in a day of playing. Regardless, I recommend Sniper Ghost Warrior Contracts 2 to FPS gamers looking for a more tactical shooting game. Alternatively, if you feel the itch to headshot someone, then this game is meant for you.
You can learn more about the game on Steam.
---
Check This Out Next
---
The Review
Sniper Ghost Warrior Contracts 2
It's fun and gets the job done.
PROS
Addictive gameplay loop
Weapons, gadgets and ammunition feel varied and useful
Setting up a kill shot from afar is very satisfying
CONS
Not enough missions
Environments feel empty and look a bit too similar
Gore shots feel redundant after a while
Review Breakdown
A headshot a day keeps the enemy at bay.

0