The release date for the SINoALICE x Kakegurui xx collab has been announced. The collab will be coming to global on 26 April 2022. Check out the preview video below:
It's worth noting that the release date for the Kakegurui collab in the Japanese version of SINoALICE will be on 12 April 2022, two weeks earlier. SINoALICE JP will be revealing more information regarding the collab during a live stream scheduled for 9.00 pm JST, 8 April 2022.
Based on the thumbnail for the live stream, it appears that Midari Ikishima from Kakegurui will be appearing as a Gunner (a no brainer, considering that the series barely has any characters who wield weapons anyways). You can watch the live stream here.
Besides Midari, the Japanese version of SINoALICE has also confirmed that Kakegurui protagonist Yumeko Jabami will be appearing as a login reward for all players. Check out the design for Yumeko Jabami/Breaker below:
Other than Midari and Yumeko, other Kakegurui characters who are confirmed to appear based on a news post from the Japanese version of the game include deuteragonist Mary Saotome, the Student Council President, Kirari Momobami and her secretary, Sayaka Igarashi. For more details, refer to this Japanese news post regarding the collab.
To stay updated with all things SINoALICE, follow the game on Twitter.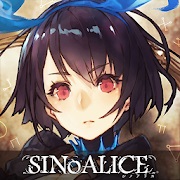 SINoALICE
Android, iOS
Fairy tale characters fight to "revive their author". Enter the dark world of SINoALICE as imagined by Yoko Taro (Drakengard, NieR).
---
Check This Out Next
---