Battlefield 2042 is the latest entry of the Battlefield franchise, and the first of the "next Battlefield generation". There's plenty of attention drawn to its stunningly detailed environments, up to 128-player battles on staggeringly large maps and new unique Specialists with which to conquer them.
It's certainly lived up to some of that hype, being one of the best-looking FPS out there at this time. Unlike its predecessors, Battlefield 2042 does not have a campaign, and is strictly a multiplayer experience. Launch sees seven All-Out War/Hazard Zone maps, six classic Battlefield Portal maps and 10 Specialists to play with, and more to come in future updates.
For reference, the review ran on a machine with:
AMD RYZEN 5 3500X 3.6/4.1GHZ 32MB

DDR4-2X8GB 3200MHZ

M.2 SSD 1TB

GeForce® RTX 3060TI 8GB TWIN FAN OC
OPTIONS
Beelining to the Accessibility options, there are selections for colourblindness, with you able to set custom colours for your squad, friendlies, enemies and neutrals. You can also check these colours against different lighting situations! Subtitles automatically come with a background, but otherwise don't have options besides size to tweak. Meanwhile, there are toggles for sprint, scope and interactions which are appreciated.
Outside of that, there's a whole array of graphics options, more HUD tweaks for colours and opacity and even crosshair thickness.
PRESENTATION
The maps are incredibly vast and visually stunning, really impressing on you that image of the war-torn world of Battlefield 2042. For scenery alone, the game is phenomenal, where you might even want to stop for a while to simply admire the view. Just take care to not get sniped.
There's the variety of "biomes" so to speak, in the visuals the maps offer. Breakaway, for example, is basically a frozen wasteland with nothing but white that stretches all around you in the tundra of Antarctica. Meanwhile, Hourglass features skyscrapers buried in the sand, glinting in the sun. Some of these landscapes offer absolutely no cover, so someone with a flying vehicle could very easily take you down.
Adding to the spice is a dynamic weather system. Tornadoes or sandstorms are two that you may encounter. You could get sucked up into the eye of the storm, or manage to get by with only your gadgets going haywire. Wild weather can also obscure your vision to further complicate any strategies you may have had.
GAMEPLAY
The meat of the game, as you might expect. This will be split into parts: the game modes, the Specialists, and the weapon system.
GAME MODES
ALL-OUT WARFARE
All-Out Warfare consists of Conquest and Breakthrough, fan-favourite modes that have been revamped for 2042. This would be the best way for newbies to experience the game first hand and get used to it "quicker", due to its fast pace, non-stop action.
Each team will start with a number of reinforcements, representing the "lives" they have for the match. The first team to lose all reinforcements loses. Teams will be able to fight over sectors of the map which will cause the opposing team to bleed out reinforcements.
Capturing a sector requires team members to control objectives within a sector, typically one or two in each slice. There can't be enemies near your objective in order to actually capture it. Needless to say, coordination will be key here.
Up to 64 players (32 on PS4 / Xbox One) will be divided into teams of four. Attackers will attempt to capture three objectives in a sector from its defenders. Should the attackers hold on to those objectives, the defenders will be forced to retreat into a new sector. The process repeats until the defenders are forced into full retreat, or the attackers time out and/or lose all reinforcements.
Defenders are given unlimited reinforcements compared to the limited pool for attackers. Whoever's on the attacking team requires more coordination to not just capture, but hold the objectives. Being a defender certainly sounds more attractive…
Conquest feels closer to a free-for-all, while Breakthrough is a little more controlled.
HAZARD ZONE
The easiest way to describe this is "battle royale with mission objectives". Squads will be spread out to find, collect, and extract as many data drives as possible from the crash satellites you can find scattered on the map. The extractions can only occur at specific times and areas, requiring good map awareness.
Hazard Zone plays by elimination rules: die and you're out, and whatever drives you've collected will be others for the taking. You can rely on your squadmates to complete the mission, or even just have a solo carry get the rest of you the rewards. Extraction points provide in-game credits to purchase weapons or upgrades for your following game.
The weapons you buy will be lost if your mission fails, but not buying any will also leave you with minimum credits and basic gear. This mode is catered to more experienced players, as any loss can be an incredibly major setback for newbies who can easily lose anything they manage to earn. The learning curve is a really steep one, and definitely a mode for the highly competitive.
BATTLEFIELD PORTAL
If all else fails, Battlefield Portal is where you can craft your own experience. You can't actually make a completely custom map, but you will be able to edit existing maps drawn from the vast pool the franchise offers by setting your own rules, placing your items, and so on.
That means finessing maps, vehicles, classes, weapons, and more from 2042, 1942, Bad Company 2, and so forth and using the rules you set. If you want "Melee Only", for example, then go for it. Simple options lets you make relatively minor tweaks, while you can try going more wild with the advanced settings for things like event triggers, or even projectile speeds.
This feels like "we have (insert Battlefield title here) Remastered at home" in a way when you apply modern sensibilities to say, Caspian Border or El Alamein. At the most basic level, the maps offered have been visually and mechanically improved while retaining their original soundtrack. I sure wonder what the community will be able to pull off.
SPECIALISTS
Basically your "classes", Battlefield 2042 comes with 10 playable Specialists at launch with 8 accessible immediately. Mackay requires level 15, and Paik is available at level 25. Each will have their own exclusive gadget and passive. Players can choose the same Specialist as another, with the exception of Hazard Zone.
ASSAULT

Their focus leans to combat, e.g. mobility. Mackay's grappling hook, Sundance's high-grenades and wingsuit, then there's Dozer with a shield to block shots from smaller firearms

ENGINEER

These guys want to dig in and hold out. Irish and Boris both have gadgets to facilitate holding forts, as the Repair Tool and anti-vehicle gadgets have become available to all Specialists

RECON

As you might expect, these are your forward scouts. Rao can hack while Casper has a drone. Sniper rifles are also no longer exclusive to the class

SUPPORT

The team backbone, for medics and replenishing ammo, armour and health. They can revive any downed ally, not restricted to their squad. Falck and Angel are also able to revive at a faster rate
No Specialist at this stage has a particularly large power gap so feel free to experiment. The primary difference between Specialists is limited to their unique gadget / passive, as loadouts are usable on all of them.
WEAPON SYSTEM
Pick from a pool of 22 assault rifles, snipers, LMGs and pistols, the variety coming from the dozens of attachments you can customize before deploying or during a match. Parts you can change include scopes, cartridges and muzzles, the system also allowing for real time swaps. Once you're done with that 4x zoom, put in your 1x reflex sight for closer range combat. The options could really make or break your chances of survival.
Unlocking weapons and attachments require a level of mastery, so here would be your grind. Eventually being able to access the entire armoury helps reduce the gap between players, arguably putting more emphasis on your skill and time you've spent honing yourself. Considering how attachments can change a weapon's playstyle, there's quite a lot of replayability offered for the same weapon.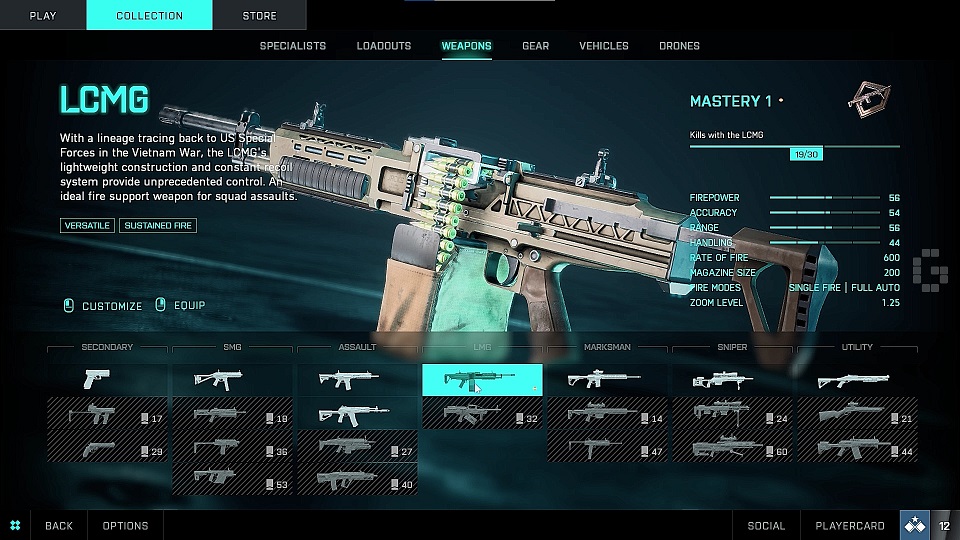 CLOSING THOUGHTS
The usual bugs can sour the experience, where you might not spawn in correctly or getting stuck in terrain. Matchmaking could be an issue depending on which mode you play, and even then, the fear of disconnecting is ever present. In time, the issues should get ironed out.
Fans of first-person shooters, those with a competitive streak or even just newbies, just dive right in to Battlefield 2042. In All-Out Warfare, you'll get to match up with many other allies while you learn your part, respawning whenever you die. Who knows, if you keep at it, you might be surprised at how much you've managed to improve. Competitive players can always choose to aim for the leaderboards in All-Out Warfare, or get those sweet credits in Hazard Zone.
There's plenty of fun to be had in these epic, large-scale battles for all skill levels. With more content on the way, consider grabbing it for some shooting action with your buddies.
Battlefield 2042
Microsoft Windows, PlayStation 4, PlayStation 5, Xbox One, Xbox Series X|S
Battlefield™ 2042 is a first-person shooter that marks the return to the iconic all-out warfare of the franchise. In a near-future world transformed by disorder, adapt and overcome dynamically-changing battlegrounds with the help of your squad and a cutting-edge arsenal.
---
Check This Out Next
---
The Review
Battlefield 2042
Once it sees some more fixes and additions, it's gonna be a grand ol' time.
PROS
Fun and engaging All-Out Warfare
Impressive visuals
High customization of loadouts
Community creations have high potential
CONS
Game modes aren't all welcoming to newbies e.g. Hazard Zone
Relatively small pool of weapon types
Can be grindy to unlock everything
No story mode for those who like it
Review Breakdown
Rocky start to next generation warfare

0