By now you've heard of the Mafia Trilogy, containing the Definitive Editions of the three games of the series. We had the opportunity to play through the second of these for ourselves, Mafia II: Definitive Edition. Will it be worth it for newcomers to join the family? Read on and find out through our review. Here's a comparison video of the original, versus the 2020 remaster.
Welcome home… in HD
As you might expect from a title claiming to be the definitive edition of a game, the graphics have been greatly enhanced from the original Mafia II. Textures on buildings have become better, light effects improved, and you can leave your mark on the world – more or less – with your weapons: shooting a pillar with a relatively powerful gun will destroy part of it.
This graphical improvement has to be extended to the characters of course, now with more expressive facial expressions for the various characters in the game. For the interested, you can even gaze upon their pores and freckles, as lovingly rendered as you see it on a real person. The game is capable of running 1080P / 4K support, so get those machines running for 120FPS and above!
I've been on this road before
Being a remaster, Mafia II: Definitive Edition contains the same content and gameplay as the original. However, it does come with the DLCs, which are The Betrayal of Jimmy, Jimmy's Vendetta and Joe's Adventures, so that you can enjoy the complete story of Mafia II.
In any case, if you didn't already know, welcome to the family. Set in Empire Bay, this city is based off New York in the United States of 1943 to 1951. Vito Scaletta will join the mafia with the help (?) of his friend, Joe. Starting off as a lowly nobody, he'll gradually find himself climbing the ranks. Starting with nothing, the game practically closed out on you until you obtain the authority, power and the money, I find myself being truly immersed in this world as Vito's horizons gradually open up to him.
Like your classic mafia movies, you'll be interacting with the family, have the old fashioned killings here and there, betrayals and surrenders during your time in the game. Everyone is family, but sometimes, you have to make sacrifices – and that just might happen to be you, Vito, old boy.
Making your way downtown
If you're well versed in open world games like the Grand Theft Auto series, then you can find similar trappings here: garages, weapon shops, restaurants, gas stations, clothing stores, abandoned car factories, and so much more for you to explore. If you need to decide where to go, then just set your own waypoint on the map and make your way there and surprise yourselves. With this much variety in shops, they've got their own purposes:
Garages

Modify car engine, paint, number plate, etc. Get your plate changed and give the cops the slip!
Clothes shops

Vito is your virtual paper doll, whether you want the rougishly handsome look, or dress more befitting of a mafia member. As with the car, your change of dress can avoid you getting spotted by the police

Gas stations

Cars don't have infinite fuel in this world, so you'll need to pump up. There's typically little need for that though

Restaurants
Abandoned car factories

Steal some rides and earn some cash
The map gives off the same feeling as GTA, but you're fairly restricted by the story before you can really try roaming. There are 15 chapters to play through, with side quests sprinkled around (not in great quantity). Naturally, being a mafia member, you can go round collecting protection fees, stealing from opposing gangs, or finding out who the turncoat is. Members of your mafia family will join you on your tasks, really homing in the whole "family" theme: we're all in crime together.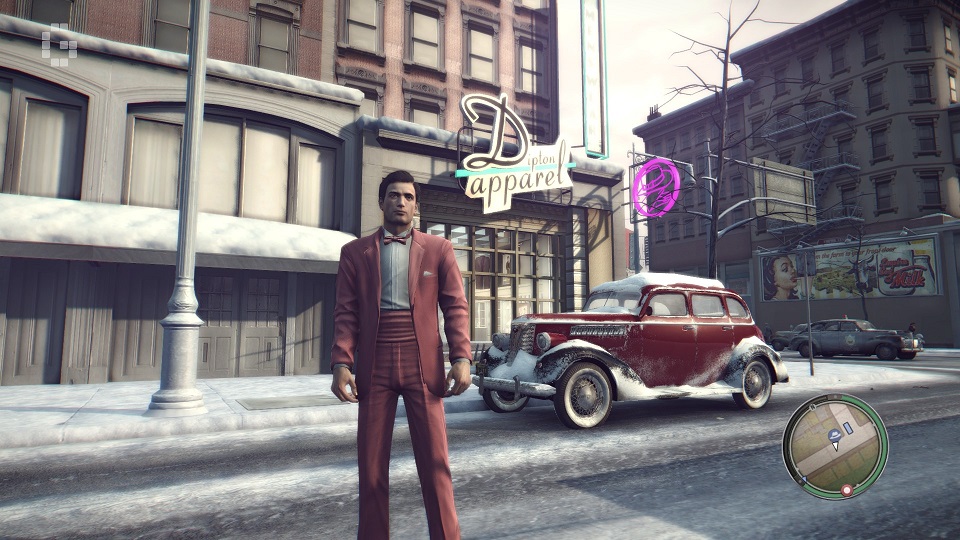 The gunplay in Mafia II: Definitive Edition remains great, though you can't go all guns a-blazing here! You'll need to strategically take cover and strike back, lest you die a dog's death. Same goes for the coppers; any illegal activity – from hitting someone's car or ol' fisticuffs – in their field of vision will have you pursued by them and increases your Wanted Level. At too high a level, you'd just have to die. Keep to the speed limit too, as you can and probably will get ticketed. Under certain circumstances, the cops can be bribed to look the other way, typically a lower amount than the fine itself.
Into the sunset with the family
Considering the subject matter, it's natural there'll be plenty of, what you can dub, "politically incorrect" content, from racial discrimination to the wanton violence, as reflective of the social environment of 1950s United States. As you keep that in mind, it is nonetheless an incredible game, with the same, excellent story – DLCs included – delivered to you in HD, as you experience Vito's struggles and his evolving friendship with Joe.
Empire Bay is a looker itself, and veterans can at least return to this place and see how it was meant to be seen. Otherwise, the story itself hasn't changed, nor have the exploration elements been expanded on. Money will eventually stop being an issue, so don't focus on making a lot of it. You can be a nice, law-abiding citizen when the cops are looking, and shank your enemies when they're turned around.
Driving around hasn't been very improved, so expect the same jank from the original. Hand-to-hand combat also has likewise not been touched. Whatever it is, Mafia II: Definitive Edition is one which you get new fans into, and for the older ones to merely revisit for the nostalgia.
| | |
| --- | --- |
| Pros | Cons |
| Obvious graphical improvement | Nothing much for veterans |
| Good way to get new people into Mafia with all DLC included | |
FINAL SCORE
7.5 / 10
Mafia II
Microsoft Windows, PlayStation 4, Steam, Xbox One
Mafia II is an open world action-adventure video game developed by 2K Czech and published by 2K Games. It was released in August 2010 for the PlayStation 3, Xbox 360, and Microsoft Windows; Mafia II: Director's Cut was released by Feral Interactive in December 2011. The Definitive Edition, containing all the DLC, was released on 20 May 2020.