Look, it's hard to mince words- you'd need a real fine-toothed review comb to find any flaw with Roll7's skate shooter, Rollerdrome. I've gushed about it at length during the game's final preview, but spending more time with the finished product reveals a game that's shed all extraneous elements to make room for focusing on what it does best- extremely fast-paced action.
Part Tony Hawk, part third-person shooter and with a tiny sprinkle of Judge Dredd thrown in, Rollerdrome is a game that appeals to a very specific gameplay palette. But the game's own unique beliefs on difficulty and challenge mix it into a game that really is for anyone, as long as you're able to decide what's 'difficulty' and what's 'annoyance'.
How exactly does Rollerdrome get away with being one of 2022's best titles? Read on and find out.
Get Into The Zone While Bad Apple Plays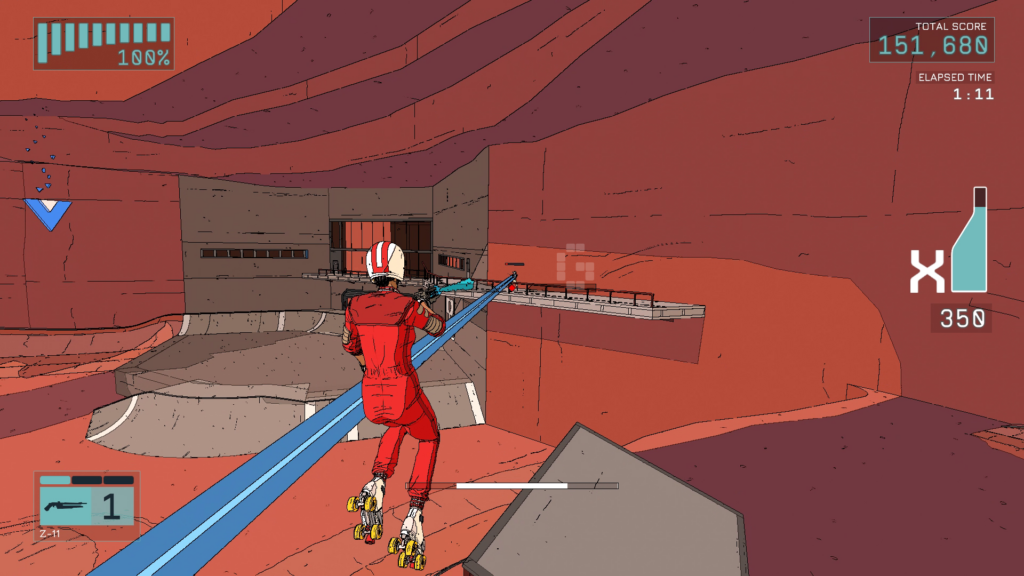 Rollerdrome is very much a flow-state kind of game. You want to be in that mental state where such trivial things like taxes and choking to death in your apartment alone don't exist, and all your extra brainpower is used for simply deciding what to do in Rollerdrome's expansive arenas.
The experience feels very much laser-focused in making sure there's always an action you can think in every situation. At any point you can either launch yourself into a jump to do a quick trick for some ammo, ride a surface, grind or commit notorious gun violence on the game's House Player enemies. The game's Reflex Mode even throws you into bullet time, letting you line up your shots better or simply take stock of just how many missiles are on your tail before you dodge, and the Super Reflex Mode lets you get into even more
I mean, in my last session I'd accidentally shot one of the mines set by the enemy with a grenade launcher instead of my pistol like I usually do, and realized that I'd discovered how to rocket jump in the game. These kind of discoveries feel great to do, especially since now the main thought on my mind is what can I leverage with all the extra airtime.
It does help that the game throws quite a bit of managing to pull you along too- you'll obviously want to look for more avenues to do tricks since it keeps your ammo up, and learn to kill faster since it keeps your combo multiplier going.
The great combat even carries over into the game's bossfights- Rollerdrome's bosses stay exactly as long as they need to, instead being a test of how well you can manage a barrage of attacks before doing the usual "hit the weakpoint to win" formula.
Ordinarily I'm not a fan of the invulnerable phases, but it's the fact that Rollerdrome is so much more about dealing with problems than actually killing that makes it feel so much fun. That, and the fact that the boss is literally the love child of a Tachikoma and a skate park, being covered in ramps and a quarter pipe.
Empathetic Design
One flaw you could pull for Rollerdrome might be its difficulty. After all, the game has a high skill ask of you as  you manage all the stuff being thrown your way. That being said, the game sports an Assist Mode- customizable difficulty options, letting you go so far as to turn off damage, ammo and even the game's challenge-based progression system.
It's a really nice thing to do because the game is meant to be challenging, not impossible. By letting you set the terms of your game's difficulty and not calling it anything demeaning like baby mode, you let people play at their preferred challenge level.
If you want it harder, the game has tools for that, too. Beating the campaign unlocks Out For Blood mode, which dramatically ramps up the difficulty even harder than it already goes in the game's back half.
That Dystopian Sci Fi You Love To Dread
On top of that, the world of Rollerdrome is actually pretty interesting- if you like your Judge Dredd-style sci-fi, you're sure to love the story of Kara Hassan, an athlete in a deadly sport owned by a mega corp. I should warn you that this is not a Hunger Games-style story about overthrowing the system- Rollerdrome's narrative segments are great snapshots of the state of Kara's world, yes, but your job is to just be an athlete in Rollerdrome, not engage in the external politics of it.
Like I didn't think I'd be talking about the story this much but there's a certain charm to a story told like this. The events of the world of Matterhorn are genuinely interesting, and its explicitly the fact that you only learn of it through emails, newspapers and the radio that make the straightforward nature of the game's plot so hypnotic.
It's certainly no narrative masterpiece- but it's well done enough that it does invoke an emotional response. Maybe I'm just overtuned to stories about corporations making things worse, but I definitely enjoyed the future dystopia of bloodsport on skates.
The Satisfaction of A Game Well Done
Rollerdrome is easily one of my top games for 2022, up there with titles I had to review like Elden Ring and OlliOlli World. It's incredibly focused on the experience it wants to give you, and is very good at stripping away anything unnecessary that might get in the way of that.
On top of that, its difficulty management is a slap in the face for everyone that says you can't add easy modes to hard games- not only does this incredibly difficult game have an easy mode, it's an incredibly robust one that asks you what you're having trouble with and lets you adjust for that, specifically if you want.
Despite the hours I spent playing rollertouhou with the maelstrom of projectiles chucked my way, it was an utter blast as you do cool maneuvers like shooting rockets out of the air or sniping through two dudes at once.
Admittedly, it's major flaw would be how drastically it ramps up around halfway through the game- the elite enemies are packing a lot of health, and the rules of the game suddenly go from "kill everyone" to "get everyone to low enough health that you can drive-by them on your next run around".
But just like everything else in the game, you kind of just adapt to it. Not in the way you'd adapt to a game's jank controls, but moreso in the sense that you'd feel like you're actually learning to play the game right. That's the only thing you're ever chasing in Rollerdrome- to do better than that punk who was playing before you.
Rollerdrome score
| | |
| --- | --- |
| Pros | Cons |
| Excellent combat | Back half enemies can be frustratingly tanky |
| Great visuals | |
| Assist mode makes it so difficulty can be set to your preference | |
---
Game reviewed on PC. Rollerdrome Review code provided by Private Division, the game's publisher
---
Check This Out Next
---