The ASUS ROG Zephyrus M16 is certainly a unique new addition to the ROG family of computers. It's one of the first laptops to use an RTX 4090 and 13th Gen Intel core, and it's the first one that we've received as well.
With that in mind, it certainly makes a big first impression. The computer has an Intel Core i9-13900H, NVIDIA GeForce RTX 4090 16GB GDDR6, 32GB DDR5-4800 RAM, and 16'' 2560×1600 240Hz panel with 3ms response time, as well as the new AniMe Matrix LED lights on the system. With that combination of systems, it's one of the top gaming laptops that are on the market, although still with a couple of drawbacks. Let's take a look:
Design
With that out of the way, the rest of the machine is pretty solid. The lid of the laptop uses aluminum material, and the chassis is made out of magnesium-alloy metal. This makes it a sturdy piece of tech with little to no screen wobble. No matter what surface I paced the laptop on, including my actual lap, it remained secure and functional. 
The thickness of the laptop is 22.9mm and weighs around 2.3kg. It's relatively thin and light for a gaming laptop, what's more, impressive is that they manage to stuff two of the hottest things in computer parts (i9-13900H and RTX 4090) into this laptop making it super hot (we'll go over the more in the cooling section of the article). 
As for the bottom part of the laptop, it's pretty cool that they designed it so that if you want to upgrade your RAM and SSD down the line, you can. All you have to do is remove the rubber on the bottom to unveil the screw. It's a bit of a hassle to remove but it's always cool to see that you can upgrade the machine allowing long-time users to get more use out of it as the years go on. 
AniMe Matrix
The most notable thing about the ROG Zephyrus M16 is the AniMe Matrix LED. This is a new feature of the laptop, allowing the machine to animate images and gifs on its back through a series of LEDs.
If I'm being honest, these have no real use other than aesthetic, and also kill the battery on the laptop pretty quickly. That being said, they do look good on the back of the computer and can be customized to make them more personal. It's cool for people that want a more stylish "I'm a gamer!" style laptop but I'm not so flashy and would prefer a device that lasts longer.
Connectivity
In terms of ports and plugs, there's plenty going on around the ROG Zephyrus M16. There's one Thunderbolt 4 that supports 100W power delivery (for charging via USB Type-C), one USB Type-C 3.2 Gen 2 that also supports 100W power delivery, two USB Type-A 3.2 Gen 2, one 3.5mm headphone jack, a microSD slot, and an HDMI 2.1.
I think it's enough for most people. I know that a full SD card slot would be better for some people but most casual users seem to use MicroSD cards anyway so at least they have a port for that. I would have liked to have an additional USB Type-A port since the two included will likely be taken by a mouse and keyboard at all times but it's still pretty suitable for most situations. 
The ROG Zephyrus M16 also uses WiFi 6E technology. This means that your internet should probably run faster which is also a plus when using a laptop. 
Keyboard and Touchpad
The keyboard key travel distance is 1.7mm, and unfortunately for the RGB crazed out there, it only features 1-zone RGB, so there's not much you can do about the RGB lighting outside of four patterns. Other than that, it's more or less your standard laptop keyboard. It doesn't have a dial pad if that's important to you however since none of the laptops I've ever used had one, I can't say I missed it too much. I do also like that the direction keys are all the same size which makes them easier to hit reliably. 
The touchpad is pretty good all around. It feels nice to use, with a smooth feeling that allows you to glide the cursor across the screen. The feedback of the button even feels good to click. Unfortunately, it's at the dead center of the laptop, which means there's a potential to interfere with your typing. If they would move it slightly to the left then it would have been perfect.
Display and Audio
The ROG Zephyrus M16 uses a 16:10 2560×1600 240Hz 3ms response time miniLED display, that is 100% DCI-P3, Pantone Validated, VESA DisplayHDR certified, Dolby Vision certified and supports G-sync. The contrast ratio is 10,000:1 and they claimed the display brightness is 1,000 nits at peak. That's a large slew of certs and while I can't verify them all one hundred percent, I think the screen is more than bright enough for daily usage and gaming, in fact, the display made images really easy to spot.
When I was playing Returnal on the laptop, I could see characters and objects miles into the background and I think you can attribute that to the contrast of the display. The color is also very vibrant and the enemies in the game really popped. It made the game much more enjoyable and made me realize how much good the color range in Returnal was as a whole. 
The refresh rate at 240Hz is also good, making everything feel much more fluid and smooth. Likewise, the 16:10 ratio for the screen is a good choice for people who do content creation for a hobby or living since it offers more vertical space and maybe lets your Premiere Pro show one more track.
The audio of the Zephyrus M16 is fine. You can crank it up to be deafeningly loud but it still won't distort the audio too much. Considering most people won't want it that loud, however, the sound quality is good and clear, although the bass and treble are a little weak for my taste. It's not a big deal but it is noticeable so it might be worth getting some speakers if need be. 
Battery Life
The laptop comes equipped with a 90Whr battery in it and uses either 280W barrel charging or 100W USB Type-C charging. I'm testing the battery life under the below configuration:
Silent Mode

50% volume

50% brightness

No AniMe Matrix

Keyboard RGB Full Bright

Discrete GPU

GPU Mode in Ultimate
In about 1 hour and 46 minutes, the battery went from 100% to 8 %, the laptop kicked into Battery Saving mode (20%) at around one and a half hours. To be fair, I could have switched off the RGB, gone into the bios and change the GPU to hybrid, and switch the GPU Mode in Armoury Crates to Standard but overall, I wouldn't say it's too bad a laptop battery life. It's short but with a machine like this, you should probably have it plugged in at all times anyway. Charging it using the 280W power adapter, from 8% to 80% took around an hour, so it's pretty fast as well. 
Armoury Crate
Armoury Crate is Asus' gaming software utility and if I'm being honest, I find it unnecessarily complicated. The UI feels too cumbersome, with so many options for what is really just the software for you to control the RGB, and Macro keys, and to change the laptop's operating mode like Turbo mode or Silent mode.
It's nice that you can monitor how hard your hardware is working, but I've seen it better. There's supposed to have a MUX switch, but it took me ages to find out where exactly it is until I eventually learned they put it in the Bios sections of all places. I suppose all of the functions work properly, you can change your RGB and keys as needed but it'd be nicer if it was easier to navigate. 
Benchmark
Since The Zephyrus M16 has an Intel Core i9-13900H (40W TDP default), NVIDIA GeForce RTX 4090 Laptop GPU (120W+25W), 32GB DDR5-4800 RAM in it, one would expect this thing to perform exceptionally well, and it smashed through my expectation. Here are the benchmark specs:
3DMark: 18,378

PCMark 10: 8,837

Cinebench R23 Multi Core: 19,321, ranked 3rd and only losing to 2 SUPER POWER WORKSTATION CORE

Cinebench R23 Single Core: 2,046, ranked 1st
Game Test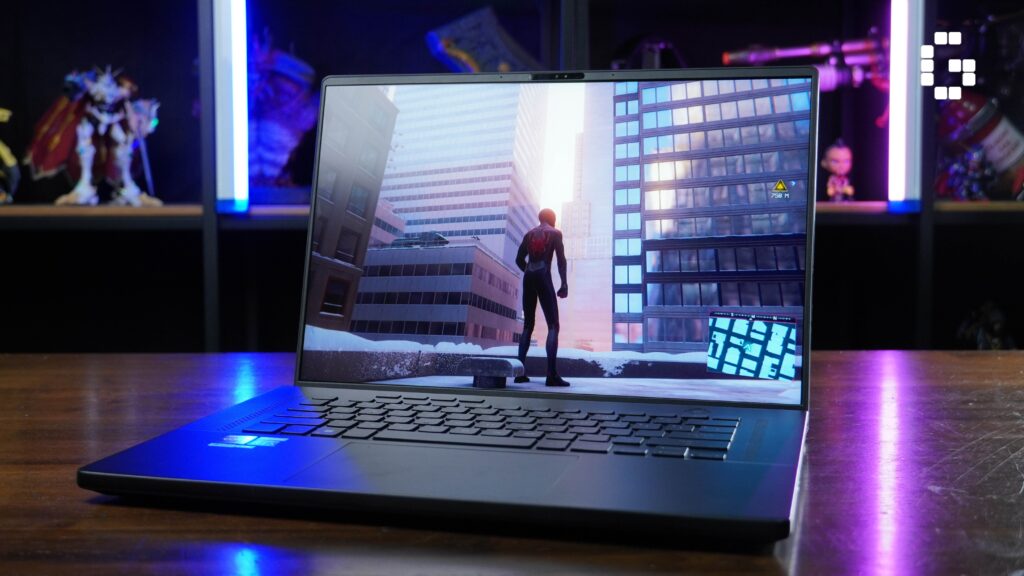 Much like the benchmark, the game tests were overall exceptional. All tests were done under 2560×1600 resolution and the games mostly played like a dream. 
Battlefield 2042
| | | | | |
| --- | --- | --- | --- | --- |
| Max Graphic Setting | No DLSS | No Ray Trace | Avg 90FPS | 1% Low is 40+ FPS |
| Max Graphic Setting | No DLSS | Ray Trace Ambient Occlusion | Avg 60FPS | 1% Low is 30+FPS |
| Max Graphic Setting | DLSS Ultra Performance | Ray Trace Ambient Occlusion | Avg 100FPS | 1% Low is 50FPS |
Forza Horizon 5
| | | | | |
| --- | --- | --- | --- | --- |
| Max Graphic Setting | No DLSS | No Ray Trace | Avg 85FPS | 1% Low is 30+FPS |
| Max Graphic Setting | No DLSS | No Ray Trace | Avg 74FPS | 1% Low is 25FPS |
| Max Graphic Setting | DLSS | Ray Trace Max | Avg 110FPS | 1% Low is 30FPS |
Spider-Man Miles Morales
| | | | | |
| --- | --- | --- | --- | --- |
| Max Graphic Setting | No DLSS | No Ray Trace | Avg 95FPS | 1% Low is 55FPS |
| Max Graphic Setting | No DLSS | Ray Trace Max | Avg 60FPS | 1% Low is 45FPS |
| Max Graphic Setting | DLSS Ultra Performance | Ray Trace Max | Avg 120FPS | 1% Low is 60FPS |
As you can see, that laptop is capable of producing high FPS performance and does so while still keeping to an acceptable resolution. This is what the laptop truly excels at as it works great as a gaming laptop that should allow you to play most titles with few issues.
Cooling
Throughout my testing, the laptop never hit a temperature so uncomfortable that you could cook on it, which is good for such a high-end laptop. The hottest temperature for the CPU I've seen is 97 degrees Celsius, which is hotter than what I would want, but on average the CPU can keep the temperature under 90.
The GPU temperature is also mostly acceptable. The hottest it got was 83 degrees Celsius, which is the breaking point where GPU started to thermal throttle itself and underclock. It'll be rare for the laptop to do this though unless you're constantly running it on the top settings. Otherwise, it runs perfectly fine. 
I also didn't really feel the heat when I was gaming. Although it's a little bit louder than I'd like, that's why headphones exist I suppose. 
Overall
The ROG Zephyrus M16 (2023) is one of the first laptops that put an Intel Core i9-13900H and NVIDIA GeForce RTX 4090 in it, and the performance, especially the gaming performance excels as a result. Even without DLSS, the laptop can run AAA games without a hitch all while being able to keep the temperature down to an acceptable level.
The price of the machine is admittedly on the high side being a minimum of RM10,999 but I can safely say that you'll get your money's worth. If you want to have a portable gaming beast that can be brought everywhere you go, this would be the near perfect choice.
---
Check This Out Next
---