Returnal could very well be my favorite PlayStation IP currently in rotation. Amid a torrent of cinematic games espousing the values of fatherhood, you have this intense, creepy and more importantly difficult trek through an alien world that resets every time you die.
Seriously, it's like if the Space Jockey scene from Alien had a whole game based off of it. It's a game very good at just making you feel uneasy, as you uncover mystery after mystery with seemingly no answers presenting themselves.
It's why I'm so excited that Returnal's finally out on PC– the game was previously a PS5 exclusive, meaning only those who had a console that was at the time scarce were getting to try out Housemarque's bizarre roguelite.
Return To Atropos
For the uninitiated, Returnal puts you in the boots of Selene- an astronaut crash landing on the planet Atropos and in search of a mysterious broadcast signal. She picks up all manner of alien tech, even defeating monstrous creatures on her quest to get herself off the planet.
Only one catch though: when she dies, she wakes up the moment her ship crashed, starting it all again. Things shift around, naturally, meaning every run of this roguelite is about your ability to adapt to the hand you've been dealt.
What I really like about Returnal compared to other roguelites is just how much of it is tied to skill. While games like Hades are very much about your ability to modify your toolkit into a build, Returnal demands a lot more skill. Things like health upgrades are a lot more scarce, and the game starts you off at a much lower low every run compared to its genre contemporaries.
Better yet, the PC release of Returnal also sports a lot of the quality of life that was only added to the game post-launch on consoles. You can suspend your runs right from the get go, overcoming the long run times of Returnal since you can finally go out and get dinner or something before embarking on the next zone.
PC Features
Of course, a PC adaptation of a game usually has certain connotations associated with it. Returnal sports a variety of neat features on PC, like Ultrawide Monitor support as well as DLSS and FSR. These are great additions for players sporting high-end rigs, since you'll be able to enjoy most of Returnal without the black bars of shame.
Thankfully the game does have a benchmark mode, letting you test how well it runs on your hardware at your settings of choice. It's a good way to avoid the frustrating walk of shame- where your game turns into a slideshow because you had an overinflated sense of faith in your old machine.
DLSS/FSR are great features to make it more accessible for older machines, letting you tone down texture detail to increase performance. One gripe is that from Performance to Ultra Performance mode, there's not as much of a noticeable difference- either in visuals or actual performance. It's definitely something for the PC gamer with more discerning tastes, so fiddle around with it to make sure it's up to your personal specs.
One more thing is I'd highly recommend playing the game with a Dualsense. A huge draw for me back when Returnal first came out was how well it integrates the Dualsense controller- the PC version similarly sports adaptive triggers and haptic feedback, letting you feel the controller shudder when you perfectly time your reload or fire off a laser amp circus by pulling the trigger down all the way.
Seriously, Check It Out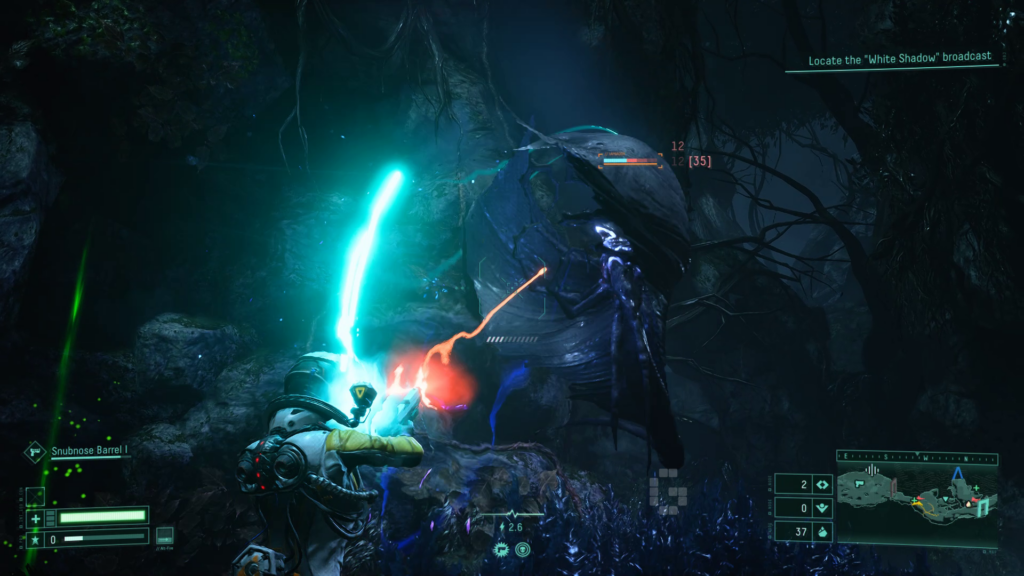 While the features and support are nice, it's just exciting to see Returnal come to the PC. To me the PC has always been the true home of roguelites, so that means more fans getting a chance to try out a really unique entry in the genre.
It's definitely got its issues- some fans might take offense at just how long each run might feel, or just how little you start off with. The fact its incredibly detailed world, chock full of writhing tentacles and foliage also means you're going to be paying quite a bit of hardware tax to get it running over 60fps.
Still, if you can get over the hurdle you're looking at an incredibly solid game- one that you could easily lose hours in as you fight to get out of its time loop.
---
Returnal PC code provided by PlayStation Asia
---
Check This Out Next
---