The ROG Phone comes back swinging with the ROG Phone 6. I'd say it's definitely wanting to retain its crown of being the ultimate gaming phone you can ever own. With the Pro version in hand, let's see if it can live to such expectations.
GETTING TO GRIPS
DESIGN
Think future, think space, or at least, that's what it feels like to me. The ROG Phone 6 Pro commits to that space theme right from the packaging, where it opens up like a lifepod. The back of the phone looks vastly different from the ROG Phone 5 Ultimate, as in, having gotten much fancier and much less lowkey. The ROG Vision has also been shifted to the side. While it's not a glass back, it doesn't prevent the phone from having a rather nice "smooth", matte finish that's comfortable to hold. Since it's not that heavy either, it makes for a pleasant grip, one might say.
Once you turn on the screen, the ROG Vision and the LED above it declaring 'DARE TO PLAY' lights up in response by default. The colours and the occasions it lights up are customized through the Armoury Crate, and can be connected to the PC to sync the lighting. We then have the top of the phone which is completely sealed, leaving the ports to be placed on the left at bottom. The USB Type-C port and the SIM card tray is housed on the left, with another charging port at the bottom as well has – god bless – a 3.5mm headphone jack. The AirTriggers (which are not actual physical buttons) and the power, volume rocker are placed on the right.
DISPLAY
The ROG Phone 6 Pro utilizes a 6.78'' Samsung E4 with 165Hz refresh rate support. Basically, super responsive, smooth display so that, disregarding your own lack of reaction speed, it look real good. Thanks to the 720Hz touch-sampling rate, you don't get input delay either. To further impress you with its capabilities, the display has 111% DCI-P3 gamut and Delta E<1, always on HDR mode, making for absolutely gorgeous visuals.
WORKHORSE
AUDIO
Two front speakers means your hand won't be covering them and muffling the audio, with the quality on its own already quite loud and clear. What really is surprising is that the directional audio is astonishingly accurate. I wouldn't claim it can completely "replace" having your choice of headphones, but should you fancy, you'll find it function really well.
BATTERY
Considering the fact it's a gaming phone, a 6000mAh battery is what I'd expect. The battery life is impressive to match, draining only 40% after 4.5 hours of gaming and watching videos. If that doesn't sound impressive, then I should point out that X-mode was also active as well as the 144Hz refresh rate, which is capable of draining the battery even faster than Dynamic and Ultra Durable mode.
Once you're in need of charging, it goes nyoom from 25% to 100% in merely 30 minutes. Sweet!
CAMERA
The camera is hardly the focus of this phone, but with a Sony IMX766, the picture quality isn't going to lag too far behind the whole gaming performance.
PERIPHERY
ARMOURY CRATE
Here's your one-stop app to fiddle with all the settings of the ROG Phone 6 Pro, including:
Performance
ROG Vision
Back LED strip
AirTriggers, etc.
Gaming Hub for all your installed games, and also find more if you want
Operating modes

X-Mode: All settings to Extreme, with higher CPU / GPU performance, touch sensitivity, refresh rate. Definitely the mode for gaming
Dynamic: "Daily life usage" aka Normal mode
Ultra Durable: Extends battery life by whatever prescribed means possible
At first glance, the Armoury Crate doesn't seem to have been revamped, until you come to the Game Genie.
GAME GENIE
Now this is an overhaul visually and in style, and it's not just for show either. The menu navigation feels much easier, adding to the feel of flying a spaceship because it sure is cool. Additional tweaks you can set here include:
Refresh rate
Operating Mode
AirTrigger shortcut
Crosshair setting

Six styles, five colours; size, opacity and position (wouldn't you want it in the center exclusively?) adjustable
ROG VISION
You're allowed to be a true simp and slap on whatever you'd like to display on this little screen with a variety of effects to go with it. Otherwise, it's functionally the same as its predecessor.
AIRTRIGGERS
I prefer physical buttons over the virtual AirTriggers, but I suppose it's something I'll need to get used to. The vibration feedback just doesn't quite hit the same way but this doesn't mean they're bad when in practical use situations. Freed from the physical realm, there's more motions you can tag onto the AirTriggers including Tapping, Sliding, Swiping, and Dual Partition, AND Dual Control mode means you can make macros of what you need. Dual Control is officially still in beta, but as is, it's already putting in its weight.
Simply launch the Game Genie when you're in-game, open up the AirTrigger menu, then set your shortcuts. Trigger sensitivity can likewise be tweaked if you need it.
MOTION CONTROL
I would think this comes with the gyroscope for most phones, with a bit more to it for the ROG Phone 6 Pro. You can tilt it in four directions, turning left and right, shaking, with sensitivity settings from low to high. Practically speaking, only the high sensitivity would be the best so that you don't have to "violently" shake it to actually get it to respond.
ACCESSORIES
The snazzy white ROG Kunai 3 Gamepad arrives with this phone, which is the same as the original ROG Kunai 3 Gamepad with a new coat of paint. It looks great, yes, but there's nothing else new about it.
What IS new is the newer and bigger Aeroactive Cooler 6: larger than the 5th generation, blinged out with RGB effects on the back – customizable, of course – with a transparent shield, and four mappable buttons, up from 2. There's a little kick-stand to prop the phone up which doesn't seem very necessary as the cooler's base is already large enough without needing more support. To keep it chilly, there are four speed options:
Smart: Let the system decide

Cool: Steady high-speed airflow

Frosty: High-speed airflow, but with thermoelectric cooling

Frozen: Faster than high-speed, extra-speed airflow with thermoelectric cooling
As promised, the Aeroactive Cooler 6 does make the phone feel real cool. However, the Frozen setting seems to have a quirk where you can feel hot air blow over your finger.
Once you attach all the accessories, it's gonna weigh a relative ton. It will be really badass to look at though, transforming the phone into a handheld console.
THE TRUE TEST
INITIAL BENCHMARKS
Since this bad boy's got the latest Snapdragon 8+ Gen 1 chipset and 18GB of RAM, you'd expect some real good numbers. The AnTuTu numbers show as such, at a 1,102,155 score.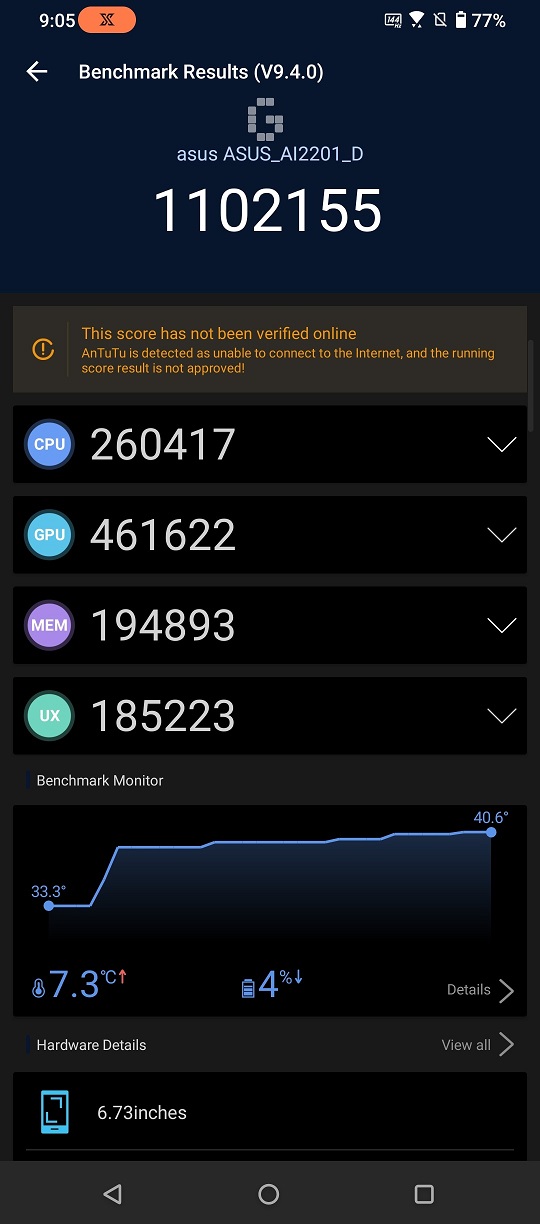 GAMING EXPERIENCE
I'm sure we all assume Genshin Impact would be the ultimate benchmark, but League of Legends: Wild Rift and Apex Legends Mobile are also being stacked up here as comparisons. Long story short: stable frame rate, relatively low temperature.
LEAGUE OF LEGENDS: WILD RIFT
The great display makes all the colours really vibrant for a visual treat. Just maybe don't let it distract you too much from getting your CS.
APEX LEGENDS MOBILE
AirTriggers make so much difference since your thumb doesn't need to be overworked trying to hit all the buttons in rapid succession. The dropped frames prior to and during the jump are there as usual, with everything running stabilizing and silky smooth once you hit the ground running. Alongside the impressive speakers, you could opt to turn up the volume and subject everyone else to your ladder grind.
GENSHIN IMPACT
The world of Teyvat could turn any phone into a toaster oven, but apparently, not the ROG Phone 6 Pro. Even without the cooler, the temperature is kept at a warm, but not scorching, 40-43 degree Celsius.
CLOSING THOUGHTS
Well, the ROG Phone 6 Pro is definitely one of the most impressive phones you can get right now even with its specs on paper. Not forgetting its functionality in the AirTriggers and Motion Control options.
More impressively still, the phone keeps its cool when playing something as demanding as Genshin when most others don't. The attachable cooler makes it even more frosty minus the little gusts of hot air getting vented.
No doubt, if you want a powerhouse gaming phone that is extremely stylish and you don't need to worry about your budget, the ROG Phone 6 Pro is basically hands down the best one you can get now.
---
Check This Out Next
---