The Revue Starlight Seiran Update is now live, adding the first wholly new characters to Revue Starlight ReLIVE since the game's launch.
This update sees the addition of three girls from the Revue Starlight second stage play – Transition. These are the girls from Seiran Art Institute, whose fan popularity would later also get them their own spinoff stage play, Blue Glitter.
The girls aren't being released all at once, although their Live2D models are already in the game. Currently there is a limited Brilliance Fest banner for 4-Star Stage Girl Koharu Yanagi, the leader of the three Seiran girls.
To help you pull for the new stage girl, the Brilliance Fest banner is a Step-Up type, with various rewards such as discounted and even free 10 pulls if you keep going at it.
There's also currently a Seiran-themed Christmas event going on, to better get you acquainted with the new girls.
Thanks to the JP server, we know that the other two girls. Suzu Minase and Hisame Honami, will also be made available shortly after via their own individual Brilliance Fes banners.
While Revue Starlight ReLIVE has had a steady flow of new cards, this marks the first time in the EN server that a new character has been added to the game. Previously, all cards were simply costumes or roles played by the pre-existing cast, meaning that aside from their Climax Act they would all draw from the same pool of canned animations.
In addition to the new characters, the Revue Starlight Seiran update also adds new Beginner missions, which give rewards such as Brilliance Fest tickets for completing various activities in the game. Better yet, veteran players will retroactively have their scores counted for these challenges, meaning you only have to open the game to claim over 100 free Brilliance Fest tickets.
Brilliance Fest tickets are used to pull for a special Brilliance Fest banner, which contains several limited units not counting whoever is currently on the Brilliance Fest banner.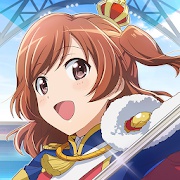 Revue Starlight ReLIVE
Android, Epic Games Store
The Adventure Begins on Stage in RPG Revue Starlight Re LIVE! A direct continuation of hit anime Revue Starlight, the story of the game picks up right where the anime leaves off, but you don't need to be a fan to enjoy all the excitement and drama that await in this RPG!