Earth JapanLabel has announced a collaboration with mobile game Revue Starlight ReLIVE, featuring in-game characters wearing a special line up of clothes with the brand.
On the Earth JapanLabel website, you can see a line-up of Revue Starlight themed clothes, based on the characters Karen, Hikari, Yuyuko and Yachiyo.
That being said, it's not like they're fully adorned in official logos- instead, the designs of the pullovers and cardigans are a lot more subtle, such as the star diamond for the Hikari and Karen Cardigans being the same one constantly appearing in the anime.
Meanwhile, the Rinmeikan Cardigan also features a diamond motif, more in the style of the traditional in-game school.
The collaboration also features a Siegfeld pullover, which doesn't feature any obvious nods to the rival school .
The collab goes both ways, however- starting August 4th, the Japanese version of  ReLIVE will run a banner for a 4-star Earth JapanLabel Yachiyo card as well as Memoir Cards featuring Hikari, Karen as well as Yuyuko and Yachiyo.
It should be noted that the collab is listed as Volume 1, so we can expect more fashionable stage girls on the way if it does well.
It's not currently known if this collab will be coming to the global version of the game, and no announcement has been made thusfar either way.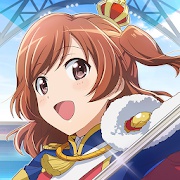 Revue Starlight ReLIVE
Android, Epic Games Store
The Adventure Begins on Stage in RPG Revue Starlight Re LIVE! A direct continuation of hit anime Revue Starlight, the story of the game picks up right where the anime leaves off, but you don't need to be a fan to enjoy all the excitement and drama that await in this RPG!
---
Check This Out Next
---