When word came out that Resident Evil 4 (RE4) was getting a remake, a lot of people myself included were confused. The original Resident Evil 4 is one of the best games ever made, it was the perfect mix of classic RE horror and modernized action with easy-to-understand yet exciting gameplay. You know the third-person over-the-shoulder camera so many action games use today, that came from RE4, and it still plays great today, why would it need remaking? Boy, was I glad to be proven wrong. 
The Resident Evil 4 Remake is not only an amazing game, I think it in some ways improves on the original. It expands on the story with more character development, brings in a darker, more horror-based atmosphere while still maintaining the balls-to-the-walls action, and makes the gameplay feel more fluid than ever. This is near peak Resident Evil and it's glorious.
Welcome To The Los Iluminados
The plot of Resident Evil 4 Remake is pretty simple. You play as Leon S Kennedy. Six years after the events of Resident Evil 2, Leon has been enlisted as a secret agent for the government dealing with bioweapons. When the President's daughter Ashley Graham is kidnapped by a cult in a remote Spanish village, it's up to Leon to get her back. He'll soon find that the cult however is more viscous than he could originally imagine.  
The game is split into 16 chapters with a playthrough lasting from around 13-15 hours. The plot is pretty straightforward and allows for a lot of cool action scenes and chances for Leon to react with his usual level of badass snark. The remake however expands on the characters even further. Leon isn't just sass and one-liners, it's established that he's still suffering from some serious PTSD after what happened in RE2 and is desperate to prevent the events of Raccoon City from happening anywhere else. You get a lot of nice slow moments that establish Leon's resolve as he delves further into the village and it makes him feel more fleshed out. 
More Human Residents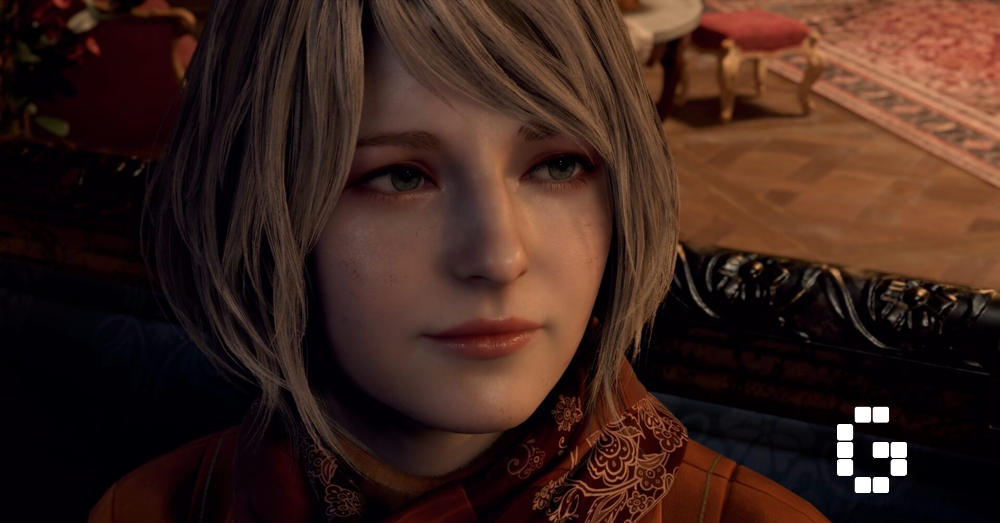 The side character likewise gets a lot of love. Luis Serra, a doctor who allies with Leon goes from a minor character with only a couple of appearances to a full-on supporting protagonist who you partner with for entire chapters. He's a lot of fun and brings up your spirits whenever he's around. 
Ashley, the president's daughter who Leon has to escort through most of the game is likewise, far better in the remake. The original Ashley got a lot of flak for being a little annoying and whiny, but here she's a lot more mature and her distress is more realistic and solemn (as you can imagine when a cult has kidnaped you). She also undergoes a pretty upbeat character arc to, going from a helpless civilian to someone who can stand up to the various monsters even if she can't quite fight back. It's encouraging and she gets some great lines with Leon. 
The only characters that are somewhat of a downgrade are the villains. Saddler and Mendez were always kind of forgettable and still are but Salazar (or Ramon, since the game insists on calling him by his first name) isn't quite as memorable as the original. He still has his cool moments taunting Leon, but he lacks that over-the-top charisma the original gleefully brought to the table. Although I do like what they did with Krauser though, introducing him a lot earlier and making him feel far more menacing. 
The Horror Atmosphere
The original Resident Evil 4 was known as the game that transitioned Resident Evil from survival horror to a more action-style game. I've always held that it was still survival horror with the same item management, puzzles, and creepy setting as the previous games but the RE4 Remake features a far more horror-based atmosphere. 
The tone is far more chilling and intense in the remake. The village feels far eerier, with darker and more detailed areas where you feel like you're always being watched and can be attacked at any moment. I can safely say there was more than one area where I was genuinely creeped out, even though I knew what was coming up from the original. The remake is smart to play with the expectations of veterans using the sounds and imagery to remind players of past spooks while updating the monsters with new tricks. This is especially the case with a certain regenerating creature near the end of the game. 
That not's to say it's overly serious either, it's still able to have more fun moments. I mean, one of the new remake levels is a rollercoaster-style minecart ride with Luis which is an absolute blast. What is impressive is that the action and more serious horror elements of the game never clash, they complement each greatly, making for a fun, sometimes even heartfelt horror adventure. 
One thing I love is that every chapter ends with a memorable set piece from the original whether that'd be a fun battle, an intensely creepy level, or a major story beat. I can still vividly remember the new fight with the lake monster or that first garrador fight even now and I have a feeling they'll stick in my mind for ages to come. 
Surviving The Mob
What makes Resident Evil 4 so great is that the gameplay is easy to get into yet there's so much to experiment with. The combat is a classic third-person shooter, the kind that the original Resident Evil 4 helped create. You hold down one button to point your gun and the other shoulder button to shoot. Unlike the original, Leon is not set on tank controls and he can move as he shoots meaning he's much more mobile. 
This is important as Resident Evil 4 Remake's combat is built around being chaotic and fast-paced. While the fear of the original Resident Evils came from not knowing when the next save point would be, the fear of RE4 however comes from the sense of urgency. You'll be fighting waves of angry villagers and monsters far smarter and faster than the zombies of old. This is further enhanced in the remake where they'll gang up on you and overwhelm you with their numbers. While you're trying to shoot one, another will try to grab you from behind. Some of them will chase you halfway across the map and they have no problem using weapons and firing at you from a distance.
The first time I got to the iconic village level in the remake, I was shocked when I saw how much more intelligent and faster they were. It was an anxiety-inducing wake-up call that this wasn't the same RE4, I wanted to survive the Remake, and I'd have to step it up as well. 
I Got A Shotgun
Thankfully, Leon's got a whole host of moves to use against them. Aside from an assortment of guns from handguns to shotguns to grenades, there's a lot to choose from. What's interesting is that shooting different parts of the body will affect the enemies in different ways, for example hitting in the leg will cause them to kneel or even fall. From here, there is an assortment of cool melee moves you can do for further damage like a sweeping roundhouse kick and if you can hit them from behind, you can perform a suplex. It's awesome. 
I also can't forget the new knife mechanics. Slashing and stabbing enemies quickly and easily allows you to quickly dart in and out with attacks. More importantly however is the new parry system where if you hit the L1 shoulder button just before an attack, Leon will push the attacker back with his knife saving you from getting hit. Almost every attack in the game can be parried and it's super satisfying to pull off. The downside however is that it'll damage the knife which will break with enough punishment. 
This all creates a mad rush of running, shooting, and slashing really gets the adrenaline running. You gotta keep moving and changing up your tactics, ensuring that the game never gets old. 
Item management 
Another aspect of the game that harkens back to survival horror is resource management in the game. A lot of items can be uncommon, enemies tend to drop money, sellable items, or regular handgun ammo. Other types of ammo however have to be found or crafted. Even health items are kinda hard to get, as they also are mostly either found around the world or bought. 
This means that you have to be somewhat careful about conserving items and have to rely more on melee, stealth, and knife moves to kill enemies without draining your important firepower. Even if you are up against a big mob of enemies, sometimes it's better to use your weaker handgun and save your shotgun or magnum bullets for an upcoming boss. 
All of this is stored in your trusty attache case. You only have a limited amount of space, which encourages you to move items around and craft multiple items together. For example, you'll primarily be getting non-handgun ammo by crafting "gunpowder" and "resources" together. 
Speaking of the shop, throughout the game you'll encounter the enigmatic pirate-accented merchant, the best character in the game. He just turns up at random places in the game and no enemies come near him giving you a bit of brevity before you go back into the action. He'll sell you guns, health spray, gun upgrades, bigger cases, and more. You can also sell old keys you don't need to him which is a cool bonus. You can easily be spending hours buying, selling, upgrading, and managing your items with how addicting it acquire new weapons and items. 
Closing Thoughts
The Resident Evil 4 Remake did the impossible. Capcom produced a remake that is on par with the original, and in some ways surpasses it. Everything in this game seems to be fine-tuned from the expanded character development, high-octane fights, and addicting set pieces. It blends the game's horror and action roots well with lots of cool ways to dispose of enemies alongside some chilling moments and a darker atmosphere that just adds to the overall experience. 
Whether the remake is better than the original is up to you as a person but it says something that Capcom took one of the best games ever made in the 2000s and used it to make one of the best of the 2020s so far. 
Resident Evil 4 (2023) is available for PS4, PS5, Xbox Series X|S, and PC. The game was reviewed on the PS5.
For more on the Resident Evil 4 Remake, check out our interview with the game's director and producer Yasuhiro Ampo, and Yoshiaki Hirabayashi.
Resident Evil 4 (2023)
Microsoft Windows, PlayStation 4, PlayStation 5, Xbox Series X|S
Survival is just the beginning. Six years have passed since the biological disaster in Raccoon City. Leon S. Kennedy, one of the survivors, tracks the president's kidnapped daughter to a secluded European village, where there is something terribly wrong with the locals.
---
Check This Out Next
---
The Review
PROS
Greater tone and more fleshed-out characters that still have a sense of fun
Combat is accessible yet highly engaging with a lot to experiment with
A good balance of horror and action that compliments the overall experience
CONS
Idk Salazar lost his hat I guess