So the first thing I heard about Renfield was when it was announced simply that Nicolas Cage will be playing Dracula. That's one of those hook-all premises that are bound to get butts in seats but can also be a double-sided stake if the movie itself doesn't have enough creativity to back that premise up.
Thankfully, Renfield Succeeds as a bloody good horror comedy. Giving the spotlight to Dracula's classic assistant Renfield, the film uses its monstrous characters to explore the themes of abusive relationships and co-dependency held together with fun gags and great acting from the main leads.
The Vampire's Assistant 
Robert Montague Renfield (Nicholas Hoult) has been Dracula's devoted servant for decades since first meeting the lord of darkness as a real estate agent all the way back in the original 1939 movie (they recreated the scenes in black and white with the same camera ratio and it looks awesome).
After their latest fight with a group of vampire hunters, the two flee to New Orleans where Renfield has been finding Dracula victims to drain so he can regain his power. While doing this, he stops by a local abuse support group and begins listening to their stories. Soon enough he finds himself saving local police officer Rebbeca Quincey (Awkwafina) from a gang and decides to end his servitude to Dracula. This however is far easier said than done.
The movie fully embraces the absurdity of the premise. It's incredibly over the top from the copious amounts of violence to the engaging slapstick of the comedy scenes, to even being overly happy at times. As soon as Renfield leaves Dracula he attempts to redo his life with a Ned Flanders style endlessly positive, buying a house full of motivational posters, snickerdoodles, and fuzzy colorful sweaters. It's very cute and adds to the wackiness of the tone.
The only real issue with this is that it also conveys the message a bit too bluntly at times. A good example of this is Renfield confidently declaring "Im a co-dependant" as a catchphrase like he's in a 90s PSA. Of course, such a serious issue like abuse should be delivered clearly and you can argue it unsubtly adds to the comedy but it goes a little too far and can sometimes come off as too silly and cringe-inducing when it seems to want to be empowering.
An homage To Hammer
Now I haven't confirmed this but I feel like the over-the-top nature of the movie takes a lot of inspiration from the old Hammer horror movies (this was the series where Christopher Lee played Dracula). While those movies were straight horror, the performance could get hammy and fun. This film seems to take a few notes but spins more toward intentional comedy.
Hammer films were also known for their heavy use of brutal violence and that Rendifield certainly has that in common. This movie is gorgeous in how bloody it is. The action scenes see limbs fly, guts are pulled up and blood shoots out of everywhere. Not only that it's a very distinct bright red, goopy sort of blood that while less realistic, makes the fights more striking. Almost every hit sprays the walls and floors with red stuff. Again, this is very similar to the "Hammer Blood" unique to those older movies and it's all the better for it.
Dracula's Victims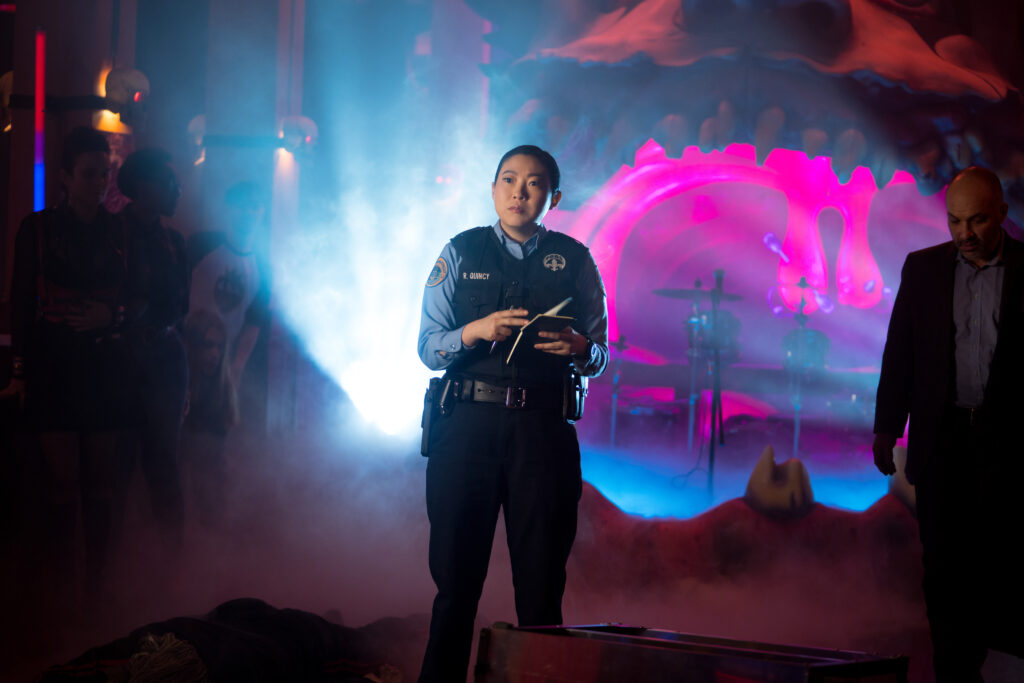 I swear Nicholas Hoult is making a name for himself by getting bullied by other actors. He got bullied by Ralph Fiennes in The Menu and now he's getting dicked around by Nicolas Cage as Dracula. He's gonna be playing Jon Arbuckle in the upcoming Garfield movie so he'll be getting it next from the titular tabby voiced by Super Mario himself Chris Pratt, the poor fellow.
Masochistic casting choices aside, Hoult does well as the timid Renfield. His awkwardness and lack of understanding of the modern world make for a fun protagonist. This is especially the case as he attempts to embrace the side of good and goes a little overboard with the sweaters. Underneath this, however, Coult is able to give a good performance as a battered abuse victim, shying away from interaction and with constant anxiety when Dracula is brought up. Despite how cheesy it can be, seeing him eventually rise up against The Count is endearing and I did find myself routing for him by the end.
For The Side characters, I know Awkwafina's style of comedy can rub some people the wrong way but I think she works here. Her character takes the role of the underappreciated clean police officer in a corrupt precinct. I also have to give credit to Ben Schwartz (voice of Sonic The Hedgehog) who does well are the secondary antagonist Teddy Lobo, a character who really feels like that came straight out of a cartoon, which very much fits with the movies humour.
Dracula Himself
So how does Nick Cage do as Count Dracula? Well, it's not his best role but he is a riot, really showing his experience and range as an actor. You can tell Cage is having a blast, taking the role of the villain and delightedly playing up the terror of the lord of Darkness.
What makes it truly great however is that he can also be quite subdued and serious at times. It's important to remember that Cage is a top-class actor who can do more than just freak out memes and there are several points where he truly embodies the fear of an abuser. He can be highly manipulative, playing on people's insecurities and convincing them they're the ones at fault. You can see why people would follow the guy and sympathize with Renfield's attempts to escape him. He does occasionally go a little too far into the hamminess to the point where you can't take him seriously but most of the time it works and it works well.
Renfield
Renfield is a fun time for horror fans especially if you're a gorehound. The film revels in the lunacy of the comedy while also indulging in top-notch special effects for the gruesome and yet hilariously violent scenes. It's a little too cheezy at times with certain lines and how it conveys the message but for the most part its writing is well executed for good effect.
Hoult and Cage are both convincing as Renfield and Dracula both in terms of comedy and legitimate drama. The abusive relationship between them is well shown for the most part, showing the fear and empowerment of overcoming the monsters in our lives. If you're looking for a good time akin to films like Monster Squad or Tucker and Dale Vs Evil, this is one worth sinking your teeth into.
Renfield will premiere in Malaysian cinemas on the 13th of April 2023.
---
Check This Out Next
---
The Review
PROS
Lots of gore with fun fight scenes
Most of the comedy is well exectued
Nicolas Cage as Dracula is a lot of fun
CONS
Execution of message can be a little too cheesy
A couple of lines go too over the top and don't land