Small, connected, economic, these are just some of the ways you could review the Redmi Note 10 5G. As one half of the recently launched Note 10 series, the phone brings us back to an age where phones weren't straddling the line between hand device and basically an umbrella, with plenty of modern features that go along with it. How does the phone stack up though? Read on and find out.
A Phone That Feels Good In Your Hands
So, by and away the best thing about the Redmi Note 10 5G is that it's tiny. It feels so damn good in your hands, being incredibly light without really trading much off for it.It weighs in at 190g, which is just right for feeling really good in your hands if you're the type to take lazy afternoon naps and then half-asleepedly scroll through Reddit.
Despite that it sports a 1080 x 2400 FHD+ screen, making it an excellent choice for those who want both portability as well a decent phone to watch cat videos on on your downtime. Considering the screen is only 6.5 inches, that's not too bad a screen resolution. After all that's the tradeoff for portability, and the fact you're still getting a FHD resuolution is actually really impressive.,
The screen also supports up to 90hz, which is pretty impressive when you consider the price you're working with. Considering you're rarely ever gonna get a video to hit 120fps, this is actually pretty great specs for what's essentially an economy phone. The colors look great too, so make no mistake when I say this phone will excel at most every day situations.
Camera
Possibly my favorite feature on the phone, the Redmi Note 10 5G is one of the best ways to get both 5G connectivity and a triple-lens camera on a tight budget. The camera lenses cover an interesting gamut- it comes with a Wide-lens 48MP main camera, as well as a 2 MP Macro lens to make sure whether outside or indoors, your photos are going to look amazing.
It also includes a built-in Night Mode, letting your night time photos pop. Admittedly, it's not the best Night mode on the market- some photos can look grainy, or oversaturated as the phone tries to compensate for the lack of light. But given the phone's price point, it's pretty great to have these features at all- and you can definitely take some great shots with the tools it gives you.
Performance
While our model came with 4GB of RAM, the retail version available in Malaysia will have 8GB, which will allow you to run most apps seamlessly, some maybe even simultaneously. Even with the 4GB model we had, however, we never really ran into any issues, so we can only expect the retail model to run like a dream.
Of course, it wouldn't be a review if we didn't try out any games on it.The Redmi Note 10 5G actually runs games pretty decently, although that's in part to many of the best mobile games having good optimization settings. It uses the MediaTek Dimensity 700 Chipset, which allows for 5G connectivity and pretty decent gaming performance.
While we could run PUBG Mobile on HD settings with no performance dips, it should be noted that the game itself won't let you set the settings any higher. THe game's own 90FPS mode is locked off from you when playing on the Redmi Note 10 5G, so don't expect to be able to eek out a little bit of a prettier game and then complain online about how you'd been shot in the back and lagged too much to respond.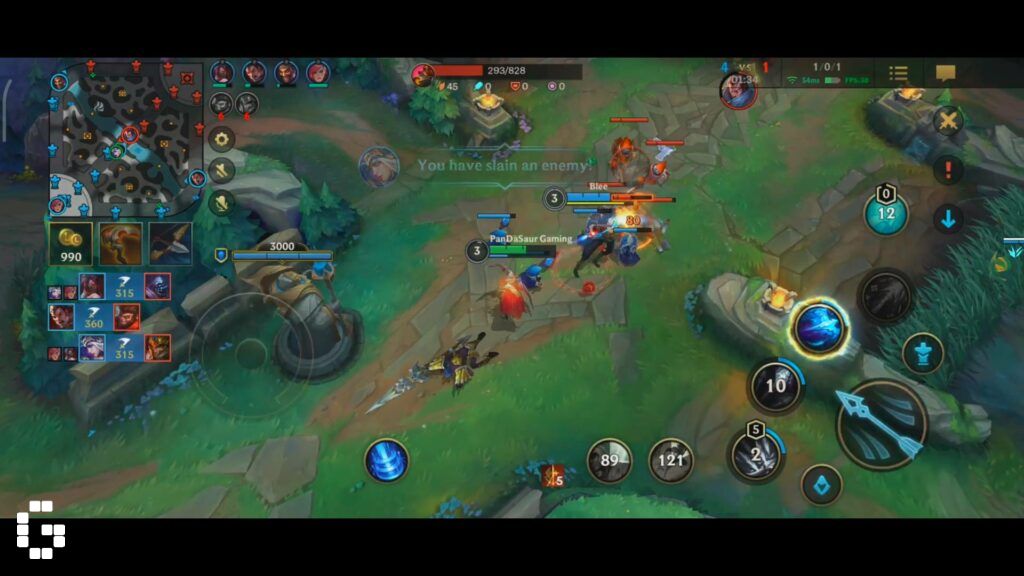 The game does tend to falter in some more twitch-reliant games, however. We ran into some difficulties with League of Legends: Wild Rift, which can be pretty graphically intensive at the worst of times as lots of objects summon lots of particle effects at a time. The result is that sometimes it feels like the button presses just aren't going through, as the game will occasionally stutter.
Bear in mind there's also an equally likely explanation that we're just not very good, but the former isn't too far off since the phone's size would understandably bring some performance issues with it.
It does also come with the Game Genie app, so don't for a second think gaming was just an afterthought on the phone.
Closing Thoughts
In the grand scheme of things, the Xiaomi Redmi Note 10 5G is just kind of an all right phone. But when you factor in the fact that it clocks in at RM799, a lot of it makes sense. For a phone less than RM1000, it actually performs really well. From its 5G connectivity, Dual Sim and decent camera, you'd usually end up paying much higher for those features.
And that's kind of where we're at with the phone. Is it the great phone messiah? Not really. Is it still a massive win for anyone looking for a 5G phone on a budget? Definitely.
Redmi Note 10 5G Specs
| | |
| --- | --- |
| Display | 6.5 inch 1080p (FHD+) IPS Display 90Hz |
| Processor | Mediatek Dimensity 700 |
| Memory | 8+128GB |
| Price | RM799 |
---
Review unit provided by Xiaomi Malaysia
---
Check This Out Next
---