For all you Pokemon (Pikachu specifically) fans out there, look in awe as we got ourselves the Razer Pikachu Edition Set which includes a Keyboard, Earbuds and a Mouse set all in the adorable electric mouse theme.
A huge thank you to Razer for gifting us these electrifying goodies.
Razer Hammerhead True Wireless Pikachu Limited Edition
This special designed Razer Hammerhead True Wireless earbuds dons a bright yellow color in comparison to the usual black color and instead of the iconic razer logo, it instead has a pretty minimalistic Pikachu logo. And in case you haven't noticed already, the earbud set is completed with a Pokeball shaped charging case and even opens up just like a Pokeball. (Please don't throw it out like a Pokeball though)
Razer Ornata Pikachu Limited Edition
Rocking the black and yellow color scheme comes the limited edition Razer Ornata Keyboard. The color change isn't the only thing that sets apart this version and the original version, this Pikachu edition comes with custom keycaps for the "ESC" key where it now has a Pokeball design on it, as well as the directional arrow keys where each directions are changed with a cute Pikachu's tail deign that shows the direction instead.
The cushion wrist rest is also patterned with a bunch of cute Pikachu and Pokeball designs which honestly makes me feel bad for resting my wrist on top of Pikachu but hey's it's comfy.
Razer DeathAdder Essentials & Goliathus Speed Pikachu Limited Edition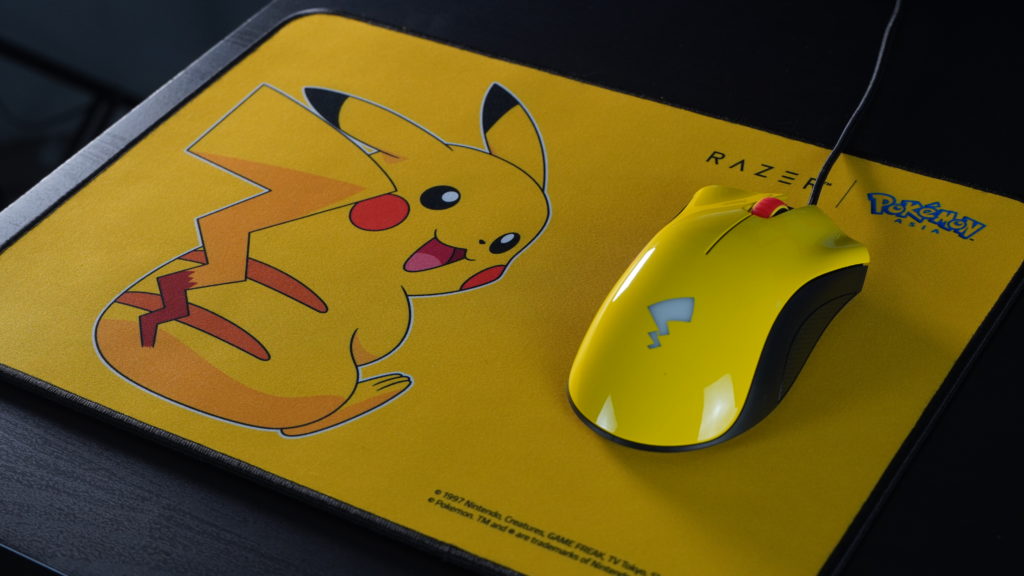 Finishing up the set would be the limited edition Bundle of Razer DeathAdder Essentials along with the Razer Goliathus Speed. Following the black and yellow theme, this version of the DeathAdder comes with the design of Pikachu's tail instead of the usual Razer logo. The mouse scroll and side buttons are now colored red to represent Pikachu's electric cheeks.
Meanwhile the Pikachu edition of the Razer Goliathus Speed mouse pad comes in bright yellow color and has an illustration of cute Pikachu sitting down and on the top right corner of the mouse pad, the word Razer and Pokemon is present.
To those who are interested in purchasing these Pikachu themed Razer sets, be sure to check out the official Razer Website as well as the official Razer Shopee page.
---
Check This Out Next
---