As a Souls fan, digging around for lore is basically bordering on crack for me. The idea that things aren't always as they seem, and there's usually something in-game (hiding lore in books or Fortnite collabs is the mark of a coward) that gives you just the nugget you need to change the tone of the story. Genshin Impact has done a pretty good job of following this rule, with anything you want to know about the game being locked behind character's voicelines, including stories about their Visions – the source of their power.
Visions- Blessed By The Gods?
That much is the case for Visions in Genshin Impact, and the Vision-hunting Archon, the Raiden Shogun. For the longest time, the game's been fairly straightforward about Visions- these objects give their users elemental powers, are bound to their users (I can't trade my vision for 10 quid and give the hotdog man sick lightning powers) and most importantly, are seen as a blessing from that element's Archon (If you're new, think of them as the deity of that element).
For the most part, there's been no evidence to the contrary. The two archons you meet in the game's story, Barbatos and Rex Lapis, never say anything to the contrary. To be fair, their personal stories don't have much to do with Visions, so it's not like the Traveler has any reason to ask.
Naturally, this has been a huge boon for the fan community, with lots of fans on Twitter trying to speculate the big connection between Vision users of the same element. After all it wasn't just Hogwarts rules- Pyro Vision users included characters like Xiangling, Yanfei, Amber and Diluc- with the latter ruining any idea that the common trait was cheerfulness.  Similarly you had extremely disparate cases like the rarer Geo Vision- you had to dig deep into fan theories to find what Noelle, Ningguang and Albedo had in common.
Raiden Shogun – A Character Obsessed With Visions
With the release of Raiden Shogun though, we had the perfect tool for expanding lore about visions- an Archon whose personality is based around Visions. One of her new voicelines even specifically talks about the process of acquiring a vision:
"Really? So in all this time new Electro Visions have appeared in the outside world? Well, what I can say on this topic is subject to certain constraints but… it is not by my will that certain visions are granted or denied. The key is people's desire and.. well, there's another side to it too"
Ignoring the "other side" mentions, the first thing we know here is that contrary to popular belief, Archons don't get to choose who gets a Vision. Just like Yae Sakura mentions in the trailer for the 2.0 update, Visions are more dependent on the user, with users needing to have a strong enough will to get one at all.
But what determines the type? Raiden's quote implies that even she doesn't know, since any embargoed knowledge she did have would have told her about the existence of so many other Electro users.
Spoiler Discussion And Speculation
Of course, it's also likely that "she doesn't know" also has something to do as her status not being the original Electro Archon. It could be that the Archon's presence is tied to the appearance of their Visions- Ei could be talking about how she didn't expect Electro Visions to still exist in the world of Genshin Impact following the death of Baal.
Honestly, there's a lot of boring ways that "Other Side" can go. It could just be hereditary- every family has a latent affinity for one element, and if they get a Vision it comes out that way. Mixed blood just means a 50-50 split, explaining characters like Barbara and Jean.
As for the reasons she can't talk, I'm going to assume that all Archons just have some sort of unspoken agreement to never let any humans know the whole truth. Something about preserving the peace, after all. It would make sense, given the fact that Archons like Zhongli would want to retire as humans.
With all the mechanics of Genshin's World only being tied to the appearance of more knowledgeable characters like the Archons, it's likely going to be a while before we ever find out. But being able to drip-feed information like this is one of the benefits of a live service game like Genshin, so as long as that's done at a nice pace I'm going to be along for the ride.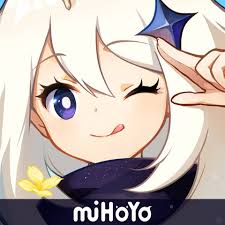 Genshin Impact
Android, iOS, PlayStation 4
Step into Teyvat, a vast world teeming with life and flowing with elemental energy. You and your sibling arrived here from another world. Separated by an unknown god, stripped of your powers, and cast into a deep slumber, you now awake to a world very different from when you first arrived.