Hatsune Miku is enjoying a nice piping hot cup of noodles with the new Colorful Stage collaboration with Japanese brand Cup Noodle.
During the collaboration event, the Japanese version of the game's YouTube channel will feature 5 new music videos by top producers like Deco*27 and Kanaria to celebrate the event.
These songs will also be coming to Project Sekai Colorful Stage, though no exact date has been given yet.
The songs will also eventually be released in the game as well, though once again no exact date was given.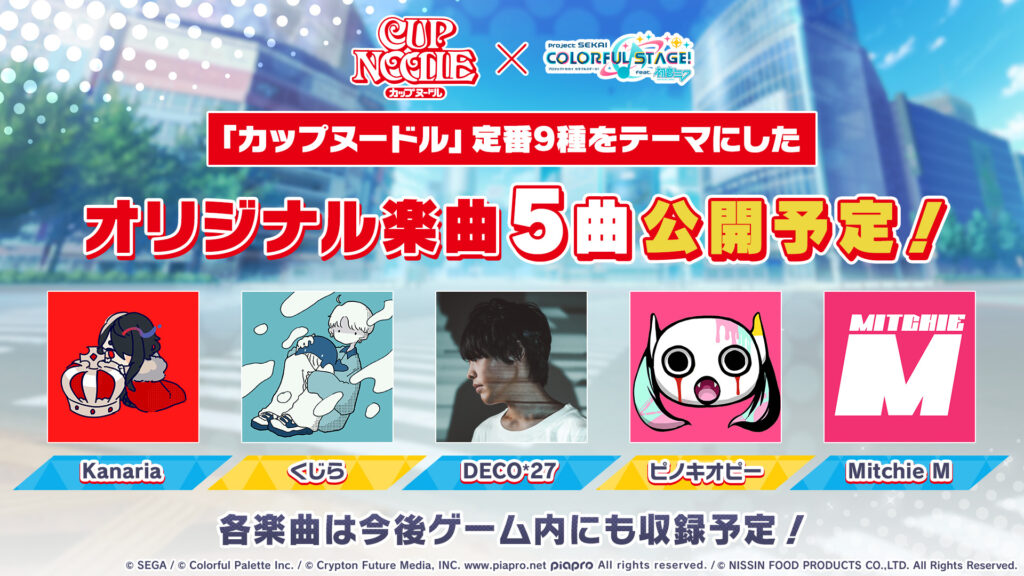 Here's the list of participating Vocaloid producers, and their Twitter handles.:
 Kanaria (@ Kanaria390)

Whale (@WhaleDontSleep)

DECO * 27 (@ DECO27)

PinocchioP (@pinocchiop)

Mitchie M (@_MitchieM)
They've also listed the participating characters for each of the songs, but haven't revealed the titles or release order for the collaboration
Hatsune Miku & Kanade Yoisaki (CV. Tomori Kusunoki)

Tsukasa Tenma (CV. Daisuke Hirose) & Saki Tenma (CV. Karin Isobe)

Shizuku Hinomori (CV. Rina Motoizumi) & Shiho Hinomori (CV. Yuki Nakajima) 

Ename Shinonome (CV. Minori Suzuki) & Akihito Shinonome (CV. Fumiya Imai) 

Nene Kusunoki (CV.Machico) & Nene Robo
Sadly, it looks like the Colorful Stage Cup Noodle event will currently only be for the Japanese version of the game (which uses the Project Sekai name). However, there's no ruling out that it may come to the English version at a later date.
That being said, those who log in starting from January 13th will receive a one-time recovery item themed around Cup Noodles.
Hatsune Miku Colorful Stage
Android, iOS
Find your true feelings! A mysterious song named "Untitled" with no melody or lyrics is passed around amongst the youth in Shibuya, Tokyo. This song unlocks access to "SEKAI" a strange place that allows everyone to discover their true emotions and their own song. Play with Hatsune Miku and her Virtual Friends, as well as an original cast of 20 characters overcoming their struggles through the power of music.
---
Check This Out Next
---