The premier Vocaloid Hatsune Miku has a new gacha game in Hatsune Miku Colorful stage.
An English version of the Rhythm game has now been released in specific regions, as the game has unfortunately been delayed in Southeast Asia. Thankfully, we were still able to play it and we found it to be a fun little rhythm game with a high quality of polish for a mobile game and an interesting idea for a Hatsune Miku story.
Getting Started
After putting your name in you'll be introduced to Miku and the five units that you'll be following throughout the game. Aesthetically, the game is fantastic. The UI and models are clean and detailed, with a lot of cute expressions for each character. Miku herself is very adorable.
The home menu is also interesting as it switches background and characters every time you enter. Tapping the characters will start a short dialogue which is fun to read.
Like a lot of gacha games navigating through the menus and figuring out what each currency does is a little confusing when you start out but you do get used to it. From the home menu, you can play the story mode, do a show, roll for gacha or edit your characters.
Story Mode
The story is interesting as there is not one but five. Five units with different members and different themes. Each of them has one thing in common though: they want to start a unit and make it big. Each of them is transported to their 'Sekai' and a world where Miku and other vocaloids (wearing unit-appropriate attire) appear in front of them pledging to help them achieve their dreams of finding their 'song'.
The five units you interact with are:
More More Jump: These guys are your traditional idol group. A young high school girl is inspired by an idol she saw on TV to become an idol herself. She trains every day but has little luck, until her favorite idol ends up transferring to her school, but doesn't want to be an idol anymore. If you want that lighthearted Love Live type of story, this is the one to start with.
Vivid Bad Squad: A young girl wishes to start a street dance squad and surpass her now-retired father and his old group from his prime. The characters here have a more hard hip-hop flair with an emphasis and mosh-style concerts and making noise. The focus on street performance helps set it apart from the others.
Leo/Need: This is about a group of childhood friends who agreed to start a band as kids but gradually drifted apart over time. Miku helps them slowly come back together and form that band. The story for this one is a slower, more personal drama.
Nightcord at 25:00: This one is really interesting. The main character is a neet that stays inside due to her past trauma but believes it's her mission to compose songs. She forms a group of underground musicians to make anonymous music videos online over a social chat called Nightcore. A very goth-looking Miku helps them reveal their identities to each other and get over their different traumatic issues.
This is my favorite unit if only for Goth Miku, Goth Miku is currently the best thing in this game.
Wonderlands x Showtime: A young man who dreams of being a star after seeing a perfect live performance, now works part-time at an amusement park with an old theater. The theater is deserted but wishing to pursue his dreams, he and his group decide to restore the Wonder Stage to its former glory. The members of this group are downright wacky, one of them has a robot mascot that becomes part of the unit, a true group of misfits coming together.
I'm impressed with how different these five groups are with different tones and stories that all have a unique take on Jpop music. Doing the next chapter for each requires ranking them up through shows which encourages you to play through the game to see the next part unfold.
One small issue I have is that each of the vocaloids is fully voiced by their original software. Miku and the Kagamine Twins sound fine however Meiko, Kaito, and Luka sound very uncanny with how robotic their voices are. You can tell their software was made for singing, and not regular dialogue so they end up sounding like a  Japanese Microsoft Sam.
Putting on a Show
Shows are the main mode of the game. You select your characters, a song, and perform. It functions a lot like Taptap Revenge (if anyone remembers that). Bars come toward the screen in which you have to tap, swipe or hold in time with the music. If funs and certainly challenging yet like most good rhythm games, when you get into the groove it feels like pure fire.
Playing the modes will level up your characters and help you level in rank overall. Each group will also gain experience based on how many of their members were on your show roster.
The initial song selection has a good range of 28 songs. Some Miku fan-favorite songs like 'The World is Mine' or 'Senbonzakura' don't make an appearance though, but I suppose that's what the updates are for.
The Gacha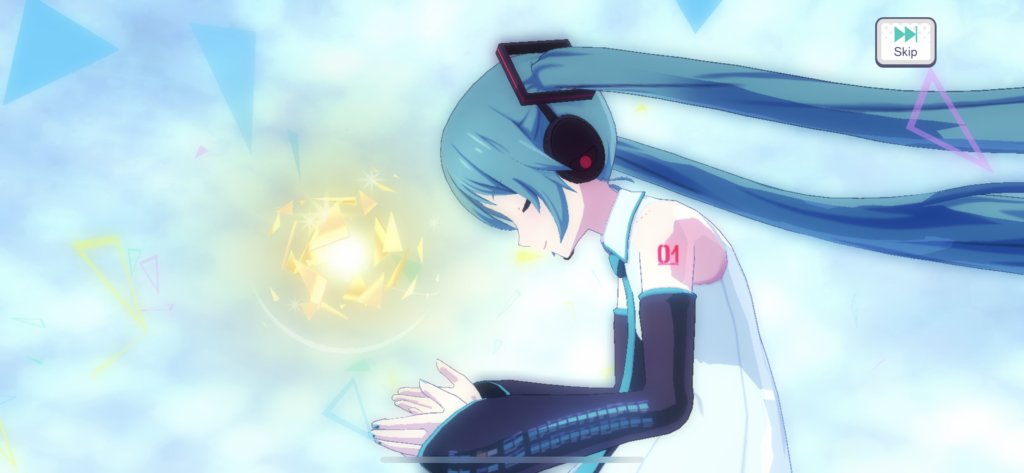 So far, the gacha for the game has been fairly generous thanks to all the launch presents. The game does give you the option to pay for batteries which net you more exp during a show. This, in turn, helps speed up the leveling of your characters and rank, which in turn lets you play story chapters faster. It's not necessary to progress but it can prey on more impatient gamers so I'd suggest trying to take your time with the game.
The actual gacha rolls will net you new characters or costumes. Characters that have more stars are rarer. The game also has a specific gacha that you need to specifically pay money to roll, which is annoying but the content doesn't seem necessary.
Ultimately, you don't seem to need to pay for anything to enjoy the game. It is primarily a single-player game so there is no pay to win.
Overall
Hatsune Miku: Colorful Stage has a lot going it. The graphics are bright and crisp and the gameplay loop is familiar bit addicting and energized.
The story also has potential as I like the idea of the different units united by Miku and their love of various kinds of music and entertainment. If it can just get a few more songs on the playlist, it should be all set to be a good rhythm starring a beloved character.
Hatsune Miku Colorful Stage is available for mobile devices in specific regions.
Hatsune Miku Colorful Stage
Android, iOS
Find your true feelings! A mysterious song named "Untitled" with no melody or lyrics is passed around amongst the youth in Shibuya, Tokyo. This song unlocks access to "SEKAI" a strange place that allows everyone to discover their true emotions and their own song. Play with Hatsune Miku and her Virtual Friends, as well as an original cast of 20 characters overcoming their struggles through the power of music.
---
Check This Out Next
---