The larger Girls Frontline universe will be getting a whole host of games, and one of them will be Project Neural Cloud, a prequel to GFL. It is currently in its closed beta phase for China, with no release date mentioned just yet. Project Neural Cloud is a roguelike, auto-chess-like in essence. Check out some demo gameplay below:
Currently, you can bring seven units with you, but only five can be deployed at a time. The units will have their unique animations when you drag them over onto the field, which is a cute touch. There will also be tiles that have special effects, with two known right now:
Orange eliminates initial cooldowns
Blue teleports a unit to the furthest enemy after a delay
As with auto-chess, movement and targetting is automated, so you'd want to place units well. These units will also have their special skills that they will use automatically, which auto-chess players should be well familiar with.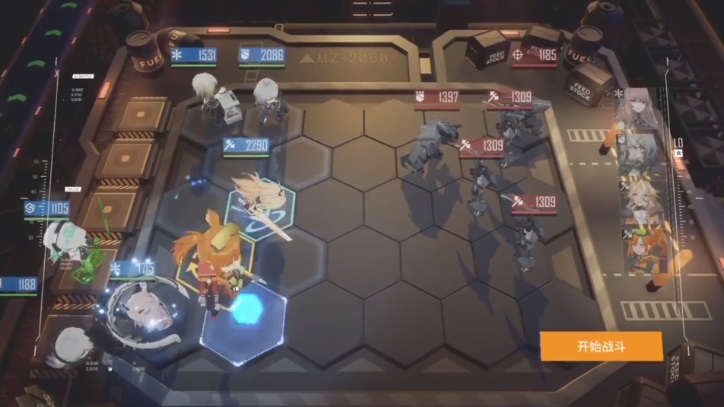 There are five classes that can be broadly categorized as:
Healers
Warriors
Defenders
Control
Snipers
The player character is referred to as "Professor", and can interact with the battlefield through "Professor Skills". These skills require SP, which regenerates at 2 SP per second, with a maximum storage of 20. The more expensive a skill, the flashier the effects will be.
Besides that, you also have "Limit Techniques", indicated by a light blue bar on the right side of the screen. Unleashing a skill will deplete the bar and show an animated clip of the character using the skill. This gauge is shared among all characters, and can be carried over to later encounters on the same map. This bar is also able to be overcharged and will turn orange, but at present, it's not known what effects overcharging will have. Should you want to retry the map, you can do so at no cost.
Characters have five main stats:
Max HP
Attack
Defense
Attack Speed
Critical Rate
… as well as additional ones such as crit multiplier, evasion, armor penetration, luck, and post-battle HP recovery. Each character also has their own passive, active and ultimate skills. Characters will all gain equal EXP even if they were not deployed in battle, and can otherwise gain more EXP through the equivalent EXP cards. Not all stats are raised when levelling up. On that note, all characters can be raised to 5-star by farming their "Fragments", which is pretty costly, but will confer massive stat boosts in kind. Stars go from one empty star to one full star, making it 10 tiers in total.
Combat involves taking your seven chosen through "sectors" which contain stages, using "keys" to run. Clearing battle zones will provide:
"Cache credits" (can only be spent within sectors)
"Function cards" for boosts to synergize with builds

Choosing the same type of card will upgrade it to the next level
Go through stages which can feature:
Combat (most common)
Recovery zones
Random events
"Vault zones" (provides Function cards)
There will be an Endless mode. Any uncleared depth in Endless mode will not require stamina.
Regions also have upgradable buildings for resources, besides a dorm function and "Oasis System". These range from upgrading for more resources, as well as increasing stamina regeneration (the keys).
The game has gacha as you might expect, but the system has not been showcased as yet.
If you weren't interested in the gameplay loop of Girls Frontline, then maybe some of the spin-off games would interest you, Project Neural Cloud notwithstanding. We'll keep an eye out for its release date.
via Gamepress
---
Check This Out Next
---