Players will have a chance of winning valuable gadgets by pre-registering for upcoming mobile RPG, OMG!三国霸王, or OMG3 for short. In English, the game is OMG! Gods of Three Kingdoms.
First launched in Thailand and Vietnam, the game is expected to release in Malaysia and Singapore for iOS and Android devices on June 2nd 2021. Pre-registration for the game is currently ongoing and players can sign up with the following link: https://event.vng.games/omg3sm/pre-register
As a game based on the Three Kingdoms period of Ancient China, players can recruit and form teams of legendary warriors such as Guan Yu, Lu Bu and Zhao Yun. Each hero has 4 unique abilities and play styles and can be deployed in a 3×3 grid formation, rewarding strategic planning. Auto battle is also a feature, letting players see their plans and team builds come into fruition.
On top of that, players who reach level 6 in the game will receive 50 free draws in the character gacha. With tonnes of heroes to choose from, players will have great flexibility in forming their teams. Also, items can freely be transferred between heroes, further encouraging experimentation.
In addition, players can also take on other missions besides the usual campaign maps. With sidequests, valuable treasures and even hidden maps, players will have a lot to explore in the world of Three Kingdoms.
Thankfully, unlike most strategy mobile games OMG! Gods of Three Kingdoms does not have a timed mechanic which forces players to wait for structures or tasks to complete. Upgrades and buildings are instantaneously completed, letting players get back into the action.
Furthermore, the game generously rewards players with many items and resources. Players can earn Golden Ingots (the currency used for summoning) simply by going through the main quest and finishing daily tasks.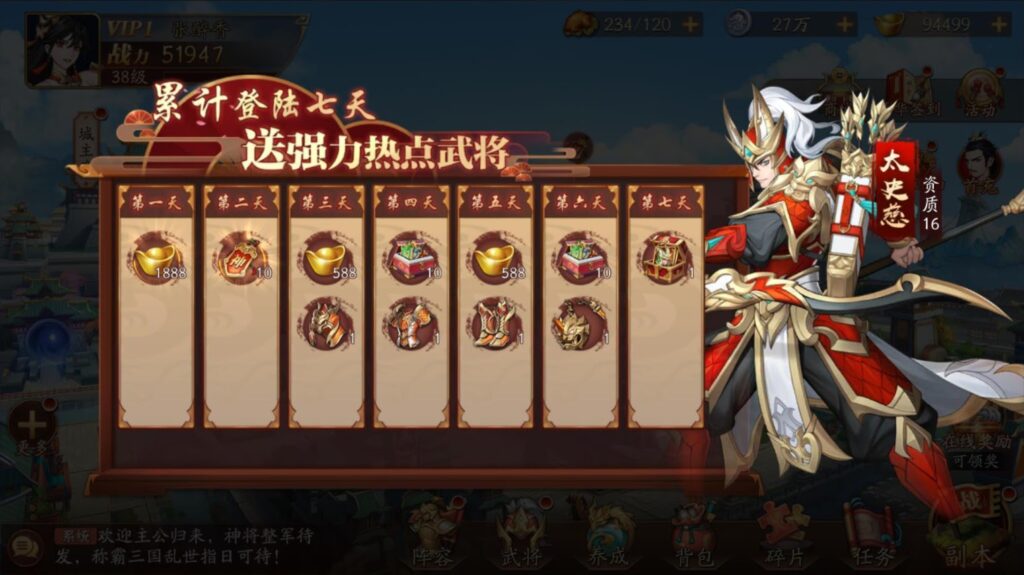 OMG3 Pre-Registration Rewards
After pre-registering on the website, players can complete event missions to earn Lottery Tickets. These tickets can be redeemed to win real-life prizes, such as:
ASUS ROG G14 Zephyrus GA401II
iPhone 12 Pro Max (256GB)
Galaxy S21 Ultra 5G (256GB)
In addition, all players who pre-register can also expect the following in-game rewards at launch:
Silver Coins

Exp Books (Small / Medium / Large)

Summoners Command Post

Golden Ingots
Players have until June 1st 2021 to pre-register, so don't sleep on it!
For more information on OMG3 visit the game's Facebook page, YouTube channel or website. Alternatively, you can also visit the game's Facebook group page or contact them via WhatsApp.
About VNG
OMG! Gods of Three Kingdoms is published by VNG Corporation.
As one of the four key business units of VNG Corporation – Vietnam's first-ever unicorn start-up (The Asean Post), VNGGames is recognized as one of the leading game publishers based in Vietnam. With 16 years of experience in publishing games in Vietnam markets and some foreign regions including South East Asia, North America & Latin America, VNGGames is now seriously taking further steps to conquer the global stage, starting with SEA markets.
VNG has published a lot of famous online video games, mostly on mobile platforms, which have millions of players around the world. These titles include swordplay role-playing game Vo Lam Truyen Ky (Sword Heroes Fate Series – available on PC and mobile); survival shooter PUBG Mobile VN, MOBA game League of Legends: Wild Rift (Vietnam), card battle game King of Fighters AllStar (KOF AllStar VNG, published in Vietnam, Thailand, Indonesia, and the Philippines) and more.
VNG's products and services operate in a cutting-edge ecosystem covering four key product groups, focusing on bringing a richer and simpler online experience to your life: online games, platforms, finance and payments, and cloud services.
OMG! Gods of Three Kingdoms
Android, iOS
Battle your way to victory in the Three Kingdoms with OMG!三国霸王 新马版 - Gods of Three Kingdoms. Gods of Three Kingdoms is an intense RPG world that allows you to collect cards and take your military to war.
---
Check This Out Next
---