You use guns, practise martial arts, toss lightning balls, and do just about anything in Biomutant, and I'm here to review if all that works.
Biomutant is a single-player open world RPG that released on May 25th 2021. Developed by Experiment 101 and published by THQ Nordic, the game is available on PS4, Xbox One and PC, with PS5 and Xbox Series X | S versions coming in the future.
Note that for this review of Biomutant, we played the PS4 version on PS5. Many thanks to Epicsoft Asia for providing us this review copy of Biomutant!
So…just what is Biomutant?
The game puts you in the shoes (or paws) of a weird, furry creature that knows Kung Fu (Wung Fu in the game), uses guns and can even learn magic (Psi-Powers). The game is set in a post-apocalyptic setting and does not have a linear storyline. In a similar vein to The Elder Scrolls V: Skyrim, players can choose which quests that they want to do, or just ignore them and explore the huge 8×8 square kilometre open world. For reference, Fallout 4's open world is 9.84 square kilometres.
While players can learn more about their character's past by taking on the main quests, the enjoyable part of the game's story is its worldbuilding. Players can learn so much about the world's past simply by visiting a new area or interacting with old relics. 
The game also features an alignment system known as the Aura System, which will affect the ending you will get. Your aura, be it light or dark, will also affect the responses you get from interacting with NPCs and will also restrict or allow players to use certain Psi-Powers, which is a cool role-playing aspect made popular by Star Wars: Knights of the Old Republic. 
Overall, the game has a rather whimsical tone in how it presents itself. Characters speak in gibberish and have names like Jumbo Puff or Goop. At one point, I even laughed when my character was launched by a catapult Looney Tunes style to invade an enemy fort. In this post-apocalyptic genre, having a game that is not depressing for once is a refreshing change of pace.
A colourful post-apocalypse
Overall, Biomutant's graphics looks extremely vibrant and colourful. Rarely, you will find some of the textures looking a bit lacklustre, like the rocks ground at the bottom left of the above image. Regardless, the game's visuals are more often than not—breathtaking.
While there are some biomes that look fittingly depressing due to over-pollution, Experiment 101 did a fantastic job in bringing the environment to life. The developers also once said that the game is like Legend of Zelda: Breath of the Wild. They are 100% right.
Each area also feels distinct from one another. Caves and underground areas feel dark and dank while grasslands are filled with green that is really pleasant on the eyes. Furthermore, there are also hazardous biomes that dye the area in unnatural colours, which really helps to warn the player not to go in unprepared.
Environments aside, the game also has little text pop-ups that appear in combat, similar to text boxes from comic books. Reloading a gun causes "Klick Klick Klick" to appear above the player character's head while successfully pulling off a combo will result in the combo's name appearing on screen. 
Customise almost anything
Biomutant features one of the most unique character creation menus that I have ever seen. After choosing your breed (which provides the baseline stats for your character), the stats which you spec into will affect your character's appearance. A character with high strength and vitality will have a large torso and tiny head, while an intelligent character has a huge head but small body. While this normally results in a character which looks extremely goofy, I feel that it fits the overall mood of the game.
In addition, there are also 5 classes to choose from (6 if you pre-ordered the game). While each class affects your playstyle, you are never locked from trying out the abilities of skills that belong to another class. For example, even though I played a Psi-Freak (the game's mage class), I was still able to learn how to dual-wield guns, a skill that comes with the Dead-Eye class. By not restricting the skills that we can learn, we can experiment with our build however we want. Want to play as a big buff character that can telekinetically lift and throw enemies at each other? You can in Biomutant!
The customisation does not just end in the character creation screen. In fact, the game lets you customise just about anything. From changing the parts of your vehicles to crafting your own weapons from scratch by installing your own choice of handles, grips, magazines, stocks and blades of your ranged or melee weapon of choice, the game offers more customisation than any other game than I can think of.  
Also, I have to highlight how the game handles the crafting system. While players can obtain new weapons, most of the time, players will obtain individual parts instead. Each part does not just affect the stats of the final weapon, but also determine the appearance of the equipment. Your weapons can also look as equally funky as your character, with machine guns having the muzzle of a blow horn for example. Same goes for armour. Regardless, it fits strangely with this strange post-apocalyptic setting, where its inhabitants will scavenge and use just about anything.
Everybody loves Wung Fu fighting
Combat in the game is just pure fun. The developers could have just designed basic melee attacks, but they went through the extra mile of inventing their own fictional martial art—Wung Fu. Some of the choreography looks straight out of a martial arts flick. The staff's moves in particular look incredibly sexy.
Something of a hybrid between actual Kung Fu and moves you see straight from anime, punching, kicking and lifting enemies up 10 feet in the air before piledriving them into the ground is extremely satisfying. Combos are really simple to execute as there is a very generous window to time your button inputs, unlike the Devil May Cry series. Furthermore, the game will even prompt you on what buttons to press to string your combos together at the bottom right of the screen. How helpful!
Even if melee combat is not your thing, even ranged combat have their own combos. Dodging, jumping and following up after melee attacks will cause your gunfire to behave differently. Furthermore, each weapon type also has their own combos, greatly encouraging players to mix and match between their close-ranged and longer-ranged combos. Combine that with being able to change weapons on the fly, and you have an incredibly fun combat system.
But wait! There's even more! On top of melee and ranged weapons, players can also fight by using their Biomutations and Psi-Powers. Biomutations are weird unlockable abilities that lets players do everything from summoning a mushroom from the ground to knock enemies into the air to creating a sticky hamster ball-looking water bubble that can trap enemies Katamari Damacy-style. Psi-Powers resemble more of spellcasting in most games, from firing lightning balls to blasting enemies with ice.
In addition, the game also has a parry system. Most enemies with parry-able attacks will have a white tingle around them. Parrying at this moment results in them being wide open and pressing the right QTE buttons after that results in specific animations that play out, dealing great damage. Parrying in the game also has a generous input timing window, just like combo inputs. 
I have just one minor complaint about the combat. Combat goes through slow motion when dodging at the right moment or when dealing the finishing hit to the last enemy standing. While this does look cool, it gets old pretty quickly. I wish that there would be an option to adjust the frequency of slow motion effects in combat, because after seeing it a few times, I just wanted fights to end quicker.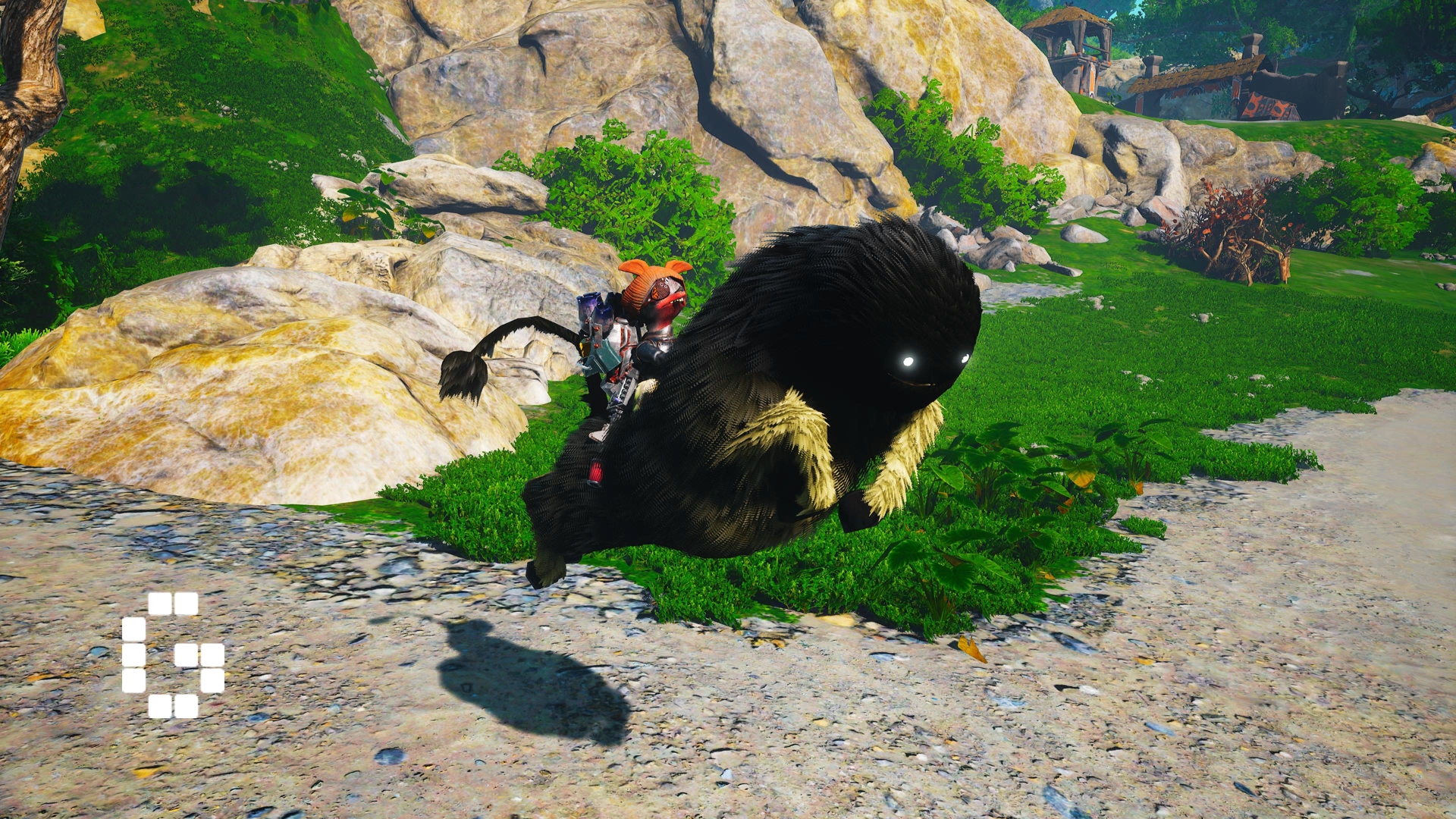 So many gameplay mechanics!
I already mentioned the alignment system at the start of this review, but Biomutant has so much stuff to play around with, it is incredible that all of these different gameplay features are inside one game!
The alignment system is also related to the tribe system. There are six tribes in the game, each aligned differently on the Dark to Light spectrum. Players can ally with these tribes, unlock their unique weapons and gear and conquer or unite other tribes. 
In addition, there are puzzles throughout the map. These puzzles either act as locks for doors or loot or quest-related goals. However, players who spec into intelligence will have more moves to solve these puzzles which is a nice touch.
Also there are mounts and various vehicles in the game. From riding weird goats to riding your own customisable jetski, there a lot of different options to get around. On top of that, there is even a huge robot mech which you can pilot and unlock. A huge robot mech in a game with Kung Fu, magic and weird mutations! 

Photo Mode
I just want to highlight that the game's photo mode is an awesome feature that more games need to have. Most of the images in this review are taken with the photo mode, with some looking more like Biomutant promotional art instead of gameplay screenshots. 
Considering how wacky this game is, the photo mode is certainly a fun feature to capture many of the weird, funny or cool moments in the game. I even had fun looking for photo ops when working on my review because of how interesting most of the subject matter is in Biomutant.
Performance and bugs
There was nothing too game breaking in terms of glitches. Occasionally, enemies and NPCs would get stuck halfway in the floor or in a wall. I was not able to interact with an NPC who was stuck in the floor, causing me to be unable to turn in my completed quest. Thankfully, quitting and restarting the game fixed the issue for me.
In my first 5 or so hours playing the PS4 version of Biomutant on the PS5, I experienced 4 crashes. One, in particular, was quite frustrating as it happened midway in a boss fight, causing me to restart the whole fight. 
However, after that, there was a 600+ MB update. After this update, I have not experienced any more crashes or bugs. While I cannot say for certain how the game's performance will be like on launch day, Experiment 101 have been open in communicating performance issues and working towards fixing them. 
So, should you buy-omutant?
Biomutant is weird, goofy, but most importantly, incredibly fun. There is so much to explore and so much to do and play around with. From upgrading your Wung Fu skills to customising your huge robot, the game is a huge melting pot of so many different ideas that were executed marvelously. I feel that Biomutant has set the benchmark of open-world games in 2021. Ultimately, Biomutant is truly an adventure that will leave you begging for more. I cannot recommend this game enough and you should definitely give it a try.
If our review of Biomutant convinced you to look deeper into the game, you can learn more about it by checking it out on Epicsoft Asia and Steam. If you are in Southeast Asia, you can refer to the Epicsoft Asia price listing of the game here.
---
Biomutant (PS4) review copy provided by Epicsoft Asia. Game reviewed on PS5.
Biomutant
Microsoft Windows, PlayStation 4, Steam, Xbox One
BIOMUTANT® is an open-world, post-apocalyptic Kung-Fu fable RPG, with a unique martial arts styled combat system allowing you to mix melee, shooting and mutant ability action.
---
Check This Out Next
---
The Review
Biomutant
Experiment 101 took many beloved systems and forge them into an outstanding experience.
PROS
Insane levels of customisation
Combat is varied yet simple and fun
High replay value thanks to non-linear story
Fascinating world to explore and get lost in
There's goats, jetskis, robots—what more could you ask for?
CONS
Slow motion gets old quickly
Review Breakdown
Will probably be nominated for GOTY

0