The MSI RTX 30 Series laptops released in Malaysia a few months ago. Amongst them, the GE76 Raider is touted as the standout machine, so we decided to put it to the test in this review.
Note that the MSI GE76 Raider 10UG-297MY that we got features the Intel Core i7 processor and 240 Hz display and as a result our review will be based on this machine. MSI states that the GE76 Raider can support 10th generation i9 processors and 300 Hz display, so do bear that in mind.
Before we get into this review of the MSI GE76 Raider, here are the specs of the laptop:
CPU
Intel® CML-H Core™  i7-10870H processor/ HM470
GPU
NVIDIA® GeForce RTX™ 3070 Laptop GPU 8GB GDDR6
Display
17.3" FHD 240HZ IPS-level display with thin bezel design (close to 100%sRGB)
Memory
16GB (8GB*2) DDR4-200, 2 Slot, Max 64GB
Storage
1TB M.2 NVMe PCIe Gen3 SSD
Webcam
FHD type ([email protected])
Communication
Killer LAN E3100 + Intel Wi-Fi 6E AX210 + Bluetooth 5.2
Keyboard
Per-key RGB keyboard by SteelSeries
I/O Port
1 x Type-C USB3.2 Gen2 with DP1.4, 1 x Type-C USB3.2 Gen2x2,
1 x Type-A USB3.2 Gen2, 2 x Type-A USB3.2 Gen1, 1 x Mini Display 1.4,
1 x HDMI 2.0([email protected]), 1 x Audio combo, 1 x SD card reader, 1 x RJ45,  1x DC-in
Audio
2x 1W Speakers + 2W Woofers, Hi-Res Audio Certified, Nahimic
Adapter/Battery
280W/230W AC adapter  |  4-Cell, 99.9 Whr
Measurements
397mm (W) x 284mm (D) x 25.9mm (H) / 2.9kg
---
Design
The GE76 Raider features a simple yet fashionable design. The top of the laptop has a cool aluminium finish. In addition, you can see MSI's signature dragon shield logo. At the bottom of the laptop, there is also a dragon armour carving at the bottom. Overall the shape is sleek and not too bulky.
As for the size, the laptop comes in at 397mm (W) x 284mm (D) x 25.9mm (H) which can easily fit most backpacks. However, do note that it weighs at 2.9 kg, which is a decent weight for 17-inch gaming laptops, but will feel considerably heavier compared to laptops with 15-inch screens or smaller.
Furthermore, the laptop comes with 10 ports in total. It has 2 Type-C USB ports and 3 Type-A USB ports, which is a healthy number of USB ports for the average gamer. It also has an HDMI port, an SD card reader and more. For a full list of all the available ports, refer to the laptop specifications at the bottom.
Display
The display of the GE76 Raider is a 17.3″ screen that supports 240 Hz. The high Hz that the screen supports makes the laptop perfect for First-person shooters. In FPS games, 240 Hz allows the laptop and display to respond faster to a user's peripheral inputs, which basically means that you can spot enemies faster and make more precise shots than with a 144 Hz display.
FPS games aside, its display also makes the GE76 Raider a fine machine to watch movies or edit videos on. This is because of its IPS panel which reproduces colours more accurately and brightly.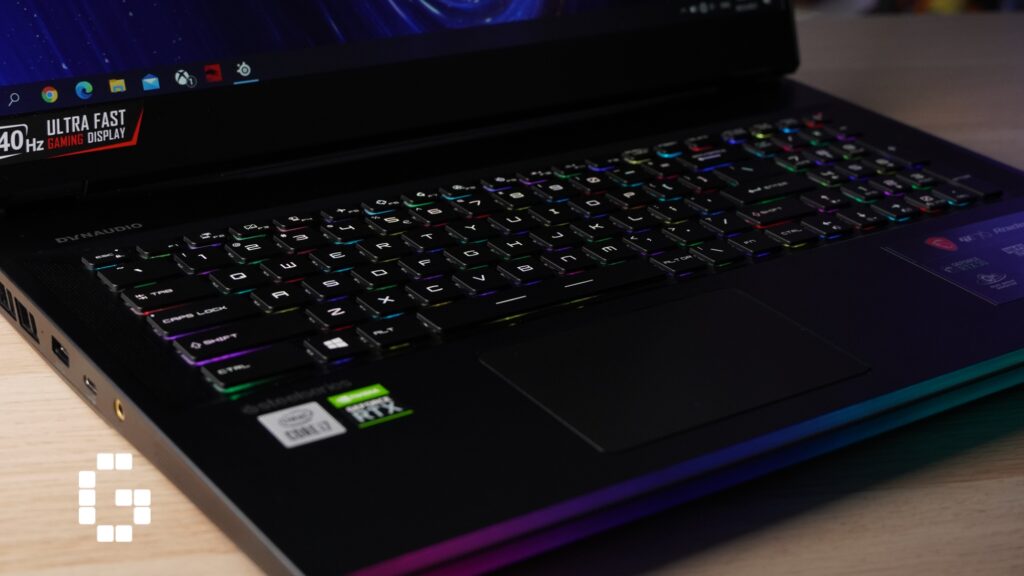 Keyboard
The GE76 Raider uses SteelSeries' per-key RBG keyboard. As a result, every key comes with RGB functionality. Each key is also customisable individually using the SteelSeries Engine App. This is great for gamers who enjoy expressing themselves with their favourite colours.
Just like most SteelSeries keyboards, the keys have a very clicky feeling. The keys respond quickly and work fine when holding the keys down. In addition, the texture of each key makes it so that accidental slipping due to sweat is unlikely to occur.
At the front of the laptop's keyboard, the GE76 Raider comes equipped with the RBG Mystic Light Bar. The light bar can display more than 16.7 million colours. You can customise these colours with the built-in Steel Series Engine software.
MSI Dragon Center
Once again, MSI makes monitoring the status and performance of the GE76 Raider streamlined and accessible through the Dragon Center. Besides making our review of the GE76 Raider a lot simpler, the Dragon Center also comes with a Noise Cancellation feature. This feature is perfect for players of FPS games such as CS:GO where the sounds of footsteps are important to pick up on.
Besides that, users can change the laptop's mode to various modes such as extreme performance, balanced, silent, super battery and custom, where you can adjust the settings yourself. 
Heating
Laptops in general can get pretty hot pretty fast. Thankfully, the GE76 Raider boasts the latest Cooler Boost 5 heat dissipation technology. In order to support demanding games and software, the laptop is built with powerful dual fans, 6 sets of heat pipes, and a 4-way heat dissipation airflow design. 
To put this to the test, we played Forza Horizon 4 on Ultra settings. Remarkably, the laptop regulates its temperature surprisingly well. As I placed my hand on the laptop, it feels warm, but not hot. However, the tradeoff is the loud fan sound when the cooler boost is turned on. The sound is similar to that of heavy rain, so do bear that in mind.

Speaker
Speaking of sound, the GE76 Raider's performance in terms of audio is also nothing to frown at. Its Dynaudio sound system makes great use of its double-sided Duo Wave Speaker. Audio is crisp and a pleasure to listen to should you wish to play games or listen to music without headphones.
In addition, the Hi-Res Audio and Nahimic audio systems give gamers control over sound effects and the like. Should you wish to tweak things like the bass, treble and other audio effects, you will be able to do so. Once again, this is a great feature for games where sound is paramount, such as CS:GO.
Benchmarking
With its RTX 3070 and i7-10870H, the GE76 Raider runs great according to Time Spy. It reaches very close to the average performance of other machines with similar CPU and GPU. In particular, the GE76 Raider also has rather impressive CPU clock frequency, meaning that it should be able to run multiple softwares simultaneously while maintaining a decent performance. In terms of gaming, it should be able to run Battlefield V at 1440p ultra graphics setting and still have more than 100 FPS. Here is the GE76 Raider's score on 3D Mark Time Spy: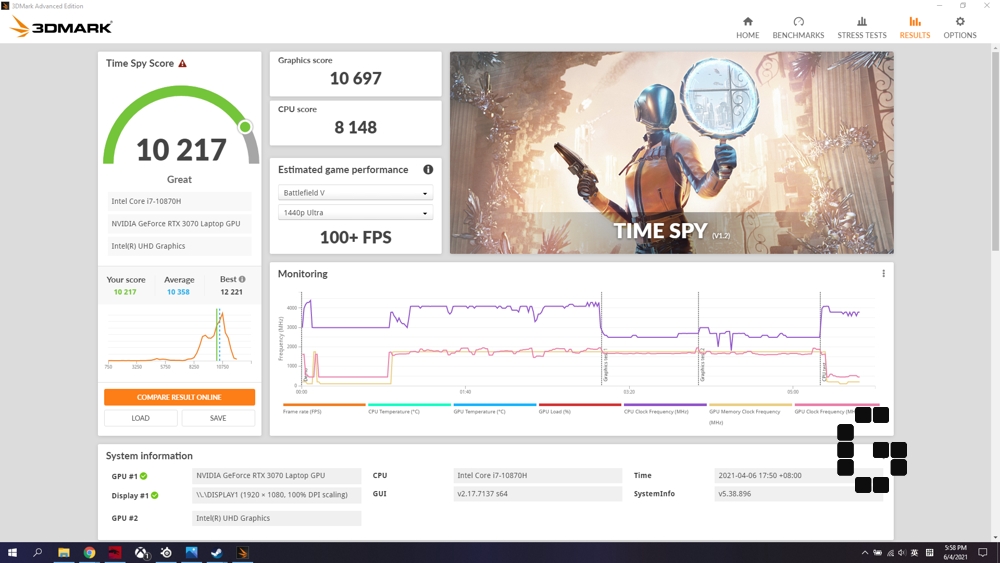 As for PC Mark 10, the GE76 Raider appears to be a decent machine for productivity. Users should rest easy knowing that the gaming laptop can still operate other software without a hitch. Here are the laptop's results according to PC Mark 10.
In-game performance
In order to see how the GE76 Raider performs as a gaming laptop, what better way to test than to actually play some games? We ran three different games on the GE76 Raider—Watch Dogs Legion, Cyberpunk 2077 and Forza Horizon 4.
The laptop was able to run Watch Dogs Legion's open world segments at max settings with ray tracing and DLSS turned on. It maintains around 45 to 60 FPS when driving, running or during combat. Overall, the performance is great while the textures, lighting and other visual effects are fantastic.
Next was Cyberpunk 2077. Just like Watch Dogs Legion, the GE76 Raider runs the game smoothly at max settings, maintaining a commendable 65 to 80 FPS while driving, running and fighting in the game. However, note that when ray tracing is turned on, the FPS drops from a minimum of 35 FPS to a maximum of 45 FPS. 
While the two aforementioned games were tested with MSI afterburner, Forza Horizon 4 was tested with its in-game benchmark as it does not support the MSI afterburner. You can see its performance together with other in-game screenshots here: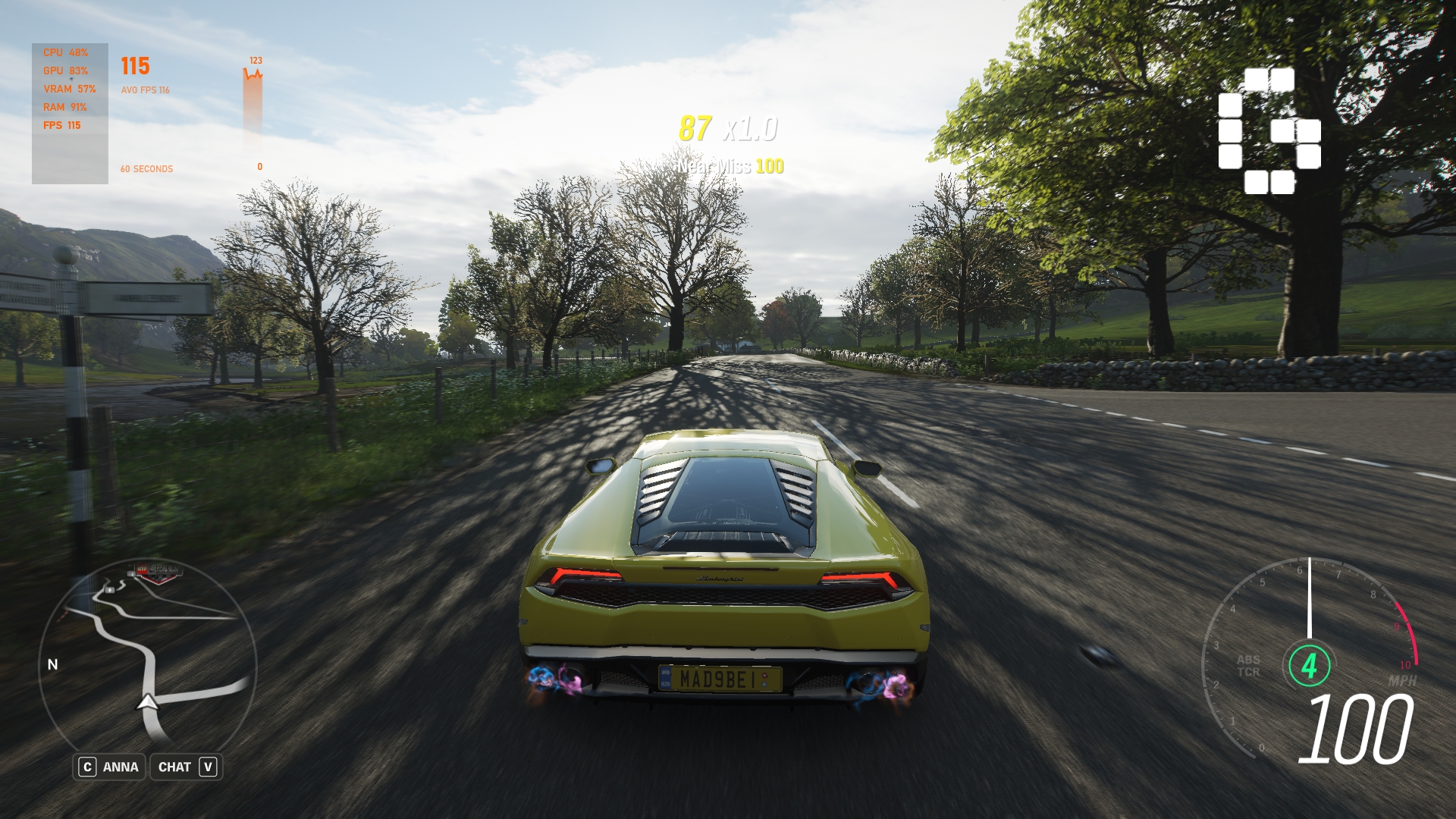 For the racing game, the GE76 Raider captures the graphics of buildings, cars and landscape beautifully while maintaining a minimum of 80 FPS.
Note that if you wish to play your games, be sure to activate the cooler boost beforehand. The cooler boost does not turn on automatically unless you set it to auto with the Dragon Center. Playing Watch Dogs Legion without the cooler boost led to the FPS dropping to around 35, and this is without ray tracing and DLSS turned on.
Free gaming mouse
Our MSI GE76 Raider also comes with a free MSI M99 RGB gaming mouse. While most gamers will probably already own their own gaming mouse, this is a great freebie for those looking to get started in PC gaming.

Closing thoughts
As a gaming laptop, the MSI GE76 Raider is a great machine. Considering its commendable specs, it is a well-priced gaming laptop at RM 9,999.
Thanks to its RTX 3070 and 16GB RAM, you will find that most AAA games should be able to run smoothly on the laptop. Together with its top of the line GPU with an equally impressive CPU, the MSI Dragon Center has a lot of great features that will grant you a better gaming experience.
If you are deliberating on getting a new laptop other the GE76 Raider, you can also check out our review of the MSI GF65 Thin.
---
Review Unit Provided by MSI Malaysia