A new Alolan Ninetales skin in Pokemon Unite is being priced at the equivalent of $40, sparking a backlash among fans.
Over the weekend, developer Timi Studio Group revealed an all-new skin or 'holowear' called the 'scared style holowear' for the Pokemon Alolan Ninetales based around a Japanese kimono. The Pokemon Unite Ninetales skin costs 2499 aeon gems which is the equivalent of $40 USD or roughly 167 MYR.
There are three currencies in Pokemon Unite, of these currencies, aeon gems cannot be earned in-game, only by trading them for real-world money. As such, there is no way to get the skin other than paying the $40. For comparison, you can buy a main series Pokemon game on 3DS from Amazon for $40.
As of writing this, there has been no given reason by the developers why this holowear, in particular, is so expensive. I personally think Alolan Nintales is a pretty majestic pokemon, but I don't think I like it enough to pay the price for this skin, and doubt many others would either.
The skin's price has already sparked backlash online with fans decrying the price as anti-consumer, especially considering that this is a game aimed at younger players, and concerned that it will mean more expensive skins in the future.
I wouldn't spend 99 cents on a skin, let alone $40 on a moba skin. I think this is a test by the devs to see just how many whales they have playing the game.

— Marcos Perez (@MoxieBoosted) October 1, 2021
Not even League charges 40$ for the highest tier skin (which imp… Is way better than what's being offered here).

Using the Pokemon IP doesn't justify you to charge crazy amounts preying on children playing this game.

— 🦈 SHU (@plushiesharkie) October 1, 2021
For context, a League of Legends ultimate skin, the highest tier of skins in the game, cost only 3250 RP or $25 USD.
With that being said, there are fans that are more accepting of the price and even defend the practice since as cosmetic content, it won't have an effect on the gameplay. Some also feel that at least this way the game will not have any pay to win features which Pokemon Unite was notorious for at launch.
This argument may not completely hold weight however as other MOBAs, which don't have Pokemon money, are still able to avoid pay-to-win schemes, while not charging $40 for a skin.
I personally see the skin's price as unnecessarily high and certainly not a price I would pay for a simple costume change, even one that is admittedly pretty cute.
Pokemon Unite is available for Nintendo Switch and mobile devices.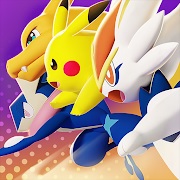 Pokemon Unite
Android, iOS, Nintendo Switch
Trainers unite in Pokémon UNITE! Experience a new kind of Pokémon battle in the Pokémon UNITE regional beta test! Team up and face off in 5-on-5 team battles to see who can score the most points within the allotted time. Work together with your fellow Trainers to catch wild Pokémon, level up and evolve your partner Pokémon, and defeat the opposing team's Pokémon to prevent them from scoring points. Put your teamwork to the test, and take home the win!