The Rabbid's second crossover with the Mario franchise: Mario + Rabbids Sparks of Hopes will be coming out this October and the developers at Ubisoft Paris and Milan have given us a preview of the new adventure. 
According to the developers, the game is not exactly a direct sequel to Mario + Rabbids Kingdom Battle but more just another adventure in the Mario universe (which doesn't exactly have the best continuity in the first place).
The plot involves an evil entity named Cursa who wants to steal a group of creatures called the Sparks for their untapped power. Mario and the gang, and The Rabbids have to stop her.
To this end, players will guide Mario and The Rabbids through a galaxy in big trouble, accompanied by a team of memorable characters with complete freedom to explore the different planets. Your ultimate goal is to help the inhabitants of each planet and save the Sparks who will be central to the story and gameplay. 
The New Heroes – Bowser, Rabbid Rosalina, and Edge
Another exciting addition to the game is the three new playable characters that have been unveiled.
The first one is Rabbid Rosalina. She has a pretty different personality compared to her role model but that doesn't stop her from making her enemies see stars. 
Next up we have Edge, a mysterious Rabbid with a giant sword and a darker design who was initially revealed in the first trailer. We don't know much about Edge but we'll likely learn why he's so edgy as the story unfolds.
The final and most interesting character to join Mario's motley crew is his arch-nemesis, Bowser. Mario and Bowser have of course teamed up in the past and it's led to some of the wittiest writing in the entire Mario franchise (seriously go check out some of the Paper Mario games). It'll be fun seeing how this unlikely duo will interact once again. 
Tactical Adventure Experience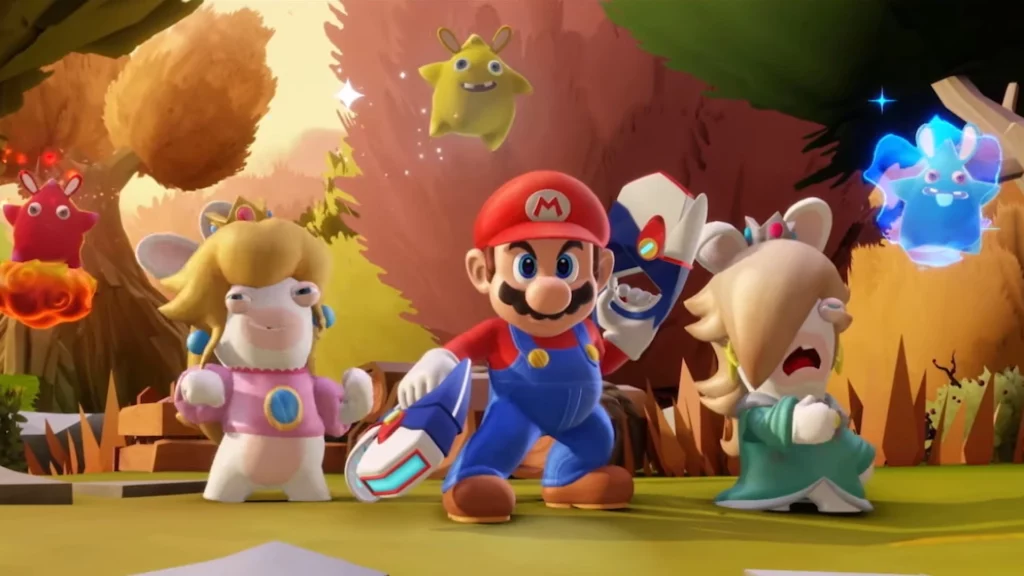 The developers refer to the game as a 'tactical adventure' as it offers a unique combination of real-time action and turn-based strategy gameplay as the focus.
With Sparks of Hope, the combat system has been overhauled beyond what you usually see in a standard turn-based strategy game. They've removed the cursor and grid on the battlefield, so in each turn, you can move characters in real-time within a limited range before you attack. If you've ever played Valkyria Chronicles it's kind of like that, except you're shooting bunnies as Luigi instead. 
Another major addition to the gameplay is The Sparks. You can harness their elemental power to further customize your playstyle while also opening a lot of tactical possibilities. For example, if you have a fire spark it'll allow you to use fire powers and make you resistant to flames. There are a number of different options with them, whether as a support skill or dealing big damage.
Every battle will yield EXP to the team and naturally, your characters can grow even stronger where you can also access Skill Tree to expand their capabilities including gaining new skills that are exclusive to them alone.
Exploring A New Galaxy
Aside from the new take on the gameplay, Sparks of Hope is also a lot more open when it comes to the level design.
Unlike Kingdom Battle where the gameplay loop had players jumping from one battle to another with minimal exploration, Sparks of Hope opens up the world with a deeper amount of exploration. 
The game will take you to different planets with unique environments and inhabitants. There are a lot of things you can do on the world map like helping the many locals you come across and uncovering hidden secrets by completing side quests. 
Mario + Rabbids Sparks of Hope seems to shoot for the stars and will likely deliver an exciting adventure for fans of both franchises. If you'd like to learn more about how this upcoming sequel came to be, check out our interview with its Lead Producer Xavier Manzanares.
The game will launch exclusively for Nintendo Switch on October 20, 2022.