HoYo FEST 2022 for the SEA region has begun and Malaysian Genshin Impact fans have gathered up at La Juiceria Superfoods located at Nadi Bangsar to fully enjoy the Teyvat experience and see how it fares in comparison to the previous HoYo FEST event that happened last year.
A Cozy Dine-In Experience
Arriving at La Juiceria Superfoods, one of the main things that you can spot out immediately would be a big display wall with the HoYo FEST 2022 visuals which also acts as a photo booth. There are also a number of accessories that were prepared that you can use to pose with, such as the bombastic Klee bomb as well as everyone's favourite weapons like the Fin Bow and the Sea Lord.
Before starting off the session, you'll need to check in to receive your meal coupon as well as a redemption card to join in the activities and buying merchandises. The overall process was really smooth and it didn't take long for me to receive my food after ordering, but more on the food in a bit.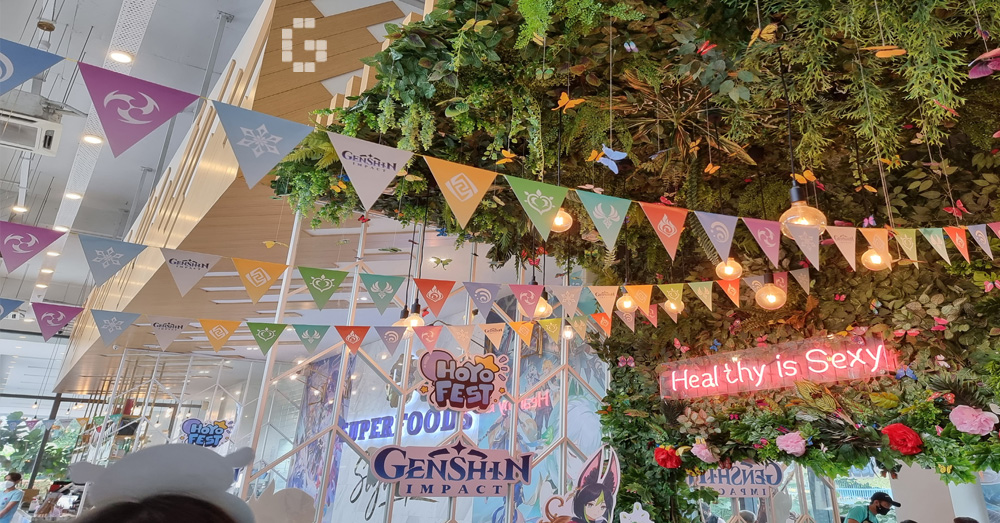 The interior of the restaurant was decorated to resemble Sumeru's forest, filling up the place with lush greenery as it gave off a fresh vibe to the whole Genshin theme. You will also be greeted with numerous amounts of characters standees from each of the in game regions of Teyvat. The ceilings also brandishes flags that have been printed with all the 7 elemental symbols from the game. Even the walls have been decorated with the new visuals from the latest updates and accompanied with the Genshin OST being played in the restaurant, it really brings out the overall mood even better.
There's also a corner in the restaurant called the "Wishing Wall" for people to post their messages and thoughts. But for gacha players, they would use this as a sort of a wishing well so that hopefully their prayers will be answered when they attempt to pull for their beloved Sumeru characters in the game's newest banner which features Cyno and Candace.
Each table has its own mini Paimon decorations as well as the special menu that is only available during the event. The table itself is decorated in the HoYo FEST 2022 visuals printed on it.
Teyvat Delicacies
The HoYoFEST 2022 menu brings the in-game delicacies to life and they all look as appetising as Paimon. We ordered the Deluxe Set that comes with extra appetizers, and we picked the "Adventurer Breakfast Sandwich & Monstadt Hash Brown" and Imported Poultry as our main dish. As a side note, you're able to pick between salad or rice for "Imported Poultry" and "Northern Smoked Chicken". As for the drinks the Wolfhook Juice is a must pick alongside the Berry & Mint Burst.
The taste is very delicious and considerably healthy given that the restaurant itself is a diet restaurant but I can assure you that the food portions are big enough to fill your stomach before continuing your journey through Teyvat. It's really refreshing to see that they are offering different kinds of food choices for you to choose from instead of buying the designated menu from last year's myBurgerLab HoYoFEST event.
For Muslims, even though the restaurant doesn't have the Halal Certificate, it is already claimed that the food are free from pork and that all of the ingredients supplied are halal.
Adventurer Questbook
Similar to last year, each Traveller will be able to receive Genshin themed freebies. But for this year, there are a lot of them, and here are the list of freebies which you can get from the event:
Postcard
Cup Sleeve
Stickers
Food Decoration
Straw Clipper
Drink Coaster
You can also stand a chance to get even more freebies by joining the activity during the event. One of which would be the "Scratch Card Event", where you can get a chance to win a Genshin Impact keychain. But even if you miss the chance to win yourself a keychain, fret not, you'll at least be able to win another postcard for your collection.
You're able to submit a video to TikTok and get yourself a SEA-themed Mimo stickers and the event for this is available starting from 30th September until 6th October.  There's even chances for you to win some primogems for your next pull.
For last year's HoYo FEST, it was difficult to buy merch since everyone with a ticket was able to buy it on the first day. But the new buying system is even better, and more Travellers can get their hands on the merch that they want.
Since the list of merchandise had already been released, you're able to make a list of merch that you want to buy instead of spending minutes browsing for it during the event since there is a limited time you can spend for your session for the Genshin Impact HoYo FEST 2022. As for payment, e-wallets and QR Pay are available so you don't have to worry about that front.
Overall Experiences
Each session only lasts for 45 minutes for you to eat, take photos, buy merch and join in activities. For us, that time limit isn't enough, especially if you wanted to buy merchandise and that the queue is too long. There were a handful of people that we've seen who had to resort to taking away their food because of the limited time slot.
Surprisingly, there weren't many cosplayers that had attended the event today due to the session that we had being on a weekday. We were fortunate enough to meet a Zhong Li cosplayer with his modern suit but I expect that a lot of the cosplayers will be coming to HoYo FEST on the weekends instead.
Talking with some of the other people who have attended the event, asking for their personal experiences with this year's Genshin Impact HoYo FEST 2022 event and most of them voiced their satisfaction with their meals despite the limited time session. Some even commented that this year's event was even better than last year's.
HoYo FEST 2022 will be continuing with 2 more MiHoYo games being Tears of Themis and Honkai Impact 3rd. For those who are interested, you're able to head to official HoYo FEST SEA website for more details.